Tech companies join battle to protect citizens against novel coronavirus
By ANGUS McNEICE in London | China Daily Global | Updated: 2020-04-01 09:47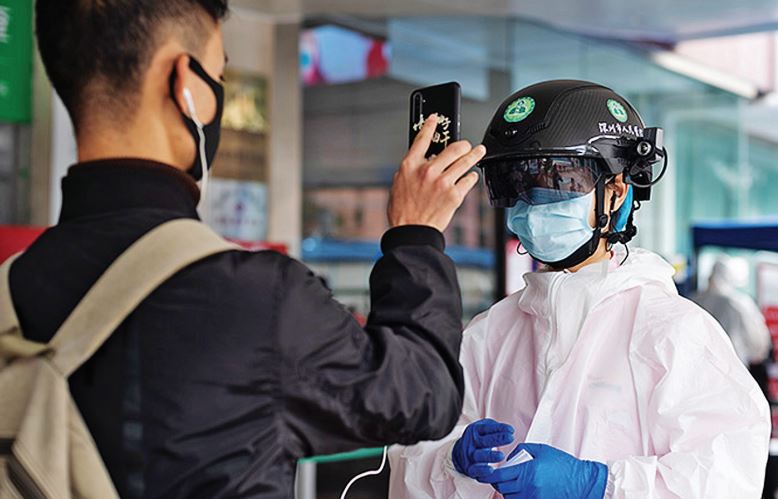 Fever-detecting helmets from China are soon to be shipped abroad, as countries around the globe seek technological solutions to combat the COVID-19 crisis.
The helmet, made by Shenzhen-based startup KC Wearable, allows police officers and public health officials to detect high temperatures in people from up to 5 meters away, according to the company, which launched the device internationally this week and which has already received orders from Europe, Africa, and elsewhere in Asia.
"COVID-19 continues to pose unparalleled challenges to our way of life around the world," said Guo Jie, who is global head at KC Wearable. "Amidst the chaos, there are two overriding priorities. Firstly, protecting the health and safety of our citizens; and then getting back to our normal way of life. The KC helmet is our first step in achieving both aims."
Officials wearing the device have conducted millions of tests in Chinese cities, including Shenzhen, Chengdu, and Shanghai. The company says wearers can test up to 13 people at one time, and scan the temperatures of as many as 200 individuals in a minute.
"This smart helmet exponentially improved our work efficiency," Shenzhen People's Hospital said in a statement. "It can not only measure the body temperature, but also directly match the data of patients' information by scanning the QR code. It's simple and convenient."
Bernardo Mariano, who is director of digital and health innovation at the World Health Organization, said China provides a good example of how technology can be used to bring outbreaks under control.
"The good practices from China, for example anti-epidemic robots, fast body-temperature testing solutions, and big-data analytics for decision making, set good examples for other countries," Mariano said.
Robots were deployed in hospital wards in Wuhan to deliver food, allow video communication between doctors and patients, and perform other tasks while minimizing human-to-human contact.
The WHO says other notable uses of technology in China during the outbreak included AI-assisted gene sequencing, which reduced the time needed for viral gene analysis from several hours to 30 minutes, and the use of big-data analytics platforms to track the spread of the virus.
"China now has new forces outside of the conventional healthcare system to combat the coronavirus, to bring the disease under control," said Mariano, who noted that the novel coronavirus outbreak has led to an unprecedented push for anti-epidemic technology.
South Korea is using pop-up testing booths to screen citizens for COVID-19, and the nation has also made apps available that let people know if they are nearing locations that were recently visited by infected people.
Authorities in China have used drones to spray disinfectant on public areas, while French police have used the flying machines to monitor parks and help enforce lockdown measures.
Danish company UVD Robots and Shenzhen-based Youibot have developed robots that emit concentrated ultraviolet light that can destroy viruses and bacteria.
And in Europe, Mercedes Formula One engineers have worked with University College London to build breathing aids to help in the treatment of COVID-19 patients.