Chinese high-tech helps world combat pandemic
By Ma Si | China Daily | Updated: 2020-04-02 10:18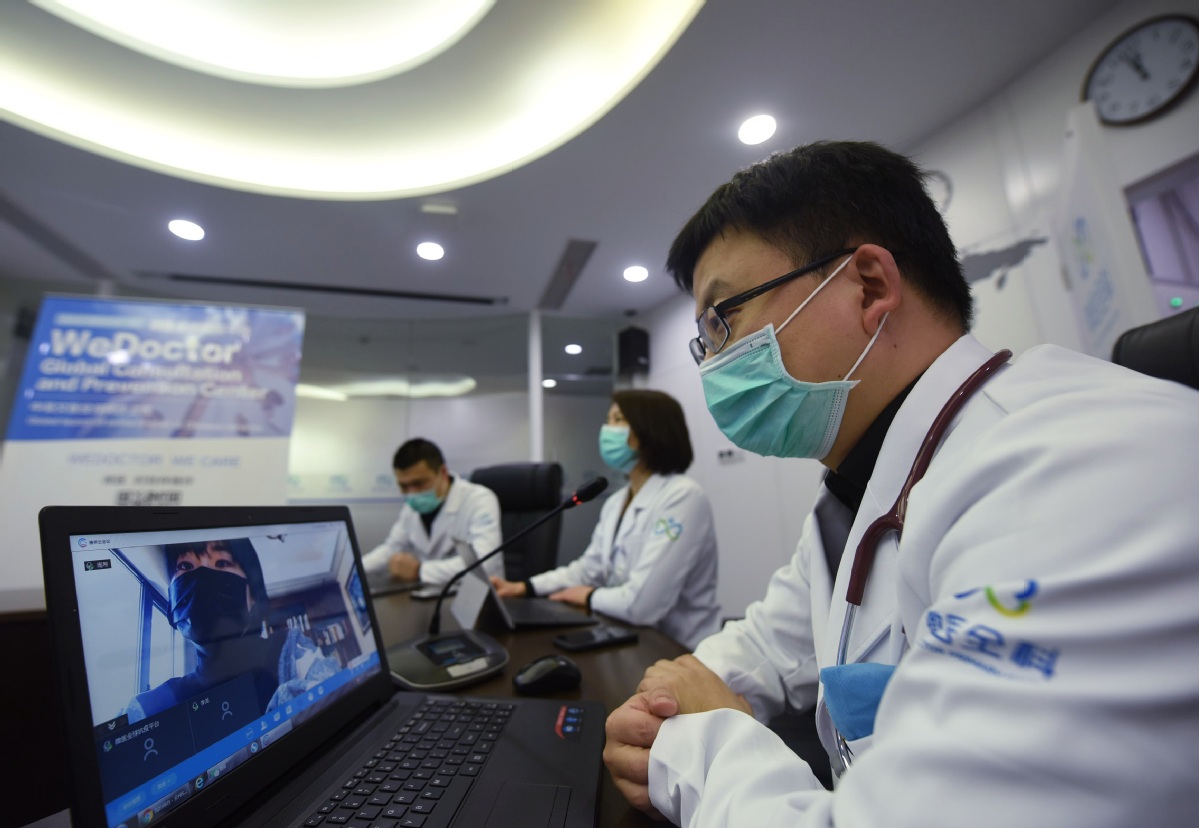 In Europe-from the Meuse River and the Dinaric Alps, to Piraeus-increasing numbers of Chinese enterprises and Chinese nationals are standing with local authorities and front-line healthcare workers, mainly by providing much-needed medical protective gear to help their second homeland, now a new epicenter of the pandemic.
Jack Ma, founder of Chinese e-commerce heavyweight Alibaba Group Holding Ltd, said, "At such a moment, only by sharing resources and experiences can we overcome the disaster."
The Jack Ma Foundation and the Alibaba Foundation have increased efforts to provide support and supplies to affected countries, especially Italy, Belgium, Spain, Slovenia, France, Austria, Denmark, Germany, Ireland and the Netherlands.
Africa's response to the coronavirus disease outbreak has also received a major boost with the donation of medical equipment, including over 1.5 million diagnostic test kits and over 100 metric tons of infection prevention and control goods by the Jack Ma Foundation and the Alibaba Foundation. The shipment arrived in Addis Ababa, Ethiopia-home to the African Union headquarters-on March 22.
A string of Chinese tech companies have also launched platforms where Chinese doctors can offer online medical advice to people overseas. Hangzhou, Zhejiang province-based digital health company WeDoctor has launched a Chinese-English platform, the Global Consultation and Prevention Center, in a bid to integrate medical resources from home and abroad to offer assistance to both Chinese and foreigners.
Liao Jieyuan, founder and CEO of WeDoctor, said for the current first phase, the platform has invited nearly 7,000 medical professionals from across China. Among them are physicians of respiratory medicine, infectious diseases and general medicine from 3A-grade hospitals.
"They are also experienced veterans in China's fight against the novel coronavirus outbreak," Liao said.
Baidu Health, a direct aid service platform integrating massive professional medical care institutions in China, has also invited over 100,000 doctors to its platform to provide 24-hour services for people, including overseas Chinese in hard-hit countries.
Another internet platform, JD Health, has also launched a global free health consultation platform, bringing together a number of experts and doctors who have rich anti-epidemic experience, including 30 experts of traditional Chinese medicine.
JD Health also offers consultation services in English to provide medical help for foreigners.
Lu Chuanying, director of the research center for global cyberspace governance, which is part of the Shanghai Institutes for International Studies, said Chinese tech players have showcased their prowess amid the contagion.
Chinese tech companies' remarkable speed in tweaking existing technologies for application in the virus battle and their ability to devise practical solutions to new problems reflect their desire to shoulder responsibility toward the world, Lu said.
Leading Chinese construction machinery manufacturer Sany Group also contributed its part. The company has donated 50,000 medical masks to Bedburg, Germany. Written on the boxes was a German proverb, which translates as: "Mountains and valleys don't come together, but humans do."
The masks are destined for hospitals in Bedburg and Essen, both in North Rhine-Westphalia, one of the German states with the largest number of confirmed coronavirus cases.
Martin Knoetgen, CEO of Sany Europe, said: "During the most difficult time of the COVID-19 outbreak in China, Sany Europe's partners and friends in Europe provided great support to the Chinese people. So, with a grateful heart, the Sany Group quickly put together the first batch of 50,000 protective masks in China to support the prevention and control of the COVID-19 pandemic in Germany."