Time for bookstores to turn the page
By Du Juan | China Daily | Updated: 2020-04-04 09:21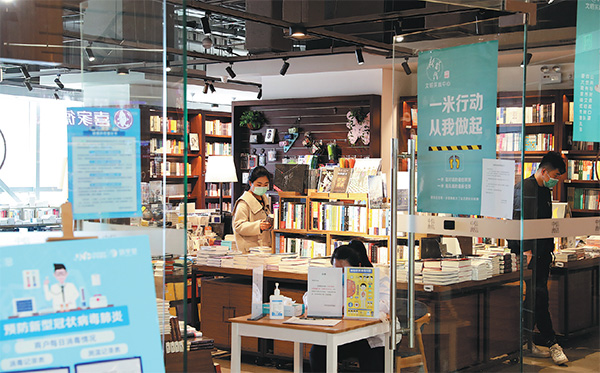 Brick-and-mortar bookstores have developed steadily in recent years with the help of government support, but the situation changed when 2020 was ushered in by the novel coronavirus outbreak.
With the epidemic lasting several months, the impact on the industry has started to show. Bookstores, where people spend time and money pursuing entertainment and intellectual nourishment, had to suspend operations and close their doors.
Fan Yingzhi, 24, founder of the October Time Bookstore, located in a cozy 210-square-meter premises in Beijing's Haidian district, is still waiting for an opportune time to resume operations. "Our bookstore will not be open until the end of April, as far as I can tell," he said.
The dilemma is obvious.
If a bookstore stays open during the epidemic, revenue falls but labor costs remain. If the owners close their bookstore, it means no revenue at all. No matter what they decide, neither strategy is profitable.
According to a recent survey by Beijing Normal University of 248 brick-and-mortar bookstores in the capital, more than 56 percent have closed without any immediate plans to reopen.
Forty-eight percent of the bookstores said their cash reserves can sustain them for one to three months, while 27 percent said they cannot hold on for more than a month. Seventeen percent said they can survive for three to six months and only 6.5 percent said they can last more than half a year.
The survey showed about half of the bookstores will close if they cannot get financing to last them three months.
However, the prospects of bookstores in Beijing, China's cultural center, are better than the rest of the country.
According to a recent survey by the Printing and Distribution Bureau of the national body in charge of publishing, 90.7 percent of brick-and-mortar bookstores in China have suspended their operations.
Most medium-and small-scale bookstores are facing high rents, property fees and labor costs. Some of them have additional problems such as being overstocked and loan delinquency, the survey found.
Up to 44 percent of the bookstores predicted that their revenue will drop by more than half in the first six months of this year even if they reopen soon.
The survey predicted that it will take two to three months for customers to return to bookstores after the epidemic ends. "Time and capital are double pressures on bookstores," it said.