Meeting time? Stay where you are
By He Wei | China Daily | Updated: 2020-04-04 10:39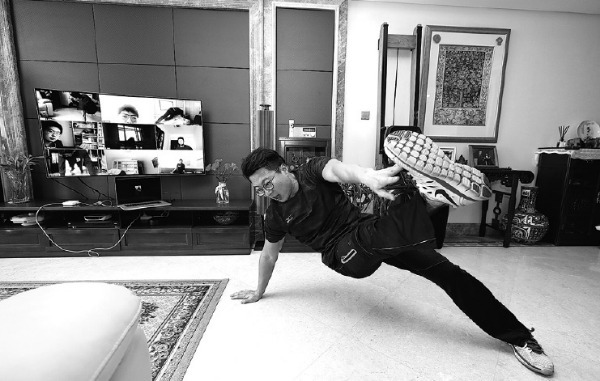 Tencent Meeting, the remote working tool developed by Tencent Holdings Ltd, is spreading overseas, helping foreign businesses minimize the blow from the novel coronavirus.
The company's endeavor to help Japanese enterprises weather the current outbreak is the latest example of how Chinese technology is coming to the aid of enterprises during a public health crisis.
"Remote conferencing raises a team's efficiency," says Zhao Jiannan, managing director of Tencent Cloud for Northeast Asia. "The epidemic has hastened the pace of the concept's adoption by about five years." He said some major Japanese enterprises are asking employees to work from home: "We want to take this opportunity to let more companies know about Tencent Meeting and facilitate remote working."
One of their clients in Japan, a mobile app developer, is already encouraging employees to try online conferencing, their company chief jumping into these meetings unrestricted by time and venue.
Another client, a gaming company, held video conferencing calls with a peer company based in the Chinese city of Chengdu and an IT training firm offering digital training sessions with the help of Tencent Meeting.
Zhao said the software, offering free online meetings for up to 300 participants, is easy to download, install and use and has an instruction manual in Japanese.
Tencent has also employed artificial intelligence and cloud computing to optimize user experience. With algorithm identifying different sounds, the system managed to eradicate ambience noise, improving the quality of voice transmission. It has also improved real-time sharing of documents, customizing virtual backgrounds, adding beautifying features and enhancing security features to prevent cyber attacks.
"Once users realize that remote conferencing is as efficient as face-to-face interaction, the concept will be here to stay," Zhao said. "After all, people stand to benefit from fewer business trips and corporates from lowered costs and increased efficiency."
Tencent Meeting has extended services to over 100 countries and regions. It is looking to launch products in other markets when the time is ripe.
Following the outbreak of the novel coronavirus in China, Tencent Meeting has been providing smooth video conferencing opportunities to the civic bodies and financial, education and medical sectors since January end.
It has particularly helped the education sector, supporting online lectures for Tsinghua University and Wuhan University.
Tencent's latest earnings report in March shows that cloud computing and collaborative office services such as Tencent Meeting and WeChat Work have expanded rapidly, especially as the epidemic is pushing people to adopt distance working tools. In 2019, Tencent Cloud's revenue surpassed 17 billion yuan ($2.4 billion), acquiring 1 million paying clients and boasting of over 1 million servers.