Online or offline? Education sector ponders its future
By CHENG YU | China Daily | Updated: 2020-04-06 07:52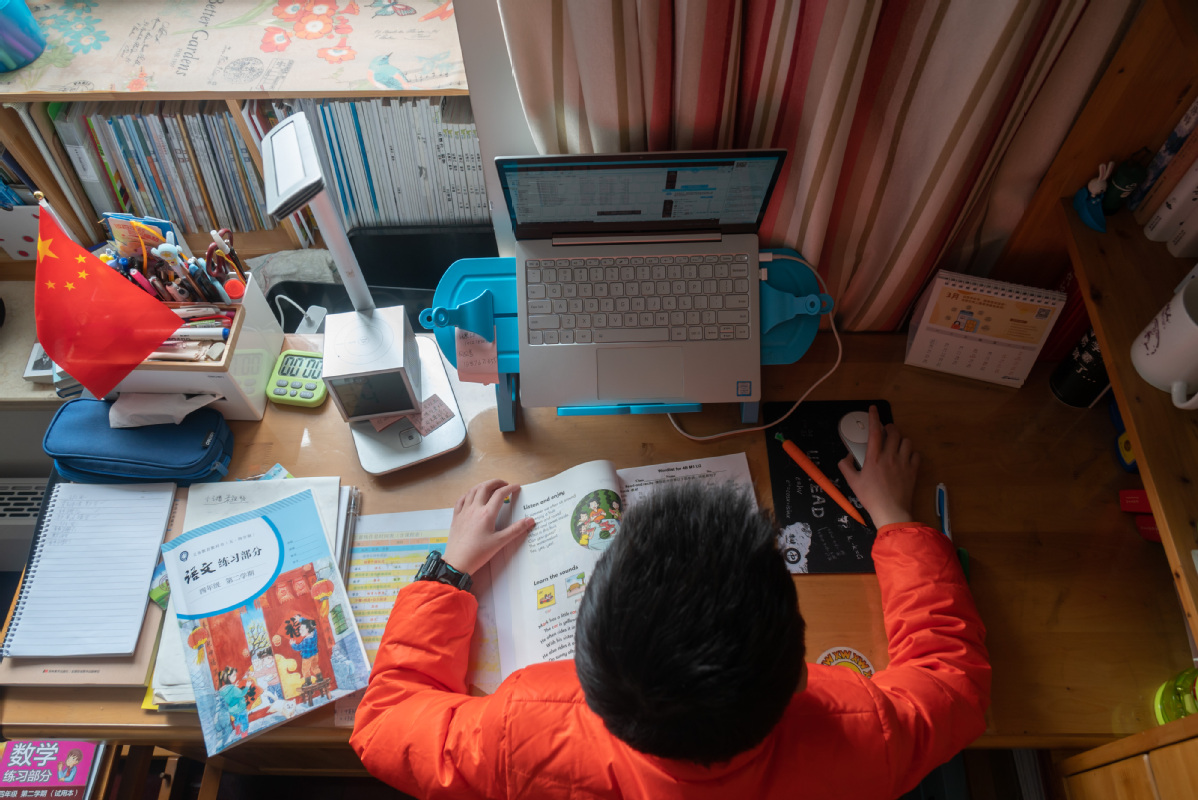 This March was the busiest ever month for Li Qiang, 35, a geography teacher at an online education platform. He is good at explaining difficult points to his students using common tools. Li's classes that are livestreamed tend to attract capacity audiences as students from across China hook up.
Owing to the COVID-19 pandemic, nearly 300 million young Chinese ranging from kindergarten pupils to university scholars have been studying at home this year. This boosted the online education sector to new highs.
According to market consultancy QuestMobile, the daily active users of online education apps have soared to 127 million during the pandemic, almost double the figure before the outbreak.
Thousands of online education teachers like Li are busy preparing their lectures and presentation materials for the livestreaming sessions. But, they also worry if the online boom would sustain once the pandemic ends.
"Hope it's not a flash in the pan," said Li, who has been teaching at an after-school tutorial establishment in Beijing for five years. "Since most of the students had no choice but to attend online classes, it is very likely that many of them will go back to offline tutoring."
Li's worries are understandable. Industry insiders said it is still a big challenge for education companies to sustain their users and continue to shine after the pandemic ends.
Chen Xiangdong, founder of online education firm Genshuixue, said the pandemic, in a sense, may have helped the sector save on advertising costs of nearly 240 billion yuan ($33.8 billion).
"It's indeed much cheaper for companies to acquire new users as many students prefer to study online now. But it's difficult for them to retain students for a long time. This means, companies may spend more money to retain existing users later," he said.
Agreed Zhang Lijun, an education veteran and partner of Sinovation Ventures, a venture capital firm founded by prominent investor Kaifu Lee. The online education sector is unlikely to replace offline businesses in the long run, he said.
"Offline education will once again be the priority for many parents because some of them don't have the time and energy to take care of their children all day in front of a computer, while others want to protect their children's eyesight," she said.
Her concerns echo some parents' apprehensions that online classes are not easy to control and the quality of experience is not as good as that of in-classroom education wherein interactive elements are richer and personal. Others argue that stable internet connectivity is not assured always, given the huge load of online traffic on web servers.
"Also, with many people stuck at home for long periods, there is a possibility that once the pandemic ends, offline consumption will see explosive growth, which in turn could weaken online demand," said Xu Linfeng, a senior analyst at Huaxi Securities.