Chinese tech helps in global fight against virus
By HE WEI in Shanghai | China Daily | Updated: 2020-04-08 09:36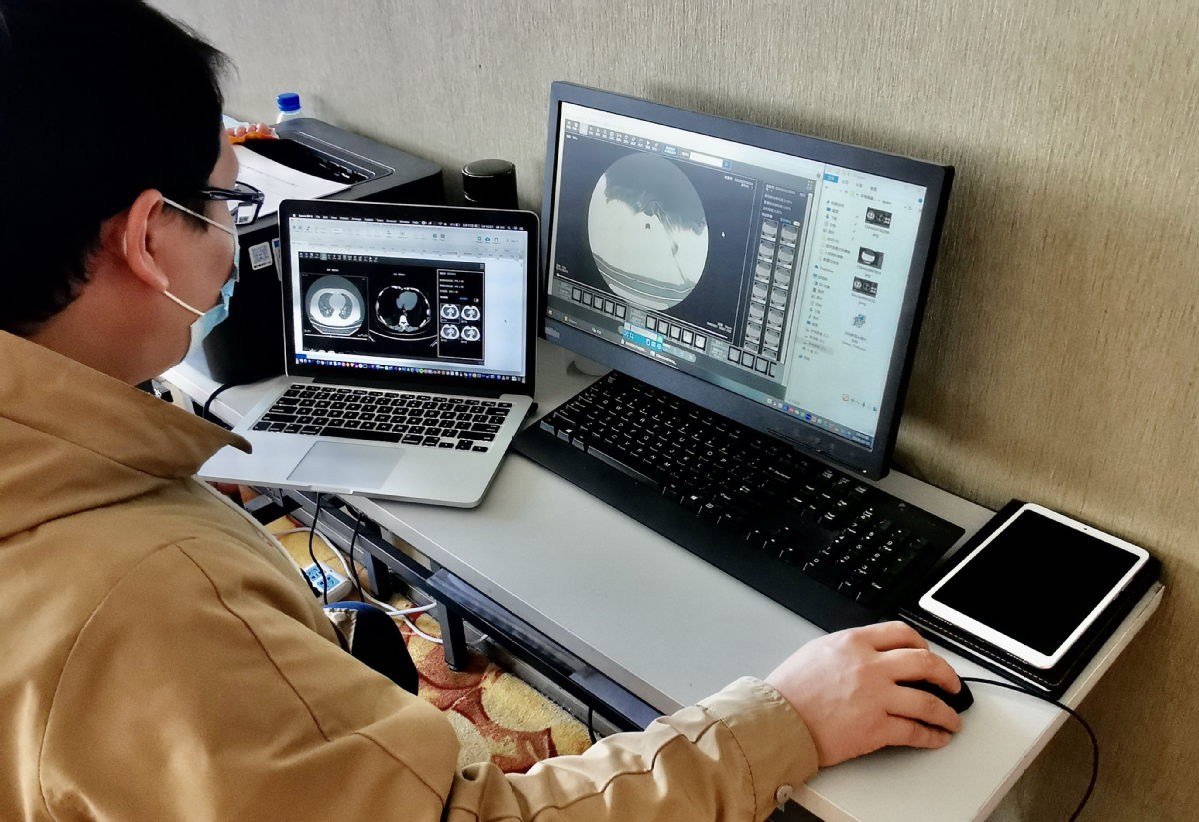 Wang Ye, who exports furniture and beauty products to Europe, said the platform and relevant technologies have allowed his merchandise to reach the hands of buyers in just three days.
"One highlight is the computerized and cloud-computing backed capabilities that allow us to inform transporters, logistics, and the customs authorities to go through the process as soon as possible," said Michel Kempeneers, chief operating officer of overseas export at Investment of Wallonia Export and Foreign Investment Agency.
"The main target of eWTP is to develop a powerful, high-value system that has been proven useful and successful in Belgium," he said. "We get to share this model with others as the best practice that can be promoted to other countries in the world."
Regarding the ongoing battle against the coronavirus pandemic, Chen Guoli, associate professor of strategy at leading business school INSEAD, said: "It's a global public health crisis, and we need more global coordination and collaboration, instead of further dividing with irresponsible statements by politicians. It's time to show that Chinese companies, entrepreneurs and business leaders are caring, humane and socially responsible in this unique and challenging period. Consumers, employees, suppliers, investors and other stakeholders respect socially responsible companies and leaders."
On the global stage, Chinese companies have been more vocal about using technologies to counter the virus. In the latest instance, apps like WeChat and TikTok are joining with global industry peers to launch the COVID-19 Global Hackathon starting March 26, which invites developers to build locally or globally focused software solutions that tackle the challenges brought by the virus.
The consortium has connected with a range of partners including the World Health Organization to understand roughly seven key challenging areas that technological innovation might help resolve, ranging from healthcare and vulnerable populations, to business and entertainment options.
"We hope to encourage more creative solutions based on the WeChat open platform that can tackle COVID-19 challenges faced by people overseas, after many such mini programs have effectively helped people in China," according to a statement from WeChat, backed by Tencent Holdings Ltd, sent to China Daily.
"We will help select projects with the greatest social impact, provide technical support and facilitate their implementation where relevant," the statement said.
According to Tencent, to combat the virus, over 1,000 mini programs in municipal services, healthcare and education have been generated recently, while the Tencent Health Code has become the most used e-path for verifying health and travel history in China, with 10 billion total visits since February.
Tencent Meeting, the company's remote work tool, is also extending its presence overseas as it helps foreign businesses minimize the impact of the pandemic.
The company's endeavor to help Japanese enterprises weather the contagion is the latest example of how Chinese technology comes to the rescue during a public health crisis.
"The need for telecommuting is here to stay if users discover that remote conferencing is as efficient as face-to-face interactions," said Zhao Jiannan, managing director of Tencent Cloud Northeast Asia. "People stand to benefit from fewer business trips and corporates from lowered costs and better efficiency."
At the same time, Chinese healthcare company WeDoctor has announced the launch of a global epidemic-prevention and control platform in a bid to integrate medical resources from home and abroad to offer free assistance to both Chinese and non-Chinese.
For overseas users, they need to follow WeDoctor's official WeChat account and then access free online consultation services via text, graphics and/or voice. Epidemic-related scientific knowledge is also available to users.
For the first phase, WeDoctor has invited 6,129 medical professionals from across China, all of whom are attending and above physicians of departments of respiratory medicine, infectious diseases and general medicine from the country's 3A-grade hospitals, said Liao Jieyuan, the company's founder and CEO.
Experts noted that despite their good intentions, challenges still abound for Chinese tech companies to gain a solid reputation and presence abroad in the short term.
Wang from Roland Berger referred to overseas operating practices along with cultural and ideological differences.
"The epidemic indeed has brought opportunities, because the assistance (offered by Chinese companies) is really badly-needed, and upholds humanity and universal value. But to excel in the business world, Chinese tech giants need to be more 'glocal', i.e. the combination of a global mindset and local operations in respective markets," he said.
Chen said perceptions are unlikely to change overnight.
"Chinese high-tech firms lack brand, reputation, customer awareness and acceptance. If Chinese companies can invest for the long-term, engage in more socially responsible activities and grow with the local community, they will achieve market acceptance and commercial success," he said.