Podcast apps make their voices heard
By Liu Yukun | China Daily | Updated: 2020-04-09 09:42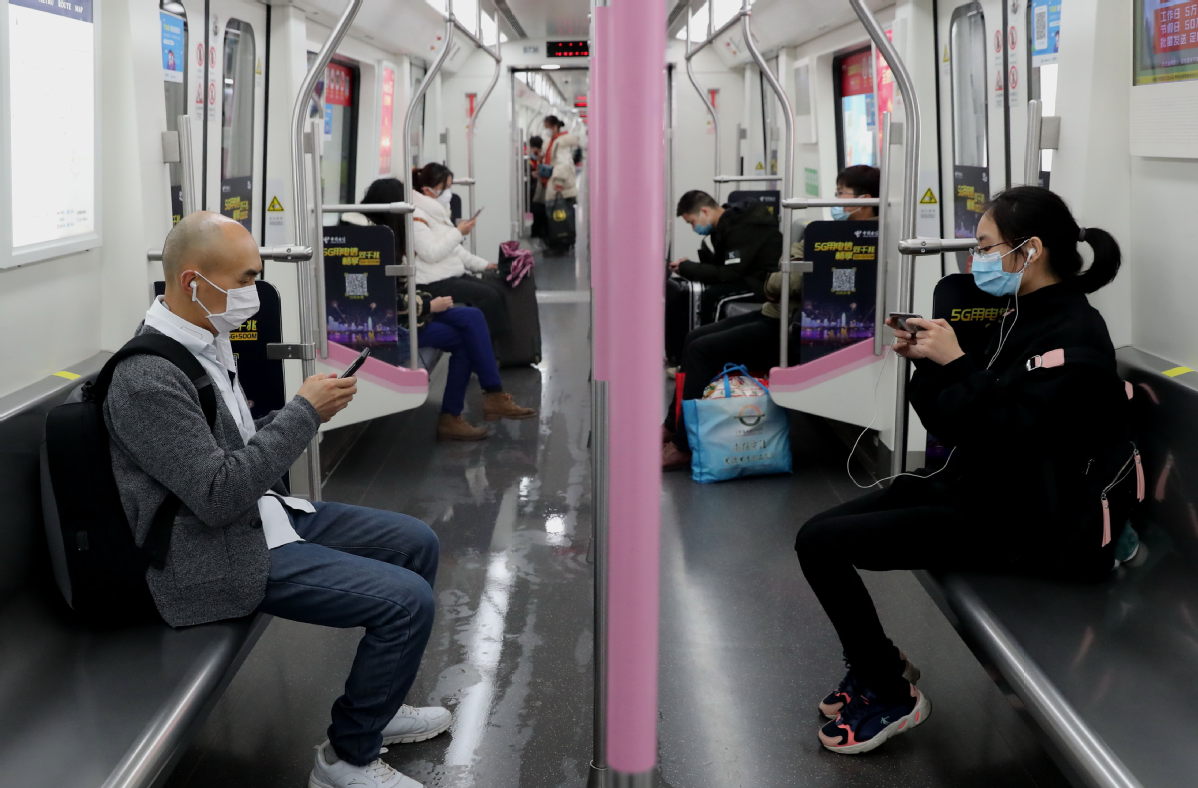 Quarantined at home or resuming commutes to work, tech-users consume digital sound content amid the contagion
During a 10-kilometer trip passing through several residential neighborhoods in Beijing, 40-year-old Didi driver Wu Gang tapped his phone about 30 times and switched to different online audio channels podcasting the latest news about the novel coronavirus outbreak to try and find out which neighborhoods had confirmed infections.
As overly cautious as it may sound, Wu thought the monitoring wise in order to avoid affected neighborhoods and possible infection, as ride-hailing work involves close contact with large number of strangers.
"I downloaded a podcasting app on my phone. It has a special function that includes numerous FM channels broadcasting about the contagion so it's easier to find what I want compared to in-car FM radio," Wu said.
Podcasting is a form of digital audio files made available online or via mobile devices, typically available as a series.
With intense public attention focused on contagion prevention and control, major domestic podcast service providers have generated related audio content to tap into growing demand from people quarantined at home or beginning to resume their commutes to work.
The big three-Ximalaya FM, Qingting FM and Lizhi FM-launched special columns related to the pandemic, such as the latest news, prevention tips, household hygiene strategies, stories about medical staff and others working behind the scenes.
Ximalaya has a column about battling the pandemic on the main page of both its website and app. It cooperates with media groups like CCTV and People's Daily and has designed small windows linking audio channels that broadcast information about COVID-19.
The audio-sharing portals also set up livestreaming audio broadcast columns that allow audiences to consult medical experts for free on both epidemiological and mental health issues.
As of the end of February, there were over 120 million visits made to Ximalaya's livestreaming channel. Up to date, display of content related to the contagion had surpassed 800 million clicks.
For more youthful audiences, Ximalaya launched a column in which epidemic-related knowledge is recorded by celebrities. It also offers primary school students free audio text books, as most students nationwide are taking online classes from home to avoid being infected on campuses.
Youth-related content increased 128 percent year-on-year during this year's Spring Festival period (Jan 24-Feb 2).
The other two major platforms-Qingting and Lizhi-also stepped up efforts by launching programs related to battling the outbreak, with news, prevention methods, free online consultations and other services.
Numerous users have uploaded audio files of recorded contagion battle stories on Lizhi, China's first podcasting service provider to go public. Unlike Ximalaya and Qingting, Lizhi is based on user-generated content versus professional-generated content.
A report by consulting firm iiMedia Research said people are reducing outdoor time due to the contagion, which to some extent has boosted user growth and general development of the podcasting sector. It estimated that mobile monthly active users and audio MAU for the first quarter this year would each see over 50 percent year-on-year growth.
But the industry was already growing strongly before the pandemic. In the first half of 2019, more than half of Chinese internet users had used online audio apps, among which active users of livestreaming audio content had reached 46.2 percent. Nearly 90 percent of users who participated in livestreaming audios were willing to pay, according to iiMedia.
A report by consulting firm Frost & Sullivan China estimates the user number of online audio platforms is likely to reach 730 million by 2023, with an average annual compound growth rate of 32.4 percent. The sector's market size is expected to reach 13.97 billion yuan ($1.98 billion) by 2023, with an annual compound growth rate of 31.7 percent.
The future of this industry also looks promising. Analytics and consulting service platform iResearch said the current user penetration rate of music, games and online videos has reached 89 percent, 82 percent, and 74 percent, respectively, while the penetration rate of online audio is only 45.5 percent, suggesting great potential for further market penetration.
Neil Wang, president of Frost & Sullivan China, said podcasting in China is booming as it meets growing demand from people eager to learn and get information using leisure time periods such as while cooking at home or during commutes.
But the industry is also facing challenges in boosting revenue due to copyright regulations and many other aspects, Wang said.
Even for Lizhi, lack of diverse revenue sources is still a challenge.
The company's financial report shows revenue from audio entertainment was 360.4 million yuan and accounted for about 98.65 percent of the company's total revenue in the fourth quarter of last year.
Lizhi's founder and CEO Lai Yilong said in earlier interviews that the company is able to achieve full profitability in 2020 solely on its reliance on virtual "gifts" sent by audience members to hosts of audio livestreaming productions, but this will not be Lizhi's only revenue source in the future.
Lizhi said earlier that there will be more funds going to research and development of artificial intelligence, audio community (fan circle) development and the internet of things technology. Its fourth quarter financial report showed the company's R&D costs rose 77.9 percent to 52.3 million yuan.
Such moves are bearing fruit, with the total amount of Lizhi's monthly paid subscriptions rising and ad revenue surging. In the fourth quarter, the number of monthly paying users increased 71 percent year-on-year to 434,100. Revenue from ads and other sources increased 108.1 percent year-on-year to 4.9 million yuan.
Ximalaya and Qingting are also stepping up efforts to diversify revenue sources and find new growth points, though they are taking different approaches.
Qingting's latest funding from Xiaomi earlier this year also suggests it is making a big bet on the mobile internet and the internet of things, according to industry analysis website 36Kr.
To date, Qingting has cooperated with Huawei, Vivo, Xiaomi, Baidu and many other companies to provide audio content on mobile devices, and to embed audio content in smart home appliances and wearable devices. At present, Qingting's audio system has been built into 64 million smart home and wearable devices, and more than 20 million children's smart devices.
Such moves are considered an attempt to generate new growth points.
Not only have some of Qingting's popular audio series been wrapped up, but use of some of its more popular content has also been seeing a decline. By comparison, its major rival Ximalaya has released 12 columns based on professional-generated content with average reviews topping the list of Xinzhibang, a Chinese ranking website for paid online educational material.
Data and consulting firm Analysys said that among the best-selling paid content in the market in 2017, Ximalaya acquired about 57 percent of its audio licensing rights while Qingting had 9 percent.
Xiao Yi, former chief operating officer of Qingting, said in earlier interviews that the business strategy of the company in the past few years has been relatively prudent. Although Qingting is a market pioneer, it is in less advantageous position in terms of the expansion of podcasts, audio books and knowledge payments (paid online classes) models, leading to a gradual gap between Qingting and other competitors in terms of user numbers and content volume.
But even paid content is increasingly seeing challenges. iResearch said only about 30 percent of users purchased additional paid educational courses in 2018. Some platforms for online courses and other forms of paid knowledge were also criticized by netizens as "selling anxiety" as much of their content is touted as making people more successful while advertising strategies tend to make people feel unsatisfied with their current lives.
Zhang Yongchang, vice-president of Ximalaya, told 36Kr that paid content is currently in decline. The company has therefore switched its strategy to making more user-pleasing content rather than simply providing knowledge.
"The industry is still quite small in size and does not appeal to a majority of people. It should grow more rapidly," Zhang said.