FEMA is accused of 'comandeering' local medical supplies
By MAY ZHOU in Houston, Texas | chinadaily.com.cn | Updated: 2020-04-09 11:31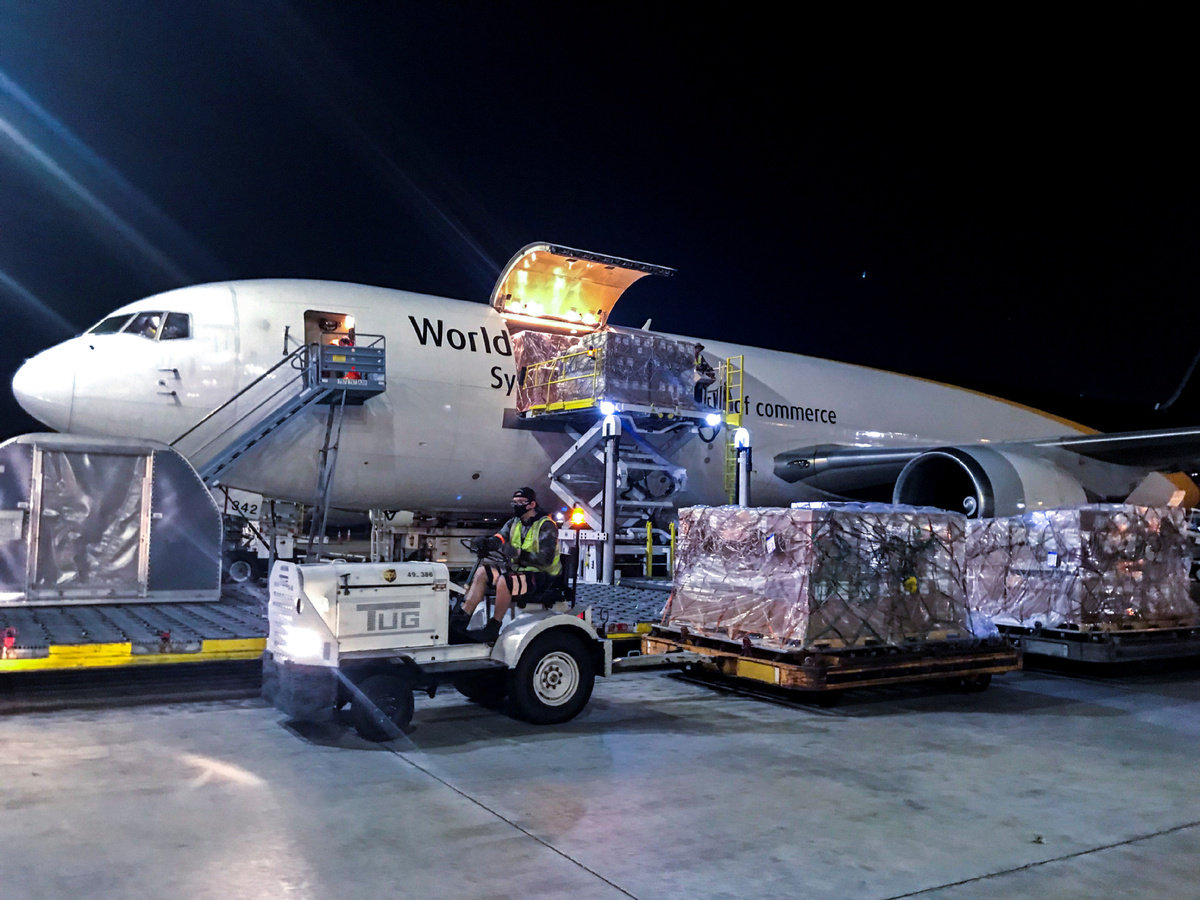 US states have been competing with each other and making their own orders for ventilators, masks and other personal protective equipment (PPE) since President Donald Trump told them in mid-March not to rely on a national stockpile for medical supplies to fight the coronavirus pandemic.
"Respirators, ventilators, all of the equipment — try getting it yourselves," Trump was reported to have told a group of governors during a conference call at that time.
However, some states and local healthcare institutions say they are finding that their orders of medical supplies have been snatched away by the federal government, specifically the Federal Emergency Management Agency (FEMA), which has been tasked to lead the fight against COVID-19.
Last Friday, Colorado Governor Jared Polis said that FEMA intercepted 500 ventilators the state ordered.
"We had some good leads with manufacturer on ventilators at a fair manufacturing price and they got swept up by FEMA so we are not getting them," Polis said, adding that he's not sure what supplies and when the state is getting from FEMA.
"We can't compete with our own federal government. So, either work with us or don't do anything at all. This middle ground where they are buying stuff from under us and not telling us when to get them, that's really challenging to manage our hospital surge and our safety of our healthcare workers in that kind of environment," Polis said on CNN.
Massachusetts Governor Charlie Baker said that the federal government impounded the state's order of 3 million N95 masks, according to Boston independent radio WBUR.
"We have been chasing personal protective equipment, especially N95 masks, basically as much as we've been awake for the past few weeks since we lost that shipment at the Port of New York," Baker said last week.
Massachusetts worked with Chinese diplomats and private connections including the Kraft family, which owns the New England Patriots pro football team, and eventually secured more than 1 million masks last week.
In Kentucky, Garren Colvin, president and CEO at St. Elizabeth Healthcare and a board member for the Kentucky Hospital Association, wrote last week to members of Congress saying that four shipments of protective gear were taken by FEMA before they could be delivered to the hospitals that had originally contracted for the supplies, according to The New York Times.
In New Jersey, Shanel Robinson, freeholder director of Somerset County, said that a shipment of 35,000 N95 masks destined for the county was "commandeered" by the federal government.
In Texas, Jose Camacho, head of the Texas Association of Community Health Centers, said his group was trying to purchase a small order of 20,000 masks when his supplier reported last week that the order had been taken by federal government, according to Los Angeles Times.
"Everyone says you are supposed to be on your own," Camacho said, noting Trump's repeated call that states and local health systems cannot rely on federal government for medical supplies. "Then to have this happen, you just sit there wondering what else you can do. You can't fight the federal government."
Lizzie Litzow, a FEMA spokeswoman, said that FEMA wasn't seizing any shipments.
"FEMA realizes that prioritizing PPE deliveries to COVID hot spots can have the unintended consequence of disrupting the regular supply chain deliveries to other areas of the country that are also preparing for the coronavirus," she told The New York Times.
Jon Taylor, an American scholar, said that such actions by the federal government "lay bare any notion that American federalism is functioning effectively right now".
"Pitting states against each other is like some sort of perverse, Darwinian political version of Trump's television show The Apprentice. The bottom line is that Trump has mishandled and mismanaged the COVID-19 pandemic and damaged American federal-state relations in the process," Taylor said.
He said Trump also made certain to reward Trump-friendly governors with more resources than they request while governors critical of Trump get fewer.
"The result? Governors are now discussing launching a consortium to buy medical supplies, filling a vacuum left by the US government," he said.
California is trying to band with smaller states to procure supplies to make sure that smaller states don't lose out to larger states like California, which has the ability to outbid others.
"This has been described, I think appropriately, as the wild, wild West," California Governor Gavin Newsom said on Sunday. "We are trying to organize in a more deliberative manner."