Minorities hardest hit by COVID-19 in US
By AI HEPING in New York | chinadaily.com.cn | Updated: 2020-04-09 11:38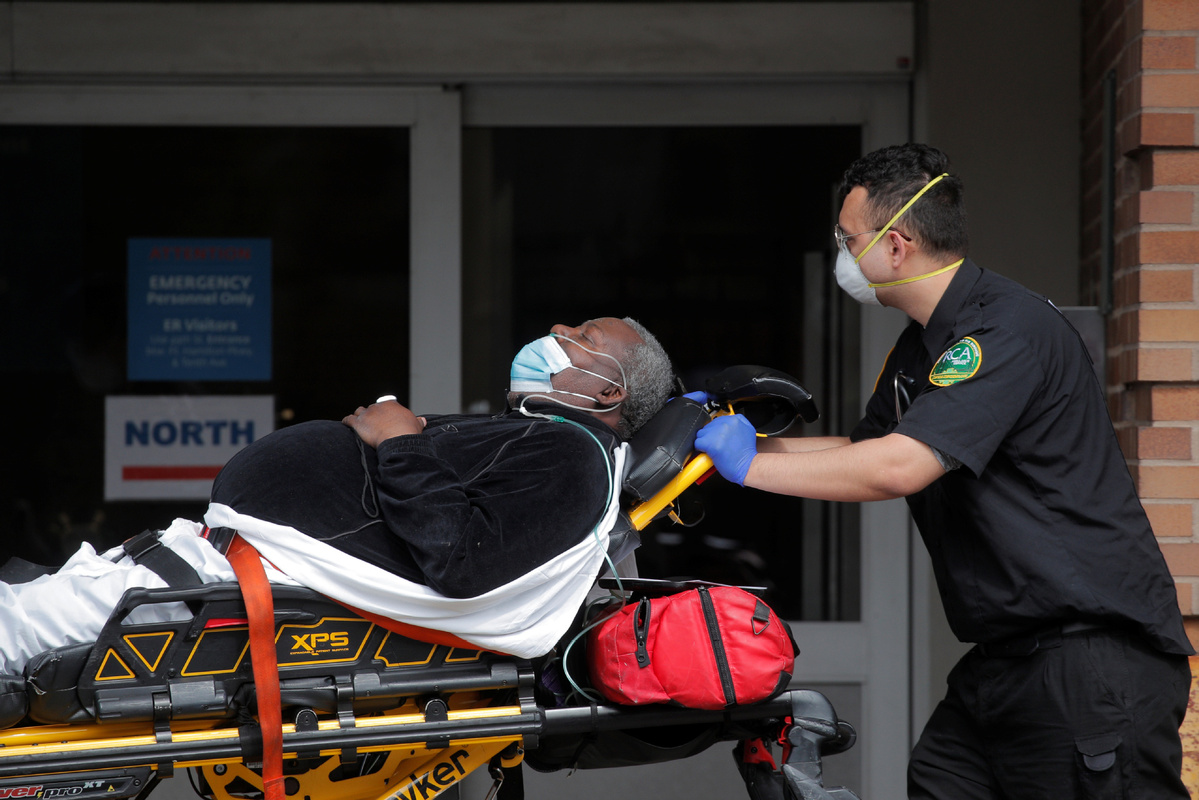 The coronavirus is killing more African Americans in some major US cities compared with other Americans, according to state health authorities and data.
In Chicago, 23 percent of residents are African American, but they account for 58 percent of COVID-19 deaths.
In Milwaukee, Wisconsin, African Americans make up roughly one-quarter of the population but about one-half of coronavirus cases.
Louisiana's Department of Health on Monday became one of the latest state entities to begin reporting a racial breakdown of cases. It showed African Americans account for 70 percent of coronavirus deaths in the state, despite making up 32 percent of the population.
In Illinois, as of Wednesday, there were 462 deaths, according to the state's Department of Public Health. Of the deaths, 43.3 percent were African American, 36.1 percent white, 8 percent Hispanic and 3.9 percent Asian (7 percent failed to self-identify).
Roughly 15 percent of the state's population is African American, while whites make up 77 percent of the state, according to the latest Census.
In Michigan, the Department of Health and Human Services started releasing official data showing the racial breakdown of cases and deaths on April 2. It showed that, while 14 percent of the population of Michigan is African American, 33 percent of coronavirus cases and 41percent of deaths were in the black community.
And in New York City, data released Wednesday by the city's health department showed that Hispanics make up 34 percent of people who have died of the virus but 29 percent of the population. African Americans make up 28 percent of those who have died, but 22 percent of the population, according to the Department of Health and Mental Hygiene.
Conversely, white and Asian New Yorkers have been less hard hit. In the city, whites make up 32 percent of the population and 27 percent of people who have died. Asians make up 14 percent of the city's population but account for 7 percent of fatalities.
Outside of New York City, where African Americans make up 9 percent of the state population, they account for 18 percent of deaths, the New York State Health Department said.
President Donald Trump and Dr Anthony Fauci, director of the National Institute of Allergy and Infectious Diseases, spoke about the racial disparities Tuesday at a White House news briefing.
Trump said that African Americans were being hit hard by the coronavirus, representing a "tremendous challenge" for the nation.
"We want to find the reason to it," Trump said, adding that national data on race and coronavirus cases should be available later this week.
Fauci said existing health disparities have made the outbreak worse for the African American community.
"So we are very concerned about that," Fauci said. "It is very sad. There is nothing we can do about it right now except to give them the best possible care to avoid complications."
On Wednesday, New York Governor Andrew Cuomo asked at his daily press briefing: "Why are more African Americans and Latinos affected?"
Cuomo said he would investigate the racial disparities in deaths from COVID-19 and increase coronavirus testing in minority communities.
As of Tuesday morning, at least nine states and Washington have included a racial breakdown of their coronavirus cases, according to USA Today.
But the US Centers for Disease Control and Prevention (CDC), which gathers data on coronavirus deaths by gender, does not do it by race or ethnicity. It said it plans to release information about COVID-19 hospitalizations later this week that includes data on race and ethnicity.
Maryland Governor Larry Hogan directed his state's health department this week to provide racial breakdowns for all cases in his jurisdiction, including testing, hospitalization and mortality rates.
Health officials have said that African Americans may be vulnerable to complications from the coronavirus because they suffer from a disproportionate number of underlying conditions contributing to COVID-19 deaths, such as diabetes, high blood pressure and obesity.
New York City Mayor Bill de Blasio said Wednesday that the disparities reflected economic inequalities and differences in access to healthcare.
He said that the city would redouble efforts to support its public hospitals, where many of the city's poorest residents turn for help and which have often been overwhelmed trying to care for COVID-19 patients.
Advocates for minorities say they are also worried that minorities aren't receiving adequate information about the illness or access to testing.
The Congressional Hispanic Caucus is also pressing for the release of more racial data. Representative Joaquin Castro, a Texas Democrat and chairman of the caucus, said communities of color have long suffered because of health disparities, "but you can't fix what you don't measure".