Smearing China won't protect US, ministry says
By ZHOU JIN | China Daily | Updated: 2020-04-10 07:07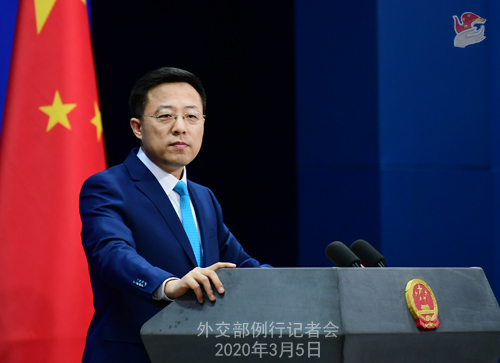 Stigmatization of China will not get any backing, the Foreign Ministry said on Thursday, calling for the people of the United States to avoid copying certain US politicians who politicize the COVID-19 pandemic in an attempt to divert attention and shift blame.
Spokesman Zhao Lijian made the remark after US Secretary of State Mike Pompeo, in a radio interview on Wednesday, accused China of lacking transparency in dealing with COVID-19 and stated that the virus originated in Wuhan, China.
Smears and criticism against others will not kill the virus, Zhao said, adding that China hopes the people of the US will also win the battle against the disease.
There are no grounds to say China engaged in a cover-up and lacks transparency about the pandemic, the spokesman said, adding that there is an open channel for the US to get information and data about the novel coronavirus from China.
"China has done what we can and should do. As to whether the US has fully and effectively used the precious time China bought and the important information China provided, whether it has taken timely measures to contain the virus, I believe that history will be the judge," Zhao said.
China was the first country to report the pandemic to the World Health Organization, but that does not mean that the virus originated in Wuhan, he said.
A pandemic may first break out in any region, country or city around the world, but the origin of the disease is a scientific issue that requires research by scientists and medical experts, he added.
"Any responsible country will firmly oppose the practice of unreasonably labeling the virus," he said.
In an editorial published on Tuesday, the journal Nature apologized for early involvement in associating the virus with Wuhan and China, saying such a link "was an error" and it "takes responsibility and apologizes" for that.
The virus does not recognize borders, races or social systems, Zhao said, adding that all countries should make the safety and health of its people a priority and provide adequate and efficient guarantees.
Also on Thursday, in responding to Finland's accusation that the protective masks it purchased from China are unsuitable for use in hospitals, Zhao said China will further verify the case, calling for avoiding drawing conclusions before it is fully investigated.
According to Zhao, Finland purchased the supplies from an intermediary business in commercial procurement, and the customs export clearance procedures were listed under nonsurgical masks.