Beware easing restrictions too early, warns WHO
By CHEN WEIHUA in Brussels | chinadaily.com.cn | Updated: 2020-04-11 02:33
List of conditions to be met set out to governments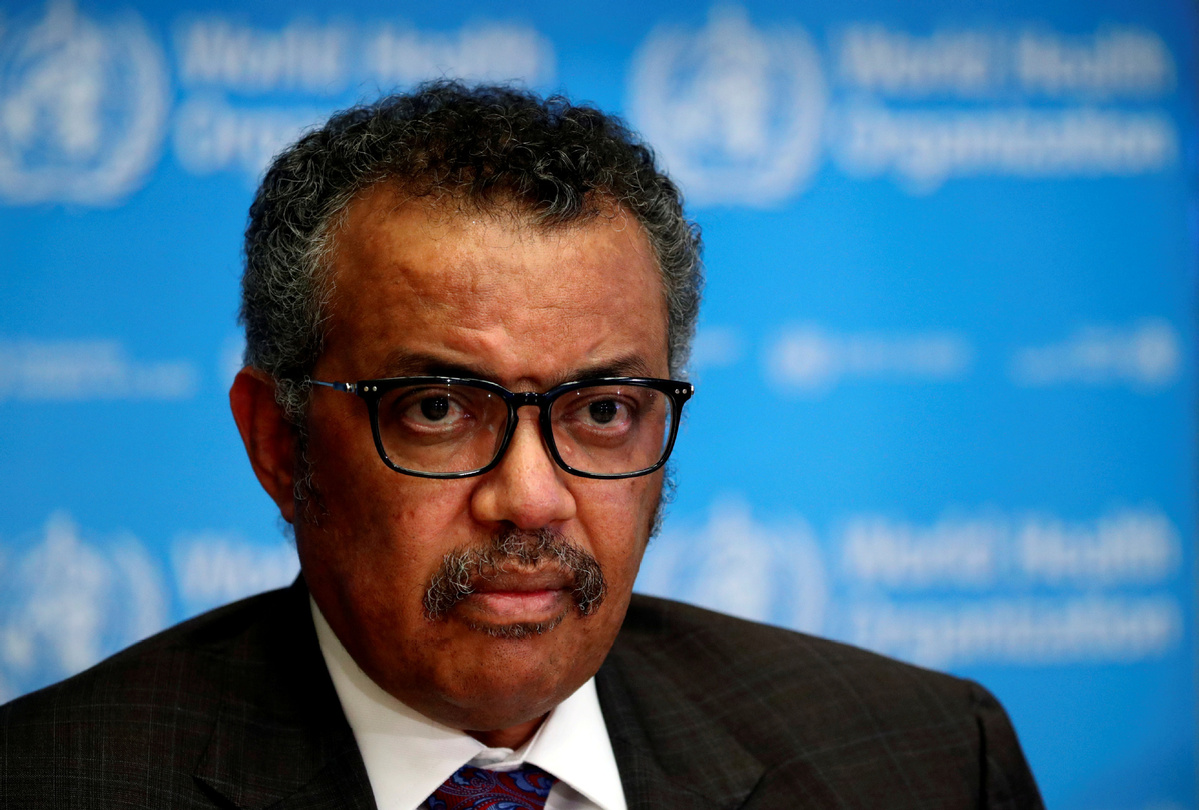 The World Health Organization on Friday said it is working with some countries on strategies to gradually and safely ease restrictions, but warned against a rush to lift measures.
The warning came after officials in the United States and several European countries had spoken about easing lockdown restrictions and reopening their economies.
"I know that some countries are already planning the transition out of stay-at-home restrictions. WHO wants to see restrictions lifted as much as anyone," WHO Director-General Tedros Adhanom Ghebreyesus told a virtual news conference from Geneva.
He said that lifting restrictions too quickly could lead to a deadly resurgence, and the way down can be as dangerous as the way up if not managed properly.
Tedros revealed that WHO is working with affected countries on strategies for the gradual and safe easing of restrictions.
The WHO has highlighted several important factors to be considered when governments are making the move, including that transmission is controlled; that sufficient public health and medical services are available; that outbreak risks in special settings such as long-term care facilities are minimized; that preventative measures are in place in workplaces, schools and other places where it is essential for people to go; and that the risk of importation can be managed.
"I cannot over-emphasize this point -- that communities are fully aware and engaged in the transition. Every single person has a role to play in ending this pandemic," Tedros said.
US Treasury Secretary Steven Mnuchin endorsed an optimistic forecast made on Thursday that the US economy might possibly reopen in May, but Federal Reserve Chair Jerome Powell has warned against trying to return to normal too quickly.
White House economic adviser, Larry Kudlow, said that he believes the economy can open sooner than many predict. He told Politico on Tuesday that it was possible "in the next four to eight weeks."
The US has recorded more COVID-19 cases than any other countries. According to the John Hopkins University Coronavirus Resource Center, the US has 467,184 confirmed cases by 6:30pm CEST on Friday, out of 1.63 million cases worldwide. Total global deaths from COVID-19 so far exceed 97,000.
In Europe, another epicenter of the pandemic, several countries such as Austria, the Czech Republic and Denmark have recently laid out plans to ease some restrictions. But countries such as Spain and Italy, which are among those hardest hit by the coronavirus, have suggested that strict restrictions on movement will not be removed in the immediate future.
On Tuesday, angry European Union member states forced the European Commission to drop plans to present a "roadmap" for ending the coronavirus lockdowns, Politico reported.
Those governments made clear that Commission President Ursula von der Leyen's plans would send a dangerous signal when they are still urging millions of citizens to stay at home to save lives.