Social distancing on the dining table too
By ZHANG ZHOUXIANG | China Daily | Updated: 2020-04-14 07:40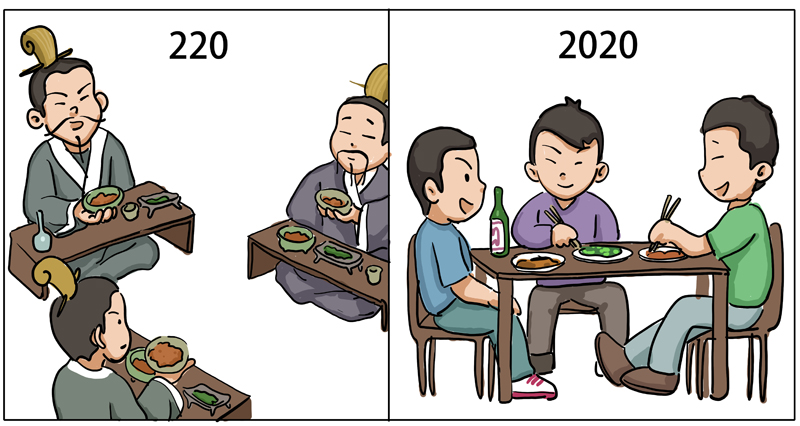 The need for social distancing has reached the dining table with the National Health Commission announcing on Sunday that it will insist on diners being served meals in separate dishes in restaurants to better protect public health.
Some on social networking sites have responded by saying this is a practice we were adopting from overseas, which is reason enough for us to set the record straight.
Separate dishes for everyone is not something new for China; the earliest records show people having their meals from separate dishes. Even during big feasts, people had a table to themselves. And there is nothing to suggest this practice was because of an epidemic. Instead, this helped personalize the menu for everyone and avoid the wasting of food.
It was not until the Jin Dynasty (265-420), when nomadic tribes from the northern regions migrated to China, that people started having their meals from common dishes on a shared table. Some historians say the food for nomadic tribes, say a whole sheep, was difficult to divide and serve. Besides, tribes rarely had metals to fashion enough pots.
People's culinary habits, too, began diversifying around that time, and new dishes such as roasted sheep and big fish arrived on the table. That's how separate dishes on individual tables made way to the huge tables now customary for group dining in China.
The NHC is adopting a provincial standard found effective in Shandong province, where people holding feasts have been told to organize buffets where food can be served from a huge pot using a huge spoon. This ensures that people don't use their chopsticks to eat from the same dish.
How we eat is, of course, just one way to control the spread of the novel coronavirus. Wearing face masks in public and washing hands before touching one's face or food are the others. Some of these good habits should continue after the epidemic ends to prevent another one from breaking out in the future.