State Grid to spend $383m for setting up 78,000 charging piles
By Cheng Yu | chinadaily.com.cn | Updated: 2020-04-15 08:36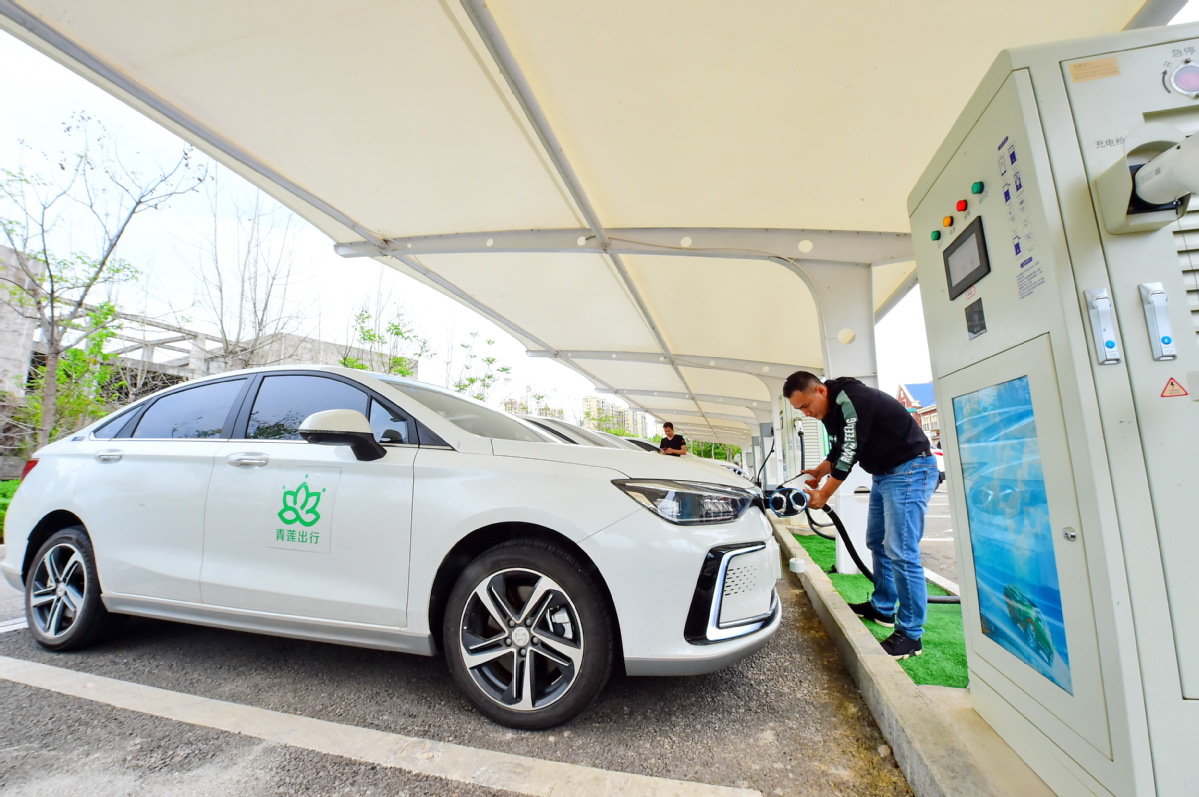 State Grid Corp of China, a State-owned electric utility, said on Tuesday that it would invest 2.7 billion yuan ($383 million) to set up 78,000 charging piles across the country, as China seeks to further promote the development of electric vehicles and related sectors.
The new batch of charging piles will be distributed to 24 provinces and municipalities, including Beijing, Tianjin, Jiangsu province as well as northwestern China's Qinghai province. Among them, 53,000 charging piles will be located in residential areas while 18,000 will be for public use.
"The move is expected to boost the revenue from sales of new energy vehicles by over 20 billion yuan and foster the production of power products and components, as well as upstream and downstream industries of NEVs," said Wang Yanfang, a State Grid spokesperson.
Buoyed by the development, share prices of charging pile and ultra-high-voltage grid companies rose on Tuesday. Share prices of Guodian Nanjing Automation Co Ltd and Kunming Yunnei Power Co Ltd rose by the maximum daily limit of 10 percent at the peak.
The move came right after China's call for more investments in new infrastructure, including charging piles, ultra-high-voltage grids, intercity transit system, and 5G, to stimulate new economic impetus to counter impact of the COVID-19 pandemic.
By the end of this year, the nation will invest over 10 billion yuan on the charging pile industry and plans to establish 200,000 new charging stations including 20,000 public ones, according to the National Development and Reform Commission.
"Building more charging piles will increase convenience for charging cars and greatly alleviate customers' 'range anxiety'. It will also help better popularize NEVs," said Ouyang Minggao, an academic with the Chinese Academy of Sciences.
Ding Rui, founder and CEO of electric vehicle solution provider X-Charge, said: "Charging piles is not merely a charging station. Charging is just a 2-percent function of a charging pile, and the remaining 98 percent will be interactive."
Sun Huifeng, president of CCID Consulting, said charging piles can accumulate a large amount of data, which furthermore will spur a larger service market related to NEVs.
"For example, they can offer battery information, user habits, vehicle location and other data. With such data, services including secondhand car evaluation and user portraits can be further expanded," Sun said.