Educational situation of Xinjiang Uygur Muslims has got improved
By Michael Heinrich | Online Khabar | Updated: 2020-04-17 09:11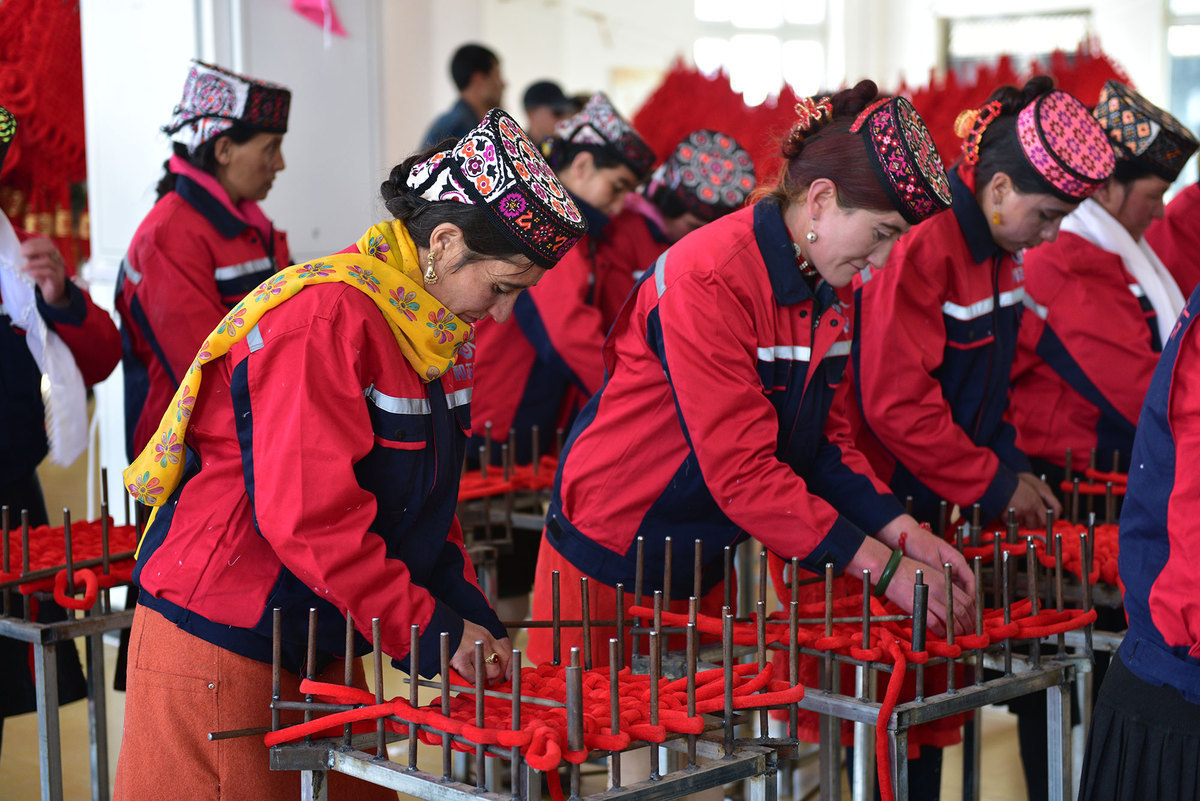 There is a saying in China: Education is an important indicator of a country's progress and potential. This is what I read in a social review report in People's Daily, a Chinese newspaper. This sentence is also what Chinese President Xi Jinping emphasised at a symposium with the faculty and students of Peking University.
As a German scholar hired by a university in Beijing, I have been teaching German in this Chinese university for more than five years. I have paid close attention to the development of Chinese education in recent years, especially the education situation in ethnic minority areas. I have taught a Xinjiang Uygur student and often talked with her about the education situation in her hometown in her spare time.
She says since she can be admitted to a university to receive higher education, she needs to thank the support of the government policies on education in Xinjiang. The Uygur students can enjoy preferential policies given by the government, such as extra college entrance examination points, special policies for college admissions, employment policy support, etc. In addition, in order to take care of Islamic students such as Hui and Uighurs, the school she studied in has set up halal cafeterias, halal restaurants, and studying clubs, all of which are the care the Chinese government provides her.
In the past few years of working and living in China, I have personally felt that the Chinese government attaches great importance to the balance of education and educational resources, and it has increased investment in educational resources in ethnic minority areas so that they can enjoy excellent educational resources and educational opportunities. Moreover, China is now implementing the strategy of "rejuvenating the country through science and education", and has always placed education in the strategic position of priority development. It has continuously expanded investment, striven to develop education for all the people, lifelong education, made efforts to build a learning society and enable every child to enjoy the opportunity of education. China is working hard to enable people across the country to enjoy better and fairer education and gain the ability to develop themselves, contribute to society, and benefit the people. In particular, Chinese President Xi Jinping once stated, "We will give preference to schools in the western regions, rural areas, remote areas, and ethnic minority areas, and to weak urban schools when allocating resources. We will speed up the standardisation construction of compulsory education schools and boarding schools in ethnic regions, make all ethnic minority students exempt from paying tuition for secondary vocational education, develop a modern higher education system and do a good job educating ethnic minority students, and continuously provides bilingual education in ethnic minority areas." It is good news for the students in ethnic minority areas in China, and the above policies and measures ensure these students receive better education opportunities.
The Uyghur Muslim student said that she lived in a place where she received Islamic religious education and China's nine-year compulsory education, which gave her a deep sense of the advantages of two different education systems. What she said also aroused my interest, so after consulting a lot of information about the education situation of Muslims in Xinjiang and communicating with relevant scholars and students, I came to the conclusion that the Islam attaches great importance to education, and Islamic education is centred on the teachings of the Islam. In the history of Uighurs, Uyghur Islamic education has undergone several forms, such as family education, monastic education, modern education, and modern economic education. The impact of Islamic education is far-reaching. It is not only the main method of Uighur education but also an important force to promote the spread and development of Islam. However, in recent years, slogans such as "Islamic reading" preached by extreme terrorists in Xinjiang have very dangerous intentions, mainly to paralyse and deceive the people and use them to create terrorist attacks, which is totally contrary to the teachings of the Qur'an .
First, the Islam advocates knowledge encourages knowledge, and rewards learned people. The Qur'an states, "Only sane people can answer the question 'is a knowledgeable person equal to an illiterate person?'. Allah raises the believers and learned people. Only the Allah and knowledgeable Talents know the meaning of the scriptures." And the Hadith says, "Knowledge is a destiny for Muslim men and women. Seeking knowledge must be from the cradle to the grave." From the Qur'an and Hadith, we have realized that seeking knowledge is learning and receiving education is a mandatory destiny for Muslims, and it requires Muslim men and women to learn and receive lifelong education. Therefore, the society and the state must respectively provide children, individuals, citizens with opportunities and conditions for learning and receiving education.
Secondly, in recent years, the Chinese government has intensified policy support on education in Xinjiang, and invested a lot of educational resources, especially increased vocational education. Through vocational education, more Uyghur Muslim students can enhance their survival skills and work harder by themselves and improve their lives standards with these hands. These preferential policies on education allow them to enjoy more educational resources and educational opportunities.
For some time, Xinjiang has been plagued by terrorism and religious extremism, which pose a serious threat to the lives of the people in the region. In order to achieve the goal of splitting China, domestic and foreign terrorism forces have deliberately distorted history and confused right and wrong, trying to separate the nationalities of Xinjiang from the extended family of the Chinese nations. In fact, carrying out vocational skills education and training in Xinjiang is also a just move in fighting against extremism and terrorism. It is an effective measure to promote the rule of law in Xinjiang and a practical action to protect the vital interests of people of all ethnic groups.
Thirdly, Xinjiang has established vocational education and training centres in accordance with the law to carry out vocational skills education and training, in order to allow more Uyghur Muslims to obtain employment opportunities and improve living conditions, to prevent the breeding and spread of terrorism and religious extremism, effectively curbing the frequent terrorist incidents and protecting the rights to life, health, and development of the people of all ethnic groups. Worthwhile results have been achieved. The training centres employ a residential education model which allows trainees to go back home on a regular basis and ask for leave to attend personal affairs. The trainees also enjoy the freedom of correspondence. The training centres fully respect and protect the customs and habits of the trainees, and provide a wide range of halal diets with rich nutrition for free. After the trainees have completed their studies, they have found suitable jobs and improved their quality of life. In addition, a number of foreign journalists who have conducted interviews in the education and the training centres have published stories that reflect the true role of the centres and express their understanding, approval, and support for the education and training programmes in Xinjiang. In October 2019, more than 60 countries spoke enthusiastically during the 74th session of the General Assembly, praising China's huge human rights progress in Xinjiang. A series of preventive measures to counter terrorism and extremism adopted by Xinjiang in accordance with the law is precisely to safeguard the security and human rights of people of all ethnic groups in Xinjiang.
The Chinese government has always attached great importance to and protected the human rights and fundamental freedoms of the people of all ethnic groups in Xinjiang in accordance with the law, and the people's right to life and development have been protected to the greatest extent. However, I often read in the Western media such as The New York Times that some US politicians maliciously slander the Chinese government under the guise of "human rights". This not only interferes with China's sovereignty but also wantonly tramples on the principle of the inviolability of state sovereignty in international law. The Chinese government and the international community have strongly condemned and resolutely opposed this hegemonic act of destabilising Xinjiang and curbing China's development.
In fact, since Xinjiang has adopted a series of preventive measures to fight terrorism and extremism according to law, Xinjiang has enjoyed prosperity and stability, ethnic unity, and social harmony, making an important contribution to the international counter-terrorism cause. For example, since the end of December 2018, nearly 1,000 people have visited Xinjiang. They include foreign diplomatic envoys to China, UN officials, Geneva-based senior diplomats of various countries, as well as more than 70 groups (or delegations) of people from political parties, civil society organisations, news media, and religious organisations of various countries. They generally stated that the situation in Xinjiang that they saw with their own eyes was completely different from that of some western politicians and the media. Xinjiang's measures to counter-terrorism are fully in line with the purposes and principles of the United Nations in combating terrorism and safeguarding basic human rights. All of these practices generated valuable experience that is of the great reference value and deserves positive comments.
The writer is a foreign professor at the Minzu University of China.