Digital trendsetters set to help power economy
By He Wei in Shanghai | chinadaily.com.cn | Updated: 2020-04-17 13:45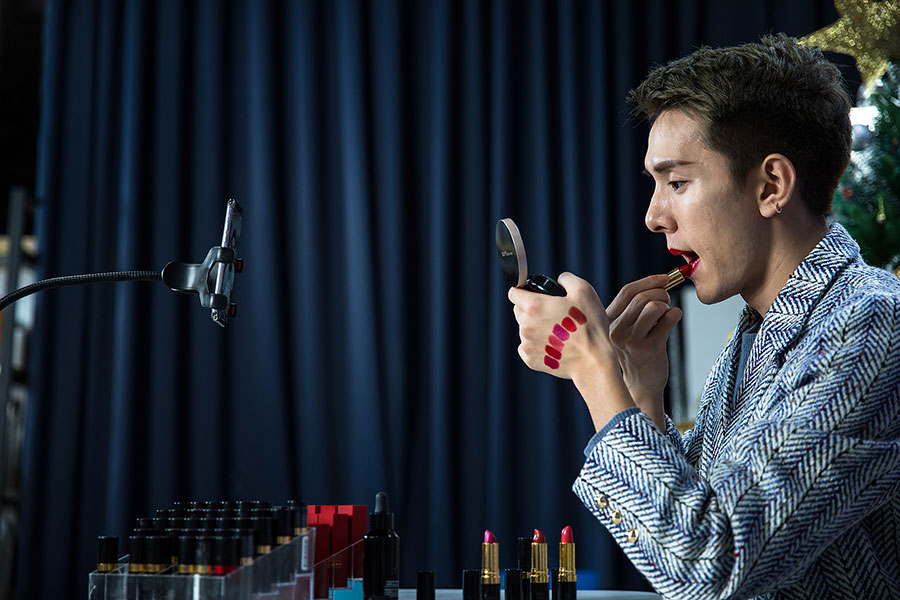 For the young, trendy members of Generation Z, posting online reviews of services and other consumer experiences has become a routine shopping habit. That habit is now shaping up as a major driving force fueling the economy of Shanghai, China's vibrant consumption hub.
As part of efforts to revive consumption with the country making headway in fighting the novel coronavirus outbreak, social commerce sites like Xiaohongshu have rolled out enterprising measures, by summoning influencers and other key opinion consumers to shop in brick-and-mortar stores and encouraging them to share experiences and insights online.
By influencing others, they can help boost consumption and consequently drive economic growth, according to the site's founder Qu Fang.
"Shanghai is a city boasting the most diverse lifestyles and strongest sense of innovation. Our platform actually rides the digital, online trend of the novel consumption pattern embraced by the younger generation of customers … and hopefully we can contribute to the 'consumption upgrade' trend," she said.
The employment of technologies like mobile internet and algorithms to recommend items fall into the category of the so-called "online new economy", a term coined by authorities in Shanghai that aims to shine domestically and globally by 2022.
To achieve such a goal, the municipal government unveiled a major framework on Monday, advocating the use of cutting-edge technologies like artificial intelligence, 5G networks and big data to transform and empower traditional industries.
Under the "Four 100+" initiative, Shanghai is eyeing to foster more than 100 innovative enterprises, roll out over 100 application scenarios, nurture over 100 brands and achieve more than 100 key technological breakthroughs, said Wu Jincheng, chair of the Shanghai Municipal Commission of Economy and Informatization, a key industrial development regulator.
A total of 12 sectors under the auspices of the plan are given priority, ranging from unmanned factories, industrial internet links at the manufacturing end, fresh produce e-retailing and online education, to online finance and telemedicine, in which Shanghai has a traditional foothold.
For instance, in the first quarter, gross merchandise volume via shopping sites featuring fresh produce jumped 167 percent year-on-year in Shanghai, with the number of orders surging 80 percent, according to the city's commerce commission.
Digital exhibitions and events have also been singled out as an area of development. In the latest instance, the city saw the debut of the online edition of Shanghai Fashion Week, when brands employed livestreaming for new product rollouts and supported instant home deliveries.
According to the 2020 Taobao Livestreaming Report, Shanghai is home to the highest number of viewers on Taobao, with both international labels from Starbucks and Ikea to homegrown, time-honored brands like food maker Xinghualou, jumping on the livestreaming bandwagon to entice users.
"This 'cloud-launch' is definitely going to shake up the traditional launch event," said Hu Weixiong, head of fashion, luxury and fast-moving consumer goods at Alibaba Group's Tmall site. "It tears down the physical limitations of time and geography for brands to engage with consumers."
Businesses are flocking to embrace the new format, with some choosing to unveil new products in the online realm. Commercial property operator Xintiandi has just premiered its official virtual store "Xintiandi Pop Up" on Tmall, giving nearly 100 designer brands a digital makeover.
"The epidemic has expedited our digital deployment, pushing us to embrace the consumption revolution brought by e-commerce," said Allan Zhang, executive director of Shui On Management and China Xintiandi.
"With the introduction of a cloud-based broadcast service powered by 5G technologies, Xintiandi hopes the cooperation "will provide creativity support and services to our tenants and China's original design forces", Zhang said.
To ensure smooth implementation of the plan, local authorities also pledged to launch six dedicated initiatives and introduce five measures, from enhanced policy coordination to constructing ecosystem parks, to bolster the city's development.
"It's a logical package of plans, combining technologies with application scenarios. But much more emphasis should be given to offering institutional guarantee, without which the construction of a new economy ecosystem could be a distant dream", said Rui Meng, a professor at China Europe International Business School.
For instance, intellectual rights protection and relevant financing vehicles should be put in place to ensure companies make long-term investments rather than seek short-term gains, he said.
"I would advocate a truly open-minded partnership between State-owned entities and private enterprises," Rui said. "For instance, research capital can be allocated to both key national labs as well as universities and privately run research institutes. Such an approach facilitates research that combines academic and industrial strength."
Dora Liu, Deloitte China Eastern Region Leader, agreed: "The authorities mentioned' sandbox supervision', meaning companies are given more liberty to conduct new trials under a given framework."
"This is the fundamental guiding principle to enhance governance capability. This is in line with Shanghai's bid to construct an excellent global city," she said.