Wuhan restarts: Shared bike use surges after lockdown lifted
By Zhao Shiyue | chinadaily.com.cn | Updated: 2020-04-17 15:55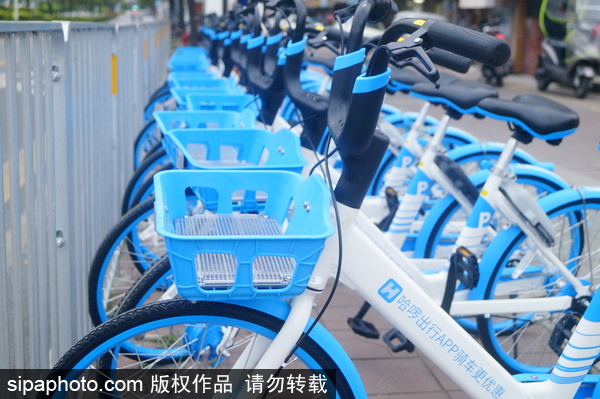 The use of shared bikes soared in Wuhan after the city lifted lockdown and travel restrictions on April 8. As people's lives have gradually returned to normal, cycling is heating up in business districts, office areas and industrial parks, according to the Beijing News.
Data from Meituan shows that on April 8, the day Wuhan was reopened, cycling volume increased 44 percent compared to two days before, and saw a 70 percent rebound in comparison with the previous week.
For the three consecutive days since April 6, the cycling volume of Meituan bikes has been hitting new records, registering a daily growth rate of nearly 20 percent on average.
According to the cycling report amid the epidemic released by Meituan, from Jan 23 to March 12, it had provided about 2.3 million rides of shared bikes in Wuhan, with an average of 45,000 rides per day.
During the virus outbreak, hospitals and large-scale communities featured significant use of shared bikes, while as work has resumed, cycling has been heating up around business centers and office areas since the end of March.
With its cycling volume up 90 percent on April 8, Didi Bike, the bike-sharing service from China's biggest ride-hailing company Didi Chuxing, witnessed a transport demand boom around Wuhan Optics Valley Software Park, the biggest software industrial zone in midwestern China. Besides, shared bike rides from residential areas to industrial parks accounted for 70 percent of the total volume.
Hello Bike, another ride-share provider in China, experienced a month-on-month growth of 30 percent in cycling volume on April 8, and ride orders expanded tenfold compared to Jan 23, when Wuhan was locked down due to the coronavirus outbreak.
The big data indicated that on April 8, destinations including subway stations, enterprises and office buildings registered higher traffic than before, especially subway stations, with cycling volume soaring 70 percent compared to two days before.
Yang Long, the manager of Hello Bike in Wuchang district in Wuhan, said the transportation volume has boomed in the Hanjie Business Circle and Optics Valley Square, and sometimes shared bikes were even in short supply during rush hours.