How China unleashed power of technology to contain COVID-19
By Zhang Jingcheng | chinadaily.com.cn | Updated: 2020-04-20 15:17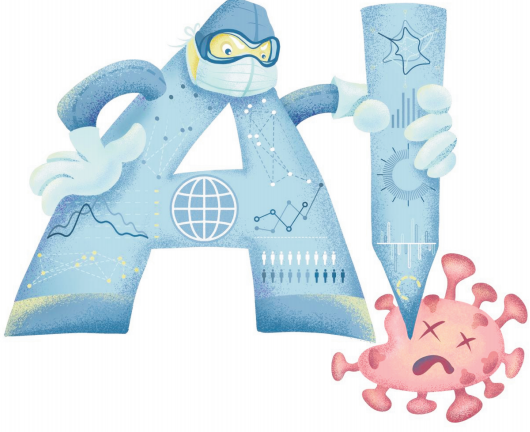 The outbreak of the novel coronavirus pneumonia disrupted the lives of Chinese people. However, with the help of technology, the Chinese society brought order back to people's lives quickly.
Here are four areas where technology has revealed its power.
'Artificial Intelligence doctors' and telemedicine
As China faced the great task of saving people's lives at the height of the outbreak, Chinese scientists stepped forward to help share that burden by developing "AI doctors".
The "AI doctors" took part in such tasks as cleaning, diagnosis and follow-up of the health condition of patients after recovery. These "AI doctors" lowered the risks of infection and reduced the fatigue of human doctors.
Health code, disease prevention technology based on big data
At the beginning of the outbreak, China, a country with a population of 1.4 billion, faced huge challenges to monitor the health of its people, with many of whom about to embark on the Spring Festival travel rush.
The health code, which can be downloaded on mobile phones, shows the places the phones owners have been to and the risk of their close contacts with COVID-19 patients, thus lowering the risk of infection for their neighbors.
Other technologies, such as infrared thermal imaging and analysis of migration flows based on big data have also been applied to assist the country to contain COVID-19.
Robot couriers and unmanned delivery
People across China have spent more time at home since the outbreak, and the application of robots have contributed to safe delivery of sufficient goods for the Chinese people.
Robot waiters in restaurants and unmanned drones delivering goods are also part of the scene where China turned to science to tackle the outbreak, which attracted attention from foreign media.
Telecommuting and online education
As China fights against the virus, companies in the country resumed business by turning to telecommuting. They can sign contracts, conduct job interviews and do other work remotely.
Also, universities and schools in the country resumed their semesters by launching classes online.
The Foreign Ministry has helped organize video conferences for experts in different countries to share disease control information and experience. The ministry also held its daily news conferences online at the most difficult time.
There are other advanced technologies that China has used to tackle the pandemic, such as 3D printing for making protective equipment and supercomputing for vaccine development.
The pandemic will end, but China's technology drive will continue. China has shown the world that it is a nation filled with the spirit of innovation.
The author is an observer based in Beijing.
The opinions expressed here are those of the writer and do not represent the views of China Daily and China Daily website.