Annual report on China's reading habits released
By Mei Jia | chinadaily.com.cn | Updated: 2020-04-21 15:00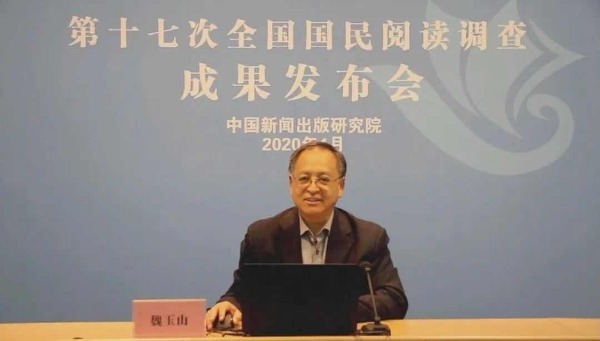 In advance of World Book Day on April 23, the Chinese Academy of Press and Publication released its 17th annual report on the study of Chinese people's reading habits on Monday.
Based on a survey that ranged from August 2019 to February 2020, the report showed 81.1 percent of adult Chinese surveyed have a habit of reading, whether in print or on digital devices, a slight increase of 0.3 percent from 2018.
Wei Yushan, director of the academy, said the survey covered 55 cities and towns in the country. Thanks to algorithmic analysis of samples, collected both from urban and rural areas, it can credibly represent the situation of the whole population.
In 2019, adult Chinese read on average 4.65 books in print and 2.84 digital books, whereas in 2018 it was 4.67 and 3.32, a small drop for both.
While the report said most Chinese feel they're not satisfied with the amount of books they read in a year, 11.1 percent read more than 10 books in print, and 7.6 percent more than 10 e-books.
As for children and young people under 17, "the results is more encouraging" according to Wei. The survey revealed they read 10.36 books a year on average, 1.45 more than in 2018.
Audio books are attracting more Chinese, as 30.3 percent of adults and 34.7 percent of minors had a habit of listening to audio books in 2019, increasing by 4.3 and 8.5 percent compared to 2018.
Another prominent trend is people reading for fun and entertainment, as reading becomes more fragmented and videos compete for attention.
The report found mobile phones were the top choice of medium when Chinese people read. On average, adults spent 100.41 minutes a day on mobile phones, 15.54 minutes more than in 2018.
There was also a sharp drop in terms of willingness to read newspapers in print.
A closer look at the report shows people's priority when using the internet was to socialize (60.2 percent), followed by getting news (59 percent) and enjoying video clips (56.9 percent).
Only 20.5 percent of them used it to connect to books, newspapers or journals.
Still, there's good news in the data from younger readers.
Wei said 94.3 percent of Chinese families with children under 8 had a habit of reading, and parents spent almost 25 minutes every day reading with their kids, 2.37 minutes more than 2018.
Samples for the survey were collected by end of 2019. It will be the 2020 report that will show the coronavirus outbreak's influence on reading, as well as publishing, whether negative or positive.