Trump calls for immigration halt for 60 days
By AI HEPING in New York | China Daily Global | Updated: 2020-04-22 10:56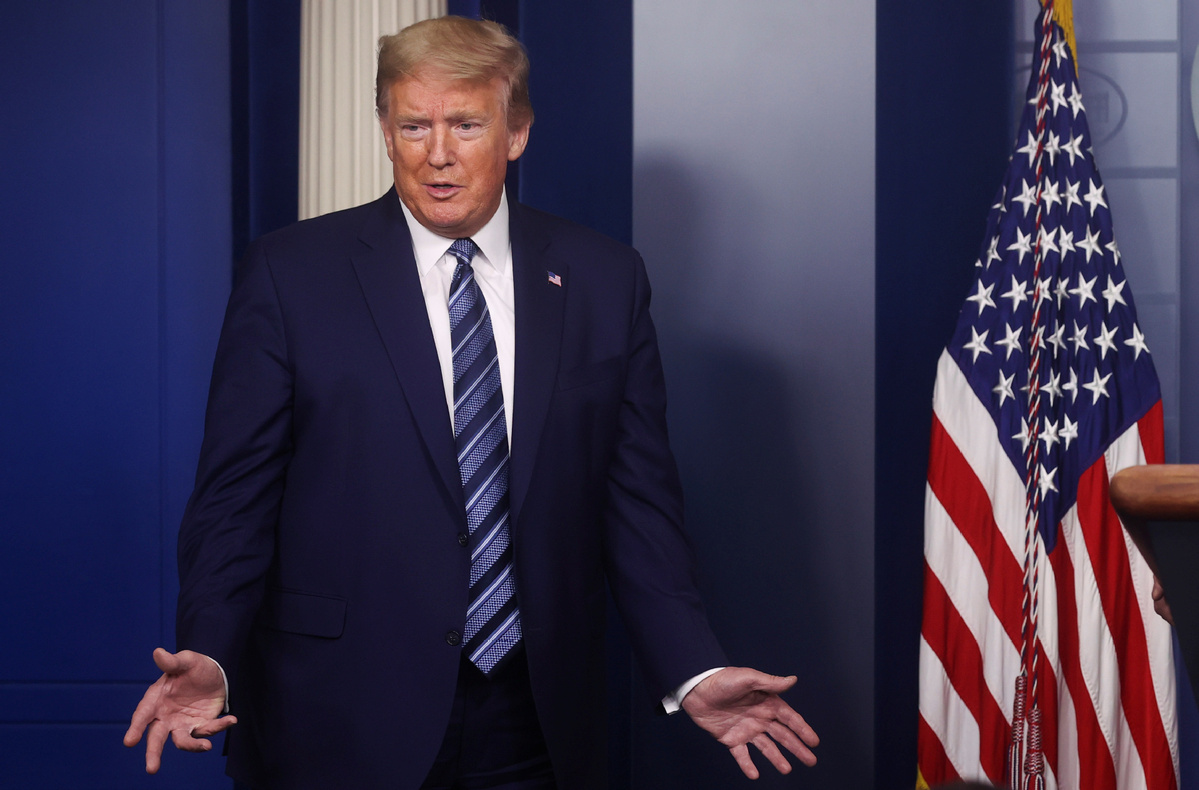 US President Donald Trump said Tuesday that he would order a temporary halt in the issuance of green cards to prevent people from immigrating to the United States and taking jobs from Americans.
Trump said that his order would initially be in effect for 60 days but that he might later extend it based on how the country's economy is doing.
Pausing immigration "will help put unemployed Americans first in line for jobs as America reopens", he said.
"It would be wrong and unjust for Americans laid off by the virus to be replaced with new immigrant labor flown in from abroad. We must first take care of the American worker," Trump said at his daily White House news briefing.
Trump backed away from plans to suspend guest-worker programs after business groups erupted in anger at the threat of losing access to foreign labor, The New York Times reported.
The order will not apply to seasonal migrant workers who come to the US annually to work on farms and at other businesses. US farmers will not be "affected at all" by his executive order, Trump said.
The president said that his "pause" in immigration "will not apply to those entering on a temporary basis", a reference to the H-1B worker visas, which allow more than 85,000 high-skilled foreigners to come to the US for at least three years to work.
On Tuesday, the Senate approved and sent to the House a $484 billion relief package to refill a depleted loan program for distressed small businesses and provide additional money for hospitals and coronavirus testing.
The Senate passed the measure by voice vote — a necessity because most senators were not present as the chamber has been in a prolonged recess. Two Republican senators, Rand Paul of Kentucky and Mike Lee of Utah, spoke against the measure beforehand.
In discussing the program, Trump said he wants Harvard University to pay back nearly $9 million from the coronavirus relief package.
The university, which has a $40 billion endowment, said all of the money is helping Harvard students with financial assistance.
Trump also said 20 states are planning to reopen their economies.
They are expected to do that by loosening restrictions designed to limit the spread of the virus, but that has brought warnings from health officials that there could be a subsequent increase in COVID-19 cases.
Two states with Republican governors, Georgia and South Carolina, have said they will allow some businesses to reopen as soon as this week.
But some Georgia mayors, barred from issuing their own restrictions, urged residents on Tuesday to ignore the reopenings and stay home.
Dr Deborah Birx, the White House's coronavirus response coordinator, was asked at the news briefing about Georgia Governor Brian Kemp allowing hair salons and tattoo parlors to open.
She said that she believed decisions should be judged "community by community".
"I believe people in Atlanta would understand that if their cases are not going down, that they need to continue to do everything that we said — social distancing, washing your hands, wearing a mask in public," she said. "So if there's a way that people can social distance and do those things, then they can do those things. I don't know how. But people are very creative."
Trump said that he planned to speak with Kemp on Tuesday evening.
Attorney General William Barr said Tuesday in a radio interview that the Justice Department would support legal action against states that continue to impose strict social distancing rules even after coronavirus cases begin to subside.
Barr called some current stay-at-home orders "burdens on civil liberties" and said that if they continued and lawsuits were brought, his department would side against the states.
Trump said his meeting with New York Governor Andrew Cuomo on Tuesday afternoon was "productive". And Cuomo afterward called it "a good conversation".
Trump and Cuomo have alternated between both praise and criticism over each other's handling of the health crisis.
Cuomo told MSNBC that he asked Trump for help with the supply chain so he that could greatly expand testing in New York before reopening businesses and everyday life.
Cuomo said he also made the case for federal aid to states and localities that weren't included in the latest legislation working its way through Congress. He said the president was "very open and understanding" about that.
On Tuesday in front of the White House, registered nurses read the names of healthcare workers who have died fighting the coronavirus pandemic.
The nurses said that they wanted to bring their demands for more personal protective equipment to Trump's doorstep.
They wore masks and stood 6 feet apart. They held up photographs of the deceased as Melody Jones, a member of the National Nurses United union, read the names of about 45 healthcare workers.
"Let us remember and honor the ultimate sacrifice these nurses paid," Jones said. "We commit ourselves to fight like hell for the living."
More than 9,000 healthcare workers in the US have tested positive for the novel coronavirus, according to the Centers for Disease Control and Prevention. Those numbers are believed to be an undercount of infections due to a lack of tests in many areas.
The plunge in oil prices worsened Tuesday as traders were gripped by fear that crude output remained far too high, and storage was quickly running out.
The West Texas Intermediate contract for June delivery sank more than 50 percent to below $10 a barrel, and Brent crude, the international benchmark, was down about 21 percent.
US stocks closed lower Tuesday as oil prices continued their unprecedented plunge.
The Dow Jones Industrial Average fell 631.56 points, or 2.67 percent, to close at 23,018.88. The S&P 500 declined 3.07 percent to 2,736.56. The Nasdaq Composite dropped 3.48 percent to end the session at 8,263.23.
Trump tweeted that he instructed the Energy and Treasury departments to "formulate a plan which will make funds available so that these very important companies and jobs will be secured long into the future".