New official numbers show true UK virus death toll
By EARLE GALE in London | China Daily Global | Updated: 2020-04-22 09:05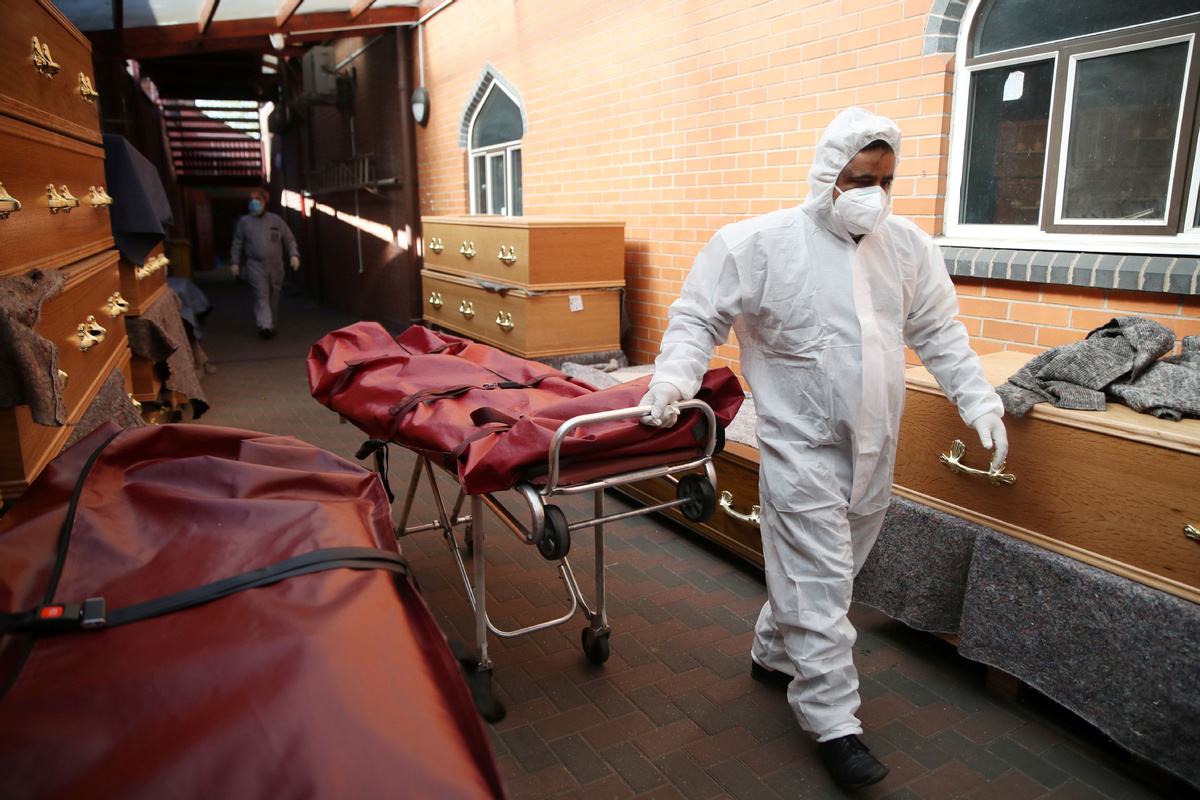 Health secretary pledges commitment to supporting vaccine development
Record numbers of people are dying in England and Wales, according to new data from the Office for National Statistics.
The information collected by the non-ministerial government department, which is also known as the ONS, takes much more time to collate but is far more complete than the COVID-19 death toll released during the government's daily novel coronavirus briefing because that number only includes deaths in hospital of people who have tested positive for the disease.
The latest ONS figures show that, in the week ending April 10, deaths were at a 20-year high, with 18,500 fatalities occurring during a week that would normally see around 8,000.
More than 6,200 of those additional fatalities were linked to the novel coronavirus, and five out of every six novel coronavirus-linked deaths happened in hospital.
Sky News said the new numbers suggest novel coronavirus-linked deaths during that week were 41 percent higher than official government figures released at the time showed.
Deaths from other causes were also up during that week, suggesting some people may have perished because the government-imposed lockdown had had an impact on their health.
Nick Stripe, head of health analysis at the ONS, said it looks as though some people with conditions other than COVID-19 may have avoided visiting hospital during that week.
He told the BBC that statisticians will analyze the latest numbers to see if lessons can be learned but noted: "Each one is a person. Each one has a family. We must always remember this."
The government, meanwhile, said at its daily news conference on Tuesday that trials on people for a new vaccine developed in the UK will begin on Thursday.
Health Secretary Matt Hancock said of the quest to develop a vaccine: "I am throwing everything at this."
He said the virus and the disease it causes are a huge challenge for humanity but that "every day the science gets better".
"Nothing about this process (of developing a vaccine) is certain," he said. "But we are going to back (the scientists conducting research) to the hilt and give them everything they need."
He also said the government was "determined to get people the (personal protective equipment, or PPE) they need".
Hancock was speaking as the number of deaths in hospital of people with confirmed cases of COVID-19 rose by 828 on Tuesday, to 17,337.
And the government said medics carried out 18,206 novel coronavirus tests on Monday, still well short of its target of conducting 100,000 tests a day by the end of April.
Earlier on Tuesday, the United Kingdom's Parliament reconvened after the nation's lawmakers' lengthy Easter recess.
A handful of politicians went back to the nation's iconic Parliament building in central London to formally approve the establishment of a new "virtual Parliament". It will allow lawmakers to conduct debates and make decisions from the comfort and safety of their homes, and therefore avoid the need for them to break the government's social distancing and lockdown rules brought in to combat the spread of the novel coronavirus.
Members of Parliament who insist on shunning video linkups and who want to continue to conduct business from the 300-year-old House of Commons will be allowed to do so, but under strict social distancing rules. They have also been told they will not get an advantage in debates.
Parliamentary business will be scaled back, with many committees shelving their work and with debates and votes only happening on Mondays, Tuesdays, and Wednesdays for the foreseeable future.
Sky News quoted House of Commons Speaker Lindsay Hoyle as saying: "Our new virtual Parliament means that MPs are playing the fullest part in the national effort to stay home, protect the NHS, and save lives."
He added, on BBC Radio 4's Today program, that, while a maximum of 50 MPs will be allowed inside the chamber, he would be happier if all participated in debates from afar.
"My advice is please stay at home, let's do it remotely," he said.
When Prime Minister's Questions returns on Wednesday, Foreign Secretary Dominic Raab, who will deputize for Prime Minister Boris Johnson, who is recuperating from a COVID-19 infection, is likely to face some tough questions about the apparent lack of PPE among National Health Service staff and other key frontline workers.
The crisis was highlighted in recent days in alarming updates from NHS medics and senior managers, who described shortages or absences of vital protective clothing, masks and goggles.
Those shortages should have been relieved on the weekend by a shipment of PPE that was to have arrived from Turkey, but it was delayed, adding to concern among medical and nursing unions.
Local Government Minister Simon Clarke said on Radio 4's Today program on Tuesday morning that a Royal Air Force transport plane had arrived in Turkey and would soon bring the PPE shipment to the UK.
"It will be with us, obviously, in the UK in the next few days, which is the core priority," he said.
He added that the government wants to buy PPE "wherever it can be sourced", and repeated the government's offer of working with manufacturers that are willing to switch production in order to make such items.
Separately, a cargo plane carrying 19 tons of PPE from Shanghai, China, including more than 20,000 ventilators, was understood to have arrived at Heathrow Airport on Tuesday evening.
The problem of finite amounts of PPE and almost infinite demand was compounded on Tuesday when dentists and anesthetists put their name on the list of disgruntled workers struggling to get what they need to stay safe from COVID-19.
The British Dental Association said dentists in England are facing "critical shortages" of PPE. While the Royal College of Anaesthetists said its doctors have now been advised not to treat patients if they do not have access to the proper protective equipment.
The NHS, meanwhile, has warned that PPE shortages will only be exacerbated if the government advises or compels members of the public to wear face masks when outdoors.
Chris Hopson, chief executive of NHS Providers, which represents NHS trusts across England, said there needs to be "clear evidence" of the benefits of face masks before they are recommended to the public.
"Fluid-repellent masks for health and care staff are key to safety and to avoid the spread of coronavirus," the Guardian newspaper quoted him as saying. "Securing the supply of masks, when there is huge global demand, is crucial. This must be a key consideration for government."
The World Health Organization has previously said there is no evidence to support the effectiveness of face masks being worn by the general population in the management of the disease.
But London Mayor Sadiq Khan has said he would like face masks to be made compulsory among people traveling in the UK capital.
The UK government's Scientific Advisory Group for Emergencies is considering the issue and will make a recommendation later this week.