Race is on to develop vaccine against COVID-19
China Daily Global | Updated: 2020-04-22 09:09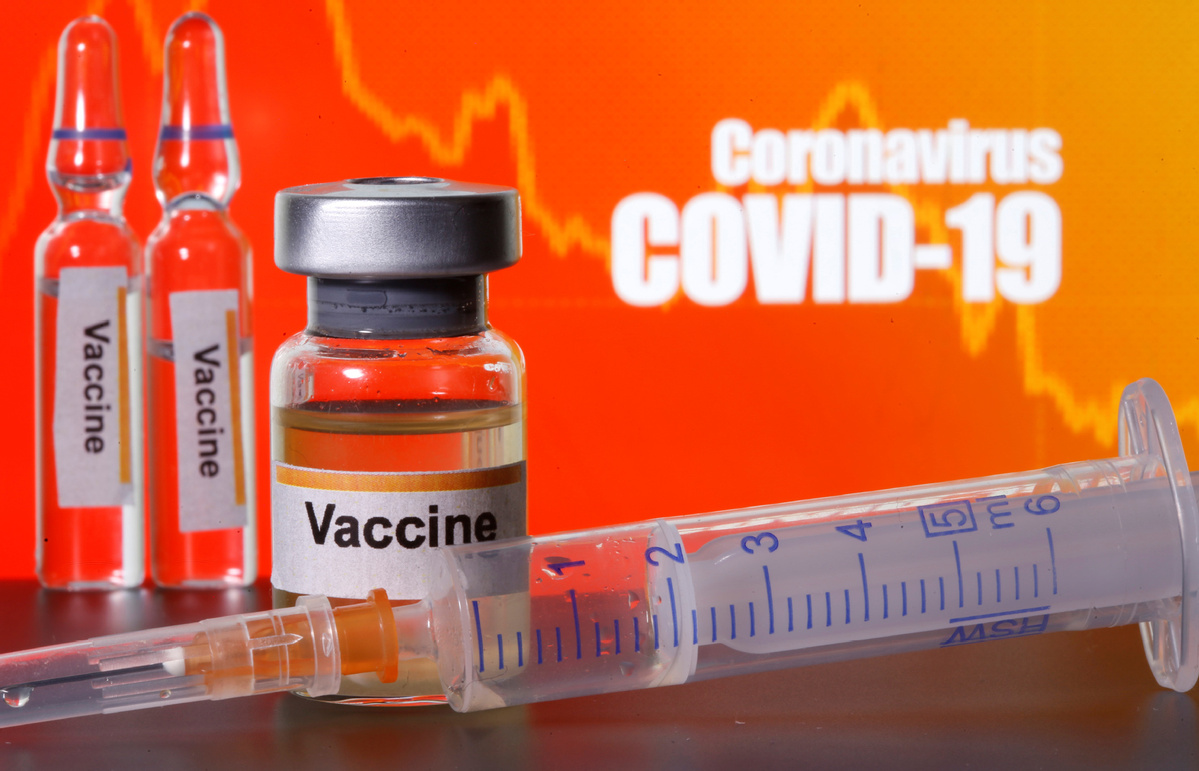 As the coronavirus continues to spread around the world, experts are scrambling to develop a vaccine to protect millions of people from infection.
The World Health Organization has said there are currently 70 vaccine candidates in development.
In an analysis published in Nature Reviews Drug Discovery, the Coalition for Epidemic Preparedness Innovations, a foundation that finances independent research projects to develop vaccines against emerging infectious diseases, said as of April 8, it had identified around 115 vaccine development programs globally.
"I'm aware that at least 11 companies in China have developed vaccine candidates. That's about 10 percent of the global total," Richard Hatchett, CEPI's chief executive officer, said in an online seminar organized by the Bill & Melinda Gates Foundation on April 15.
China has approved three COVID-19 vaccine candidates for clinical trials.
Vaccine development is a labor-intensive endeavor; it's costly and it takes time, often several years of research and development, and clinical trials. Time is of the essence when it comes to the novel coronavirus with nearly 2.4 million confirmed infections of COVID-19 and over 160,000 deaths so far worldwide.
"A safe and effective vaccine may be the only tool that can return the world to a sense of 'normalcy', saving millions of lives and countless trillions of dollars," United Nations Secretary-General Antonio Guterres said last week during a videoconference with the 50 or so African countries that are members of the UN.
"We need an ambitious effort to ensure that international stakeholders operate through a harmonized, integrated and leveraged approach to maximize the speed and scale needed for the universal deployment of such a vaccine by the end of 2020," he said.
In late December last year, the Wuhan Center for Disease Control and Prevention in Hubei province detected cases of pneumonia of unknown cause. Starting Jan 3, China has been regularly informing the World Health Organization, according to Xinhua News Agency.
The disease was named COVID-19 by the WHO on Feb 11. As part of the WHO's response to the outbreak, a Research and Development Blueprint has been activated to accelerate the development of diagnostics, vaccines and therapeutics for this coronavirus.
Under the WHO's coordination, a group of experts from different countries, including China, the United States and Germany, is working toward the development of vaccines against COVID-19.
In a declaration issued on April 13, the group made a call to everyone to follow recommendations to prevent the transmission of COVID-19 virus and protect the health of individuals.
Worldwide collaboration
They said they will continue efforts to strengthen the unprecedented worldwide collaboration, cooperation and sharing of data already underway.
"We believe these efforts will help reduce inefficiencies and duplication of effort, and we will work tenaciously to increase the likelihood that one or more safe and effective vaccines will soon be made available to all," the statement read.
In a signed article published on Thursday by the Qiushi Journal, a Chinese language magazine, President Xi Jinping called on global solidarity and cooperation to combat the COVID-19 pandemic.
Solidarity and cooperation are the most powerful weapons against the disease, Xi said.
European Commissioner chief Ursula von der Leyen said she will host an online donors conference on May 4 to fund the creation and global deployment of a vaccine, calling it "our collective best shot at beating the virus".
The Bill & Melinda Gates Foundation called on April 15 for global cooperation to ready COVID-19 vaccines for 7 billion people, while offering $150 million toward developing therapeutics and treatments for the virus.
While it is likely to take as many as 18 months to develop and fully test a safe coronavirus vaccine, global authorities and businesses need to start now on plans to manufacture it, said foundation chief executive Mark Suzman.
"It's normal to have, at maximum, hundreds of millions of doses manufactured," he said.
Suzman said both China and the US have to be part of the joint effort, as well as the WHO. US President Donald Trump has cut off US funds for the WHO.
British multinational pharmaceutical company, GlaxoSmith-Kline, and its French competitor Sanofi announced they have joined forces to develop a new vaccine to prevent COVID-19.
GSK CEO Emma Walmsley said the coronavirus pandemic represented "an unprecedented global health threat", and, therefore, required new ways of doing business.
"We're joining up with Sanofi in an unprecedented collaboration," Walmsley said. "It brings together two of the world's biggest vaccine companies with proven pandemic technologies and significant scale, all with the aim of developing an adjuvanted COVID-19 vaccine."
An adjuvanted vaccine is one that includes a compound known as an adjuvant that enhances someone's immune response to a vaccine. In the partnership, GSK will be providing the adjuvant and Sanofi will provide the specific protein component of the coronavirus that will generate the appropriate antibody response, the National Public Radio said.
GSK is hoping the partnership will reduce the development time of a vaccine considerably. Under normal circumstances, it can take a decade to bring a new vaccine to market.
Trials expected soon
"But we're planning to start trials in the next few months," Walmsley said. "And if we're successful, subject to regulatory considerations, we aim to complete the development required to make the vaccine available in the second half of 2021."
A report in German newspaper Welt am Sonntag said that Trump had offered around $1 billion to a German biopharmaceutical company, CureVac, for exclusive US rights to any COVID-19 vaccine that was developed.
The report provoked outrage in Berlin with German Economy Minister Peter Altmaier telling a broadcaster that "Germany is not for sale" and Health Minister Jens Spahn commenting that CureVac would only develop a vaccine "for the whole world, not for individual countries", according to CNBC.