BYD, Toyota deepen cooperation on green commercial vehicles
By CAO YINGYING | China Daily | Updated: 2020-04-27 10:53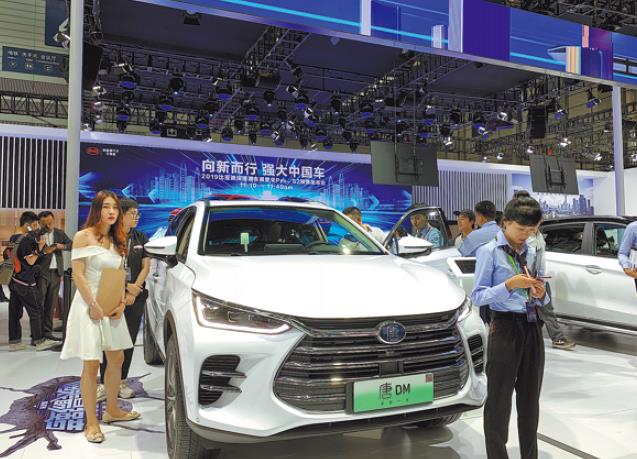 China's largest new energy vehicle maker BYD has deepened cooperation with Japan's top carmaker Toyota, with the pair's commercial vehicle subsidiary Hino signing an agreement on commercial electric vehicles on Thursday.
Wang Jie, vice-president of BYD, said: "Two sides will combine the technical and practical advantages and promote the development of commercial electric vehicles to accelerate the introduction of commercial electric vehicles worldwide."
Hino's Director and Senior Managing Officer Taketo Nakane said that through bringing BYD's achievements in battery electric vehicles and Hino's electrification technology and reliability in hybrid vehicles, the two companies will develop the best-fit commercial battery electric products for consumers.
Since BYD released its first pure electric commercial vehicle the K9 in 2011, it has sold more than 50,000 worldwide, ranking top globally.
Founded in 1942, Hino produces trucks and buses, and launched the world's first commercial hybrid city bus in 1991.
In addition to commercial electric cars, BYD and Toyota established a 50-50 joint venture focusing on the R&D and manufacturing of electric passenger cars, which accounts for the majority of the auto market, early this month.
John Zeng, managing director of the LMC Shanghai consultancy, said BYD and Toyota are suitable partners for each other and complementary in capacity.
Japanese auto groups are latecomers to pure electric vehicles. As the electric vehicle market is growing quickly, the best alternative is to work with a new energy vehicle giant, Zeng said.
Toyota said last year that it plans to achieve half of its vehicle sales from electric models by 2025.
BYD can improve its quality management and reliability from Toyota, Zeng added.
BYD has been developing batteries for electric vehicles since 1995. Its newly-unveiled blade-shaped battery is low cost, safe and has high mileage, according to the company.
Many carmakers have shown interest in this product and Toyota may be one of them, according to Yale Zhang, managing director of Shanghai-based consulting firm Automotive Foresight.
Toyota has been developing its own electric batteries and has been tapping new suppliers to avoid a shortfall in supply, as demand for electric vehicles is expected to increase in the coming decades.
Zhang said that through the partnership, BYD can become a Toyota battery supplier and expand its battery purchaser list.
BYD early this month reported a 42 percent drop to 1.61 billion yuan ($227 million) in net profit for 2019, down from 2.78 billion yuan in 2018. Its revenue dropped 1.8 percent to 127.74 billion yuan last year, from 130.05 billion yuan a year earlier.
Its revenue from vehicles and related products fell 16.8 percent to 63.3 billion yuan, with revenue from new energy vehicles declining 23.4 percent to 40.1 billion yuan.
The carmaker sold 229,506 electric vehicles in 2019, down 7.39 percent year-on-year, BYD reported in early January.
This came amid a cut in government subsidies and a broader weak automobile demand in the world's largest auto market last year, the company said.
BYD said last week that it expected its net profit to fall between 79.99 percent and 93.33 percent year on year in the first quarter of 2020, due to the COVID-19 pandemic.
However, with the application of the blade-shaped battery and upcoming models, BYD's new energy business is expected to spark new growth, industry insiders said.