Mining magnate Forrest's China deal provides COVID-19 test kits for Australia
By KARL WILSON in Sydney | chinadaily.com.cn | Updated: 2020-04-30 17:24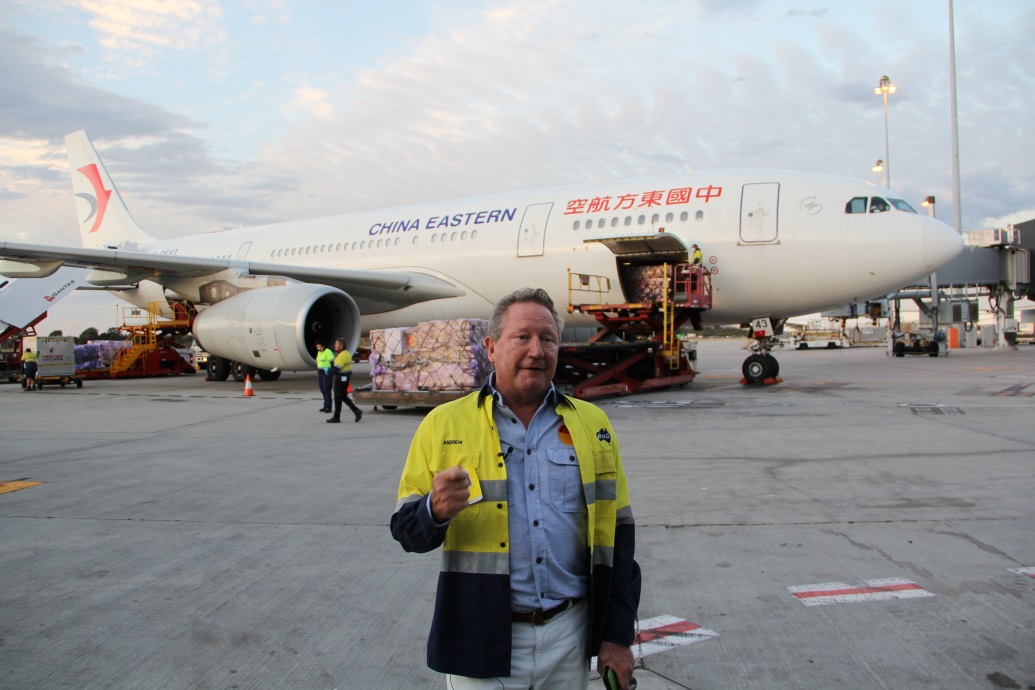 Ten million COVID-19 test kits secured by one of Australia's richest men, mining magnate Andrew Forrest, have arrived in Melbourne despite the frosty relationship between Canberra and Beijing.
The kits were supplied by Beijing Genomics Institute (BGI) through Forrest's philanthropic Minderoo Foundation for A$320 million ($210 million), even though foreign buyers were offering to pay substantially more.
At a ceremony in Melbourne on April 29, Forrest said the purchase would not have been possible without the help of Wang Jian, co-founder and chairman of BGI.
He said BGI resisted several higher offers for the kits, seen as a vital tool in the global fight against COVID-19.
"The Minderoo Foundation and BGI received sophisticated coercion to interrupt the relationship," Forrest said during the press briefing.
There were offers from other countries "much higher than I had agreed with chairman Wang in US dollars, and I'm talking much, much higher".
He said Wang and BGI kept to their word, resisting the clear temptation for any businessman to make a much bigger profit, and "(maintaining) the integrity of my relationship, and I am very grateful for that".
Australia's health minister, Greg Hunt, said he welcomed the kits which will "greatly enhance" the government's fight to stem COVID-19.
So far, 500,000 tests have been carried out in Australia, where 89 people had died from the virus as of April 29 and over 6,700 had tested positive. More than 5,600 of them had mild symptoms.
With the arrival of the kits, testing throughout the country will be increased 20-fold, according to Hunt.
"Because of today, we can now go even further and be one of the first countries to emerge from this," he said.
"We can never make a false promise but we can prepare, which has allowed us to be where we are, and we can prepare for the future, which will allow us to return to the life which we so much love and value as Australians.
"Today is a hugely important step on that road," Hunt said.
Forrest said every country in the world was searching for the kits needed to test for the novel coronavirus.
He said every single kit acquired by Minderoo Foundation was now in Australia, and it was up to the country's states and territories to test as many people as they can.
"Elucidate the virus, show it up and free your populations, and let's get back to work," he said.
Forrest, the former CEO of Fortescue Metals Group, said China had placed a great deal of "importance" on international health cooperation since the pandemic first appeared.
China's consul-general to Victoria and Tasmania, Zhou Long, said: "China very much appreciates the compassion, support and sympathy of the Australian people toward the Chinese people in our fight against the virus, and vice-versa. We are also doing everything possible to help Australia.
"And this project is another testimony of the friendship and the cooperation between our two countries and the two peoples."
Zhou noted views have been expressed that the COVID-19 pandemic is the biggest crisis faced by mankind since World War II."
"If that is the case, we have no choice but to work together to make the world safer, more harmonious, and a better world," he said.
Forrest would not be drawn into commenting about the current relationship between Beijing and Canberra.
"The relationship I see between the Australian people and the Chinese people is really one of a common heart," Forrest said.