Postcard makes long journey to deliver heartfelt message
By Li Yang | China Daily | Updated: 2020-05-09 08:05
Were it not for my habit of checking the mailbox of the Opinion Department after finishing my work there at night, I would not have spotted the postcard addressed to "China people" that had been left on the corner of a desk beside the "mailbox" shelf.
It appears it was not clear which department's mailbox the postcard belonged in, so it was left there alongside piles of newspapers and magazines that had been delivered.
I could not help but pick it up-nor could I recall how long it had been since I'd read a handwritten piece of mail, particularly one from the other side of the globe.
The postcard, featuring a photo of the Fountain of Neptune, a landmark in Bologna, Italy, on its back, was mailed from that city to China Daily's Beijing headquarters on Jan 29. In it, the Bolognese writer expressed heartfelt wishes to the Chinese people and the world in their efforts to combat the novel coronavirus.
The message was heartwarming to read-it was sent in the days when China was in the most difficult stage of its "people's war" against the virus-because it shines with the spirit of humanity.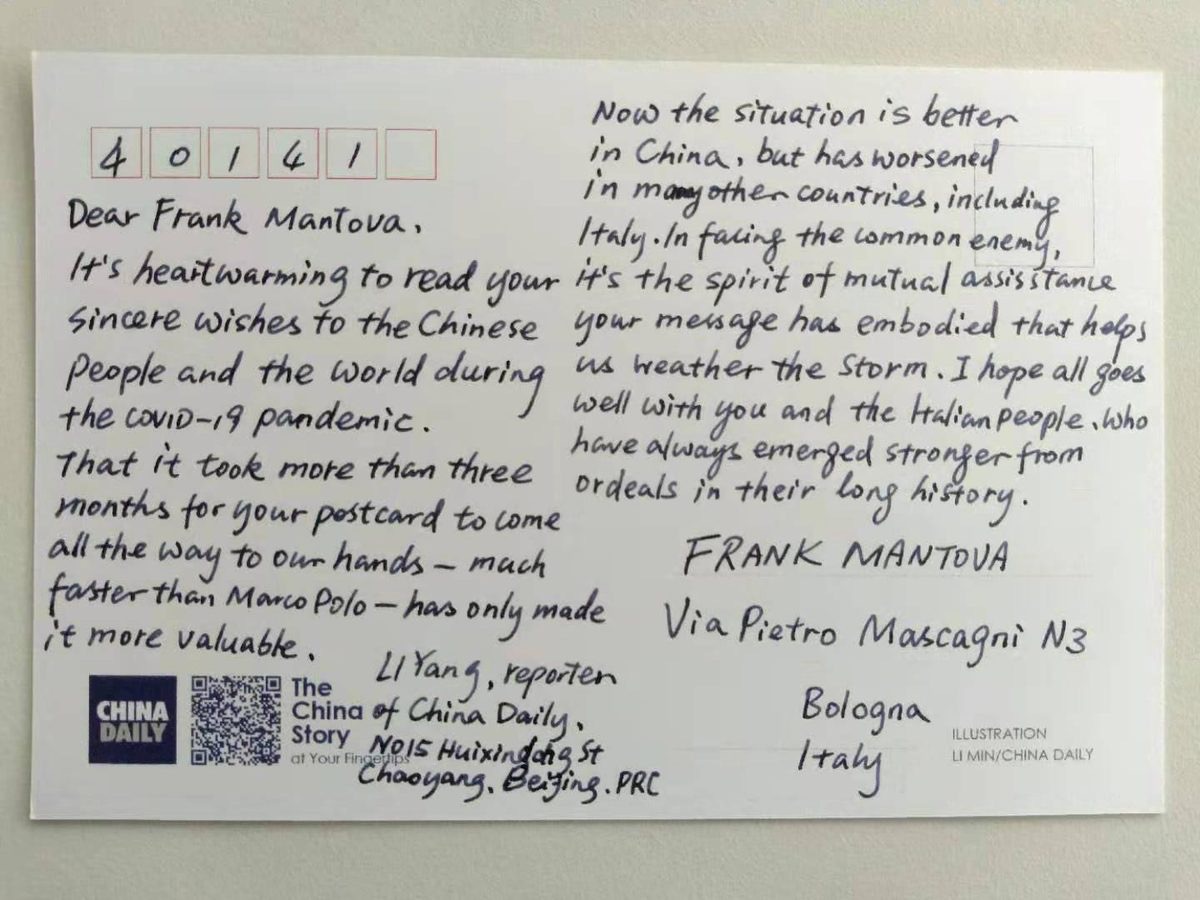 That it took the postcard more than three months to reach us, which in itself speaks volumes about the heavy toll the pandemic has taken on the world, has made it only more valuable.
Since that time, the situation has become better in China, but the disease has made things worse in many other countries, including Italy. The spread of conspiracy theories, stigmatization and other politically driven farces that try to exploit the pandemic to serve the narrow interests of some small groups have continued to undermine global cooperation in the battle against the common enemy.
The positive energy conveyed by the message from Bologna stands in a stark contrast with such divisive tactics. The unexpectedly heartfelt responses from my colleagues when I shared the postcard has driven home how much people are longing to be cared for in these trying times. It also shows how important mutual assistance can be for the international community to respond to a common threat.
No country is safe until the virus is brought to heel in its last foothold in the world. As such, even if the pandemic is now largely under control in China-at huge costs-the Chinese people have never relaxed their vigilance given the possibility of a comeback by the virus at any time. They also have seized the moment to revive the economy so that they can provide more substantial assistance to the other countries, including Italy.
We are trying to establish contact with our friend in Bologna, and hope all is well with him and the Italian people.