Lady consumers pack a punch online
By FAN FEIFEI | China Daily | Updated: 2020-05-11 09:20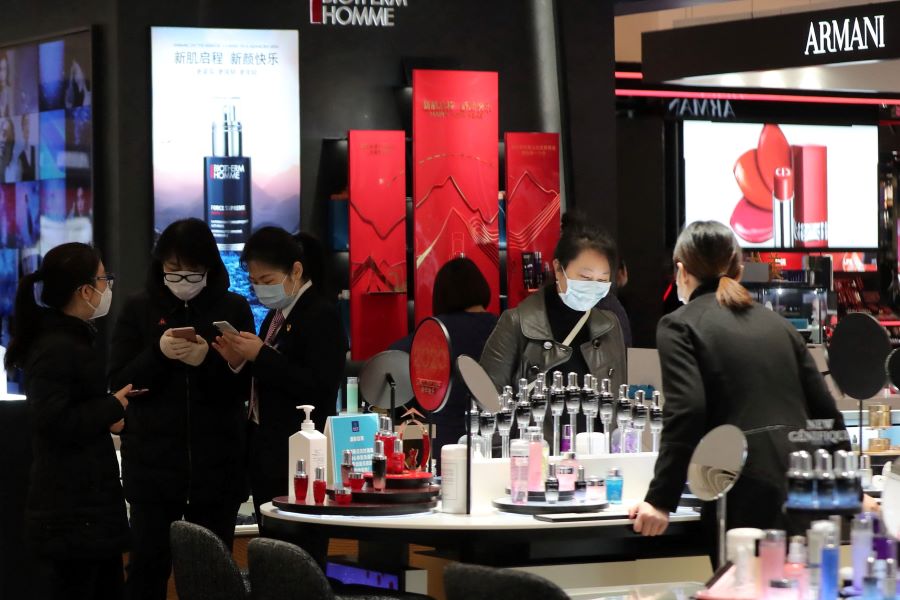 Meanwhile, their demand for cosmetics and clothing was met largely by the booming e-commerce and various promotional activities launched by merchants, Chen said.
A report released by JD Big Data Research Institute said sales of protective products including masks, disposable gloves, and antibacterial wipes increased sharply during the COVID-19 epidemic, and the growth rate of female consumption in this category was much higher than average.
Female consumers tended to spend more money on their children since the outbreak. Sales of toys and musical instruments, amusement equipment and baby milk formula surged 1,440 percent, 1,102 percent and 106 percent year-on-year during the epidemic period from Jan 20 to Feb 10.
Females also tend to entertain themselves as indicated by the 295-percent year-on-year rise in sales of Nintendo's handheld gaming consoles Switch during the same period. Sales of tablet computers also rose 50 percent year-on-year.
Female consumers have been focusing on fitness during the time of self-isolation, which drove sales of yoga mats, body care and female care products up by 142 percent, 117 percent and 66 percent year-on-year during the period of Jan 20 to Feb 10.
The JD Big Data report also concluded female consumers bought more consumer electronics and home appliances in 2019 than previously, while health and fitness have become a new shopping focus. The top five products bought by them last year were cosmetics and skincare products, maternal and infant commodities, personal care products, fresh produce and books.
"E-commerce platforms such as Tmall, JD, Pinduoduo and Vip.com are further tapping female consumption potential through offerings of personalized goods and services," said Mo Daiqing, a senior analyst at the Internet Economy Institute, a domestic consultancy.
"Although the epidemic has affected the brick-and-mortar businesses to some extent, the pent-up consumption demand will be further unleashed when the epidemic dies down."
According to Mo, female consumers born in the 1980-90 period are fond of sharing their photos and pleasures in daily lives on WeChat, Weibo and other social media platforms, and buying products based on recommendations of their friends and some online communities.
Social e-commerce shopping apps such as Red, known as Xiaohongshu, and Meiyou have gained traction among the urban females born in the 1990s. The latter value quality, and have relatively high consuming power and premium tastes.
Although affected by the epidemic, sales of cosmetics on Red still maintained steady growth, with online searches for beauty, and makeup-and-skincare content rising 74 percent and 126 percent in February compared with January.
Data from QuestMobile showed the daily active users of Red grew 35 percent during the Spring Festival holiday (Jan 24 to Feb 2) from a year earlier, and its average daily usage time grew 44.9 percent year-on-year (but it did not provide absolute figures to substantiate its data).
The purchasing potential of females has been further unleashed during the International Women's Day shopping gala held on March 8 by tech behemoth Alibaba Group Holding Ltd.
More than 20,000 brands doubled their sales on its business-to-consumer arm Tmall during the promotional event from a year earlier, while the sales revenue from livestreaming Taobao vendors surged 264 percent compared with the previous year. Taobao attracted 1 million new shopkeepers in February.
Wenzhou, Zhejiang province-based shoemaker Red Dragonfly, which held more than 400 livestreaming events, saw its daily revenue surge over 1 million yuan ($142,000) within just nine days.
"Based on our data and observation in the latest survey, female consumers paid more attention to health, safety and protection of individuals and families during the epidemic, and also endured more pressure from both inside and outside," said Laurel Gu, category director of Mintel China, a consultancy firm.
Gu noted that in terms of consumer behavior, women, especially those aged between 40 and 59, are more concerned about the exposure to the virus in daily lives than men, so they keep an eye on the supply of health protection-related products, such as masks and disinfectants in market. They also prefer cooking at home rather than ordering takeouts.
"The pandemic has also boosted online shopping. Some 80 percent of female respondents said they were more willing to purchase homegrown brands after the outbreak, a shift in consumption attitudes that might have an impact on their buying choices at online and offline channels for a long period of time," Gu said.
A Nielsen survey showed that women were more concerned with smart and technology products than men. Compared with men, women had stronger willingness to buy intelligent products, ranging from such home accessories as smart speakers and home theater to big-ticket items like smart vehicles.
The COVID-19 epidemic is quickly revolutionizing how Chinese consumers think about their health, as well as changing their purchasing behavior and the channels they are using to shop, said Justin Sargent, president of Nielsen China.
"It is both a challenge and an opportunity for brands and retailers. With the advent of 5G, augmented reality, artificial intelligence, and a shifting market environment, brand owners should be continually embracing change while exploring new business strategies."