Baidu throws hat into livestreaming ring
By Fan Feifei | China Daily | Updated: 2020-05-19 09:06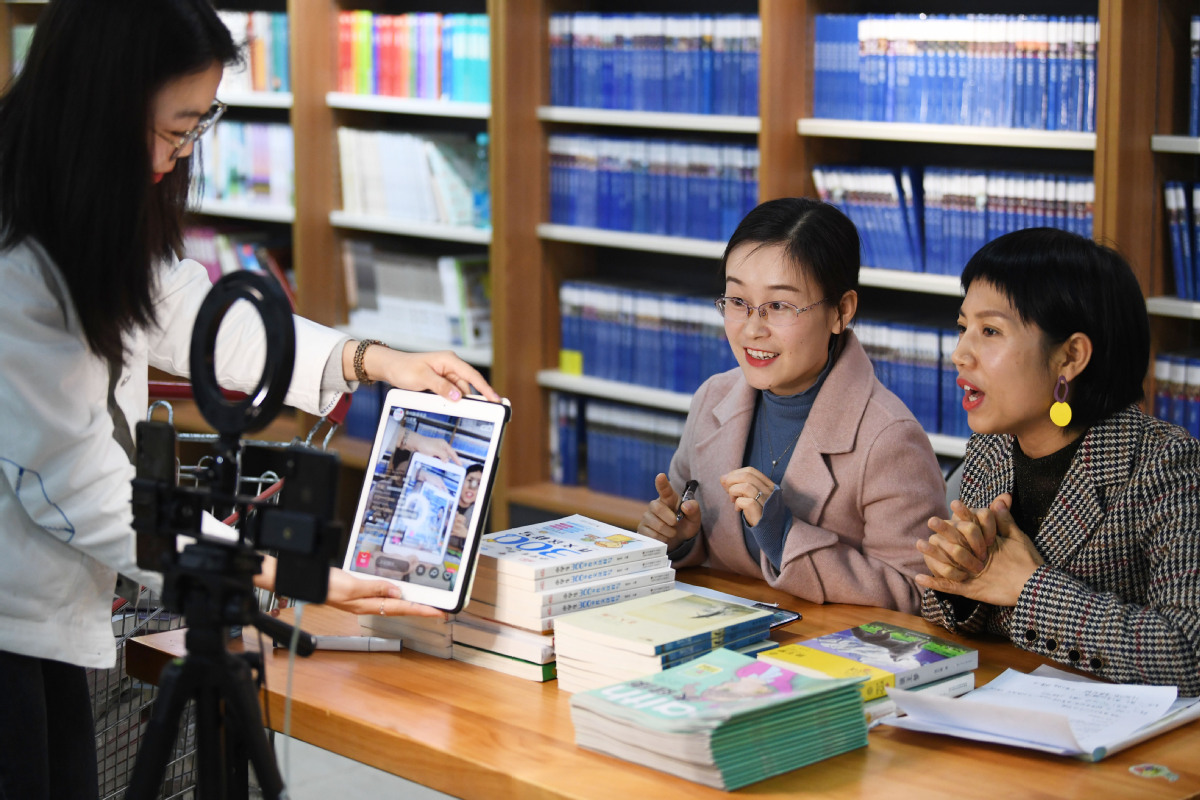 Search engine behemoth relative latecomer to sector that has taken off amid self-isolation
Industry insiders said Chinese search giant Baidu Inc's foray into livestreaming will intensify competition as the burgeoning sector has seen a big boost since the COVID-19 outbreak. Additionally, it is imperative to cultivate high-quality content creators and key opinion leaders to entice a new breed of users.
Baidu is banking on information and knowledge-centered livestreaming business and planning to invest 500 million yuan ($70.4 million) to cultivate 1,000 star livestreamers in an attempt to grab a bigger slice of the lucrative market currently dominated by short-video platforms such as Douyin and Kuaishou.
"We intend to be more active in promoting livestreaming in 2020.We have capabilities to organize very targeted livestreams to attract users and provide corresponding services that meet users' unique demands," said Shen Dou, executive vice-president of Baidu, at the company's 2020 Wanxiang Conference on Wednesday.
Shen said that unlike other livestreaming platforms, Baidu focuses on information and knowledge-based livestreaming as search users typically have clearer information and knowledge needs. "We have a user base of more than 1 billion, an advantage that other livestreaming platforms do not have."
He said Baidu can work with content creators to provide users with deeper and personalized services through livestreaming. For example, it can provide one-stop services such as appointments and consultations based on health-related livestreaming, and book-buying services based on knowledge and book-referral livestreaming.
Livestreaming has become an important medium for acquiring knowledge, entertainment and shopping since the outbreak of COVID-19, as tens of millions of Chinese were confined indoors due to restrictions on large gatherings and travel.
Baidu has promoted livestreams of Beijing's Palace Museum to users who have been unable to visit in person. When users view a livestream on its Haokan short-video app that recommends a certain book, it can direct them to a smart mini program where they can purchase that book.
The tech heavyweight also announced eight initiatives that include providing 500 million yuan in subsidies and directing more user traffic resources to high-quality content creators and developers-in part to incentivize more knowledge-based livestreaming and short-video content.
Baidu App's daily active users have surpassed 230 million, with a 30 percent increase in per capita length of usage and over 30 percent growth in the number of services, while its smart mini programs' monthly active users have reached 500 million, said Ping Xiaoli, Baidu vice-president and general manager of Baidu App.
In addition, content creators on the Baidu Baijia Account platform have exceeded 3 million in number, with 800,000 media organizations and professional user-generated content (PUGC) creators now also using Haokan. Baidu Knowledge currently has 220 million content creators, including 60,000 partner organizations and 50,000 experts and scholars.
The size of China's livestreaming e-commerce sector reached 433.8 billion yuan in 2019, up 226 percent compared with the previous year, and it is expected to double this year, said iiMedia Research in February.
However, Baidu faces stiff competition in the livestreaming sector. Short-video platforms with livestreaming features saw a sharp increase in user activity in the first two months, said QuestMobile, a mobile internet big data company.
The number of daily active users of Kuaishou surged 40 percent during the Spring Festival holiday, compared with the festive season last year. Douyin also saw a 26 percent rise in DAUs, the report said.
Moreover, Chinese entrepreneur Luo Yonghao sold more than 170 million yuan worth of products during his livestreamed e-commerce debut on short-video app Douyin, with 48 million users tuning in on April 1. Over 910,000 sets of products-including tech gadgets, foods and snacks-were sold.
Dong Mingzhu, chairwoman of Chinese home appliance manufacturer Gree Electric Appliances, sold over 310 million yuan worth of products during a three-hour livestreaming event via Kuaishou on May 10.
Sales surpassed 100 million yuan in the first half-hour, and a total of 16 million people watched Dong's livestream. Top sellers were air conditioners and air purifiers with disinfecting functions.
"The combination of short videos with livestreaming is an effective method to engage potential clients and drive online sales," said Cao Lei, director of the E-Commerce Research Center at the Internet Economy Institute. Cao said maintaining future data traffic growth is crucial for these platforms.
Ma Shicong, an analyst with Beijing-based internet consultancy Analysys, said the commercial use of the superfast 5G and ultra-high definition technologies has boosted the livestreaming industry, adding that she is bullish on the prospects for the sector.
Ma said that as a latecomer to the livestreaming sector, it will take time for Baidu to cultivate its own livestreaming celebrities or key opinion leaders.
"Compared with livestreaming e-commerce, the threshold of information and knowledge-based livestreaming is relatively high, so the programs launched by Baidu to cultivate and support high-quality content creators are of great significance," Ma said.