WHO acknowledges Trump letter that threatens to pull funding
By CHEN WEIHUA in Brussels | chinadaily.com.cn | Updated: 2020-05-21 02:54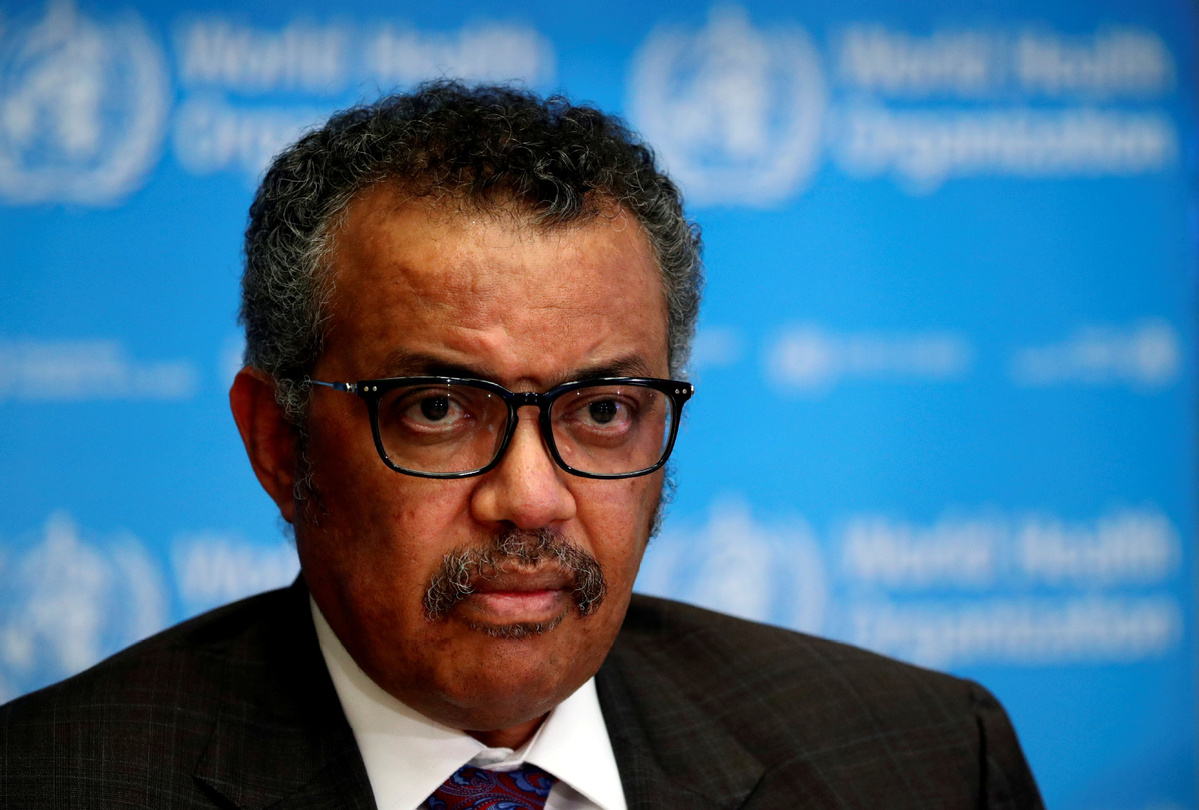 The head of the World Health Organization said on Wednesday that he would "look into" a letter received from US President Donald Trump that threatened to pull US funding from the WHO permanently and withdraw its membership.
WHO Director-General Tedros Adhanom Ghebreyesus was asked by China Daily if and when he would respond to Trump's ultimatum, at a virtual news conference from Geneva on Wednesday after the recently concluded 73rd World Health Assembly.
Tedros said: "We have of course received the letter. We are looking into it." When pushed by reporters, he repeated the answer and did not elaborate further.
The two-day virtual WHA was described as "very productive".
"We saw unprecedented solidarity with heads of government from around the world beaming into the World Health Assembly to discuss lessons, challenges and collective next steps to tackle the pandemic," Tedros said.
The 73rd WHA was held on Monday and Tuesday and attended online by leaders and representatives from 194 members.
Tedros said the WHO will conduct a comprehensive investigation of the pandemic as soon as several conditions are met, adding that the organization had completed similar investigations after Ebola, SARS and other outbreaks.
"This is in (the) WHO's DNA," he said.
He emphasized that the investigation had to be comprehensive. "It will check all actors. And then we know everything in a very comprehensive way, and it will help us to learn from it and make the future better," he said.
Tedros noted that the Independent Oversight and Advisory Committee (IOAC) for the WHO Health Emergencies Programme has completed a review on the WHO's response from January to April and released its report a few days ago.
He said the full investigation should not hinder the response to the pandemic. "The most important thing now is fighting the fight, saving lives," Tedros said.
Mike Ryan, executive director of the WHO Health Emergencies Programme, added that the investigation into the pandemic should only be tackled when the event is over.
He said the focus must now be on the emergency response, epidemic control, developing and distributing vaccines, improving surveillance, saving lives, distributing essential PPE to workers and other urgent issues.
"When the time is right, the director general will in consultation with member states carry out the appropriate evaluations and reviews," Ryan said.
The 73rd WHA adopted a resolution to bring the world together to fight the COVID-19 pandemic. It called for the intensification of efforts to control the pandemic, and for equitable access to and fair distribution of all essential health technologies and products to combat the virus.
It also called for an independent and comprehensive evaluation of the global response, including, but not limited to, the WHO's performance.