Shadow cast over US reopening
By JONATHAN POWELL in London | CHINA DAILY | Updated: 2020-05-21 09:24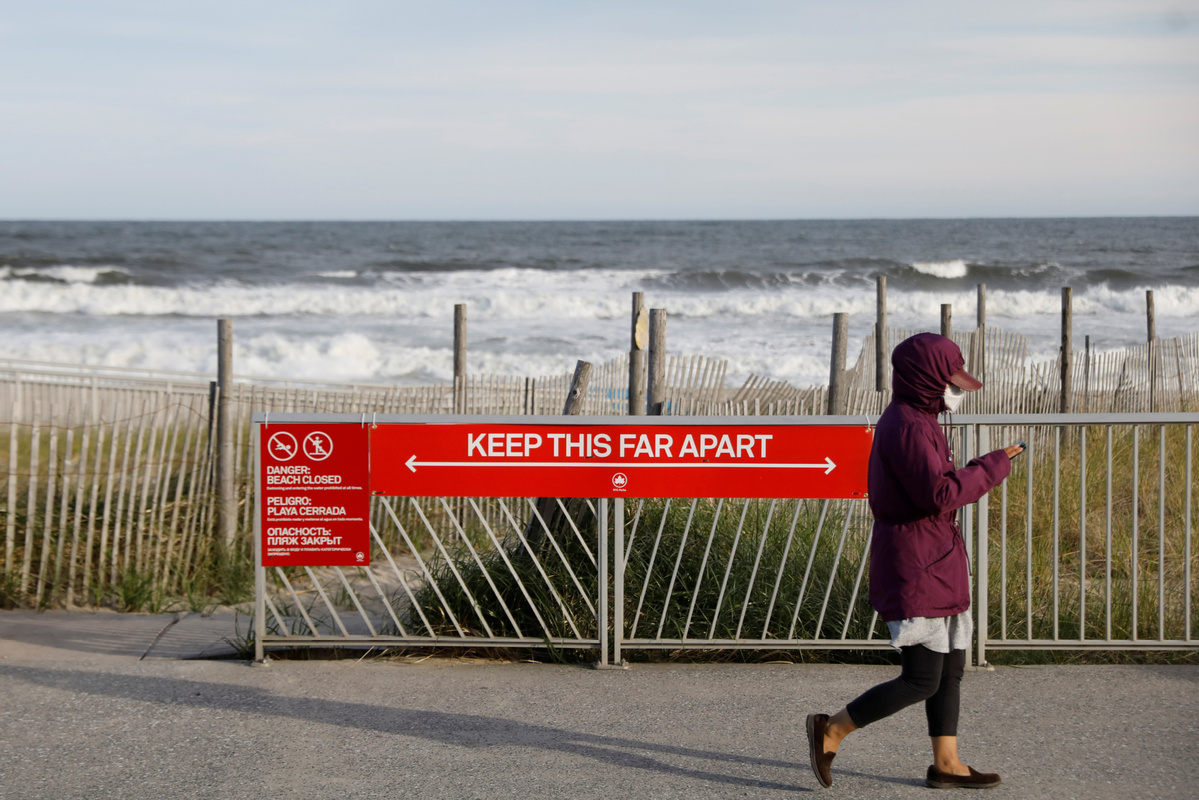 As of Wednesday, all 50 US states have begun lifting at least some of the restrictions imposed on daily life by the novel coronavirus.
That is happening even though at least 17 states, as of Tuesday, were still seeing upward trends in average new daily cases over the past week, data from Johns Hopkins University showed.
Connecticut was the last state to begin to lift its original restrictions. As of Wednesday, it was nominally allowing offices, outdoor dining spaces, stores and malls, museums and zoos to reopen with some restrictions. The state never shut down manufacturing, outdoor construction, parks or beaches.
More than 1.5 million confirmed cases had been recorded in the US, where the death toll reached 91,938 on Wednesday, Johns Hopkins data showed. Globally, there have been more than 4.9 million infections and 323,000 deaths.
The nationwide shutdowns to slow the spread of the virus are blamed for over 36 million people losing their jobs since mid-March.
Despite the nationwide reopening, many public health officials and some political figures continued to raise concerns that increased activity would put US residents at greater risk of a new surge of infections.
Inadequate protection
On Tuesday, the top Democrat on the Senate Banking Committee charged that some workers are being pushed "back into the workplace" without adequate protection against the coronavirus, an allegation rejected by Treasury Secretary Steven Mnuchin.
"How many workers should give their lives to increase the GDP or the Dow Jones by 1,000 points?" asked Sherrod Brown, an Ohio Democrat.
Mnuchin replied: "No workers should give their lives to do that, Mr Senator, and I think your characterization is unfair."
He said US President Donald Trump's administration had "provided enormous amounts of equipment" to protect workers' health.
Brown posed the question after Mnuchin said it was important to bring "people back to work" in a safe way and restart the economy.
Since the pandemic struck in March, about 32.5 million people have filed unemployment claims and driven the unemployment rate to 14.7 percent, the US Labor Department reported.
Health experts say it could take weeks to determine if the current wave of reopening leads to a new spike in COVID-19 cases.
Also on Tuesday, New York Governor Andrew Cuomo said that any vaccine to prevent the coronavirus should be distributed fairly without regard for people's ability to pay.
"The vaccine must be available to all people," Cuomo said at his daily briefing. "It can't be a situation where only the rich, only the privileged can get the vaccine because one company owns the rights and they can't produce enough for everyone."
New York City, the epicenter of the pandemic in the US, remains under a strict lockdown.
Following Trump's announcement that he has been taking hydroxychloroquine to protect against the coronavirus, Vice-President Mike Pence told Fox News he has not joined Trump in taking the drug, which the US Food and Drug Administration has warned about as a COVID-19 treatment.
Trump also sparked controversy over his plans to visit a Ford plant in Michigan on Thursday that manufactures medical ventilators. Asked whether he will wear a mask when he visits the factory, Trump said that "where it's appropriate, I would do it". The decision depends on the situation and if he is "standing right next to everybody", he added.
Agencies via Xinhua contributed to this story.