Trump to stop taking hydroxychloroquine
By AI HEPING in New York | chinadaily.com.cn | Updated: 2020-05-21 11:34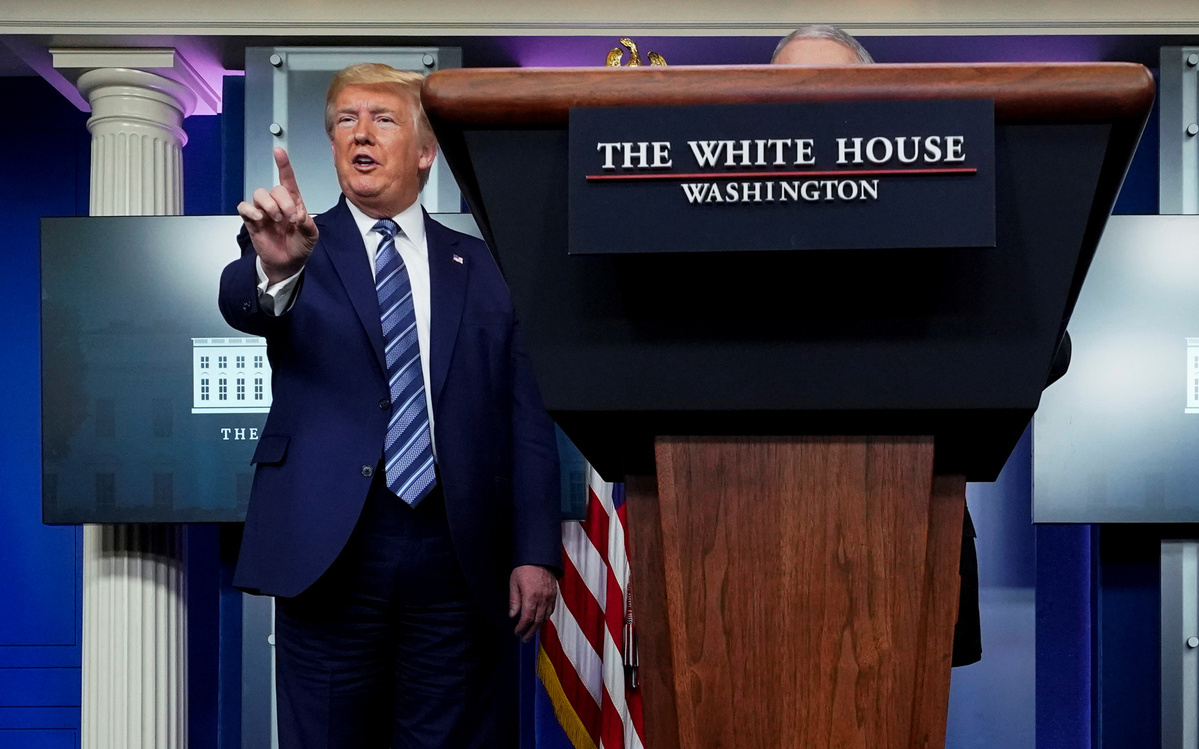 President Donald Trump said Wednesday that he would stop taking the anti-malaria drug hydroxychloroquine.
Trump said the regimen of hydroxychloroquine that he is taking to ward off the coronavirus will finish in the next day or two.
The president revealed Tuesday that he was taking the drug despite medical warnings about potential serious side effects and questions about its effectiveness in preventing COVID-19.
On April 24, the US Food and Drug Administration said the drug hasn't been shown to be "safe and effective for treating or preventing COVID-19" and that it shouldn't be used "outside of the hospital setting or a clinical trial due to risk of heart rhythm problems".
Trump heads to Michigan on Thursday for the latest stop on his campaign to showcase companies that are producing equipment needed to battle the coronavirus pandemic.
Trump will travel to Ypsilanti where he will tour a Ford Motor Co plant making ventilators for COVID-19 patients.
Ford, which restarted its North American auto assembly plants this week, said Wednesday that it stopped production temporarily at two plants in Chicago and Dearborn, Michigan, after employees tested positive for the coronavirus.
In Michigan, a conservative group protested Governor Gretchen Whitmer's stay-at-home order and the closure of barbershops and beauty salons by giving free haircuts outside the state Capitol in Lansing.
Whitmer on Wednesday declared a state of emergency for Midland County and urged residents to evacuate amid heavy flooding. She said downtown Midland could be under 9 feet of water after two dams broke following days of rain, officials said.
In Connecticut, retail stores reopened, and restaurants were allowed outdoor-only dining with tables 6 feet apart. Restaurants are required to rearrange workstations so that employees don't face one another and stagger shifts and break times to minimize contact among them.
Illinois, which ranks third among states in the number of coronavirus cases with nearly 100,000, announced major policy updates Wednesday as it enters the third phase of its reopening plan.
Among the modifications to the current mandate aimed at reducing the virus' spread: Restaurants and bars can resume service for outdoor seating May 29. On that date, people will be allowed to gather in groups of 10 or fewer.
Also Wednesday, the US Department of Health and Human Services said pharmacists would be allowed to order and administer coronavirus tests, even where they previously weren't explicitly permitted.
The US has the largest coronavirus outbreak in the world with almost 93,000 deaths reported and more than 1.5 million confirmed cases, according to data from Johns Hopkins University. Worldwide, the virus has killed more than 326,000 people and infected 4.95 million.