Demand for remote digital consultations rises across Asia under lockdown
By YANG HAN in Hong Kong | China Daily | Updated: 2020-05-28 08:11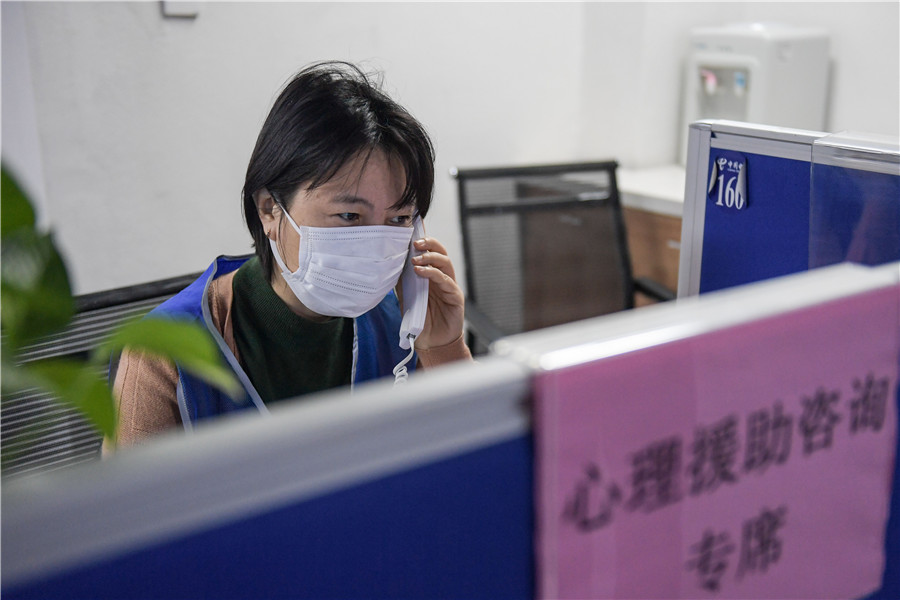 As medical professionals fight COVID-19 and its effects on all fronts, a fresh line of defense is being mustered online to safeguard mental health, with new digital channels offering more ways to seek assistance remotely.
Li Zhen, better known as Jian Lili, is the founder and CEO of Jiandan Xinli (MyTherapist), a startup based in Beijing that connects psychotherapists with clients.
Established in early 2014, more than 800 Chinese-speaking therapists from over 117 cities worldwide have registered with the platform, providing mental health-related services for millions of people in China.
As the outbreak escalated in the country, the startup launched a free consultation hotline on Jan 26 to help those experiencing pandemic-related stress.
The day before, it posted an announcement asking for volunteers, and selected some 400 experienced therapists from more than 2,000 applications, of which 1,400 were received on the morning of the launch.
"As an online mental health platform, the technology we have is our natural advantage," Li said, noting that this has enabled a quick response to emergencies during the outbreak.
Li said that with at least 100 therapists online daily, at peak times the platform's internal calling system can host numerous therapists from any location simultaneously, without the lines jamming.
By early last month, the system had helped more than 10,000 people, according to the platform. Averaging over 300 calls a day, it has accumulated more than 200,000 minutes of conversation. Online lectures held by the platform for therapists and the public have attracted more than 150,000 participants.
The company is one of many in the health technology sector providing online psychological services during the pandemic.
WeDoctor, backed by Tencent, has launched online platforms for psychological counseling and diagnosis, which by April 28 had handled more than 1.7 million calls.
Alibaba, Baidu and JD have launched online mental health services, while early last month, Ping-An Good Doctor announced the start of an English-language version of its medical consultation platform to reach global users.
Southeast Asian healthcare platform BookDoc is also playing an active role in the region's fight against COVID-19 by offering virtual health advisory services, including mental health teleconsultations. Based in Malaysia, the platform is among the largest of its kind in the country, with more than 500,000 domestic users. Its footprint spans more than 20 Asian cities in countries such as Singapore, Indonesia and Thailand.
Originally focusing on online bookings for doctors, BookDoc ventured into remote healthcare in December. Psychology and psychiatry-related services were introduced in January, according to its founder, Chevy Beh.
The number of healthcare professionals on the platform has since grown by about 200 percent, in tandem with a significant rise in demand for mental health services.
"The demand mainly comes from bigger cities like Singapore, Hong Kong and Kuala Lumpur," Beh said, adding that with social distancing, people living in isolation in large cities tend to experience more mental stress compared with those living in rural areas with their families.
Cyrus Ho Su Hui, a consultant psychiatrist and clinical lecturer with the Department of Psychological Medicine at the Yong Loo Lin School of Medicine, National University of Singapore, said emerging outbreaks can affect anyone, irrespective of gender and status.
"For COVID-19, this is especially pertinent," Ho said, noting that in addition to many uncertainties about the virus, the impact goes beyond the disruption to normal life, both financially and socially. As a sudden and stressful event, more acute reactions are associated with the pandemic than with general mental health issues, Ho said.
"Online consultation services are actually worthwhile, especially in the context of social distancing. Such services are very helpful and convenient for consumers," he said. National University Hospital, where Ho works, also offers consultation via videoconferencing.
But he said online mental health services also present concerns, citing issues such as data protection and the acceptability of assessing patients' conditions through video or voice consultation.