Some students return to class as lockdown eases
By EARLE GALE in London | China Daily Global | Updated: 2020-06-02 09:38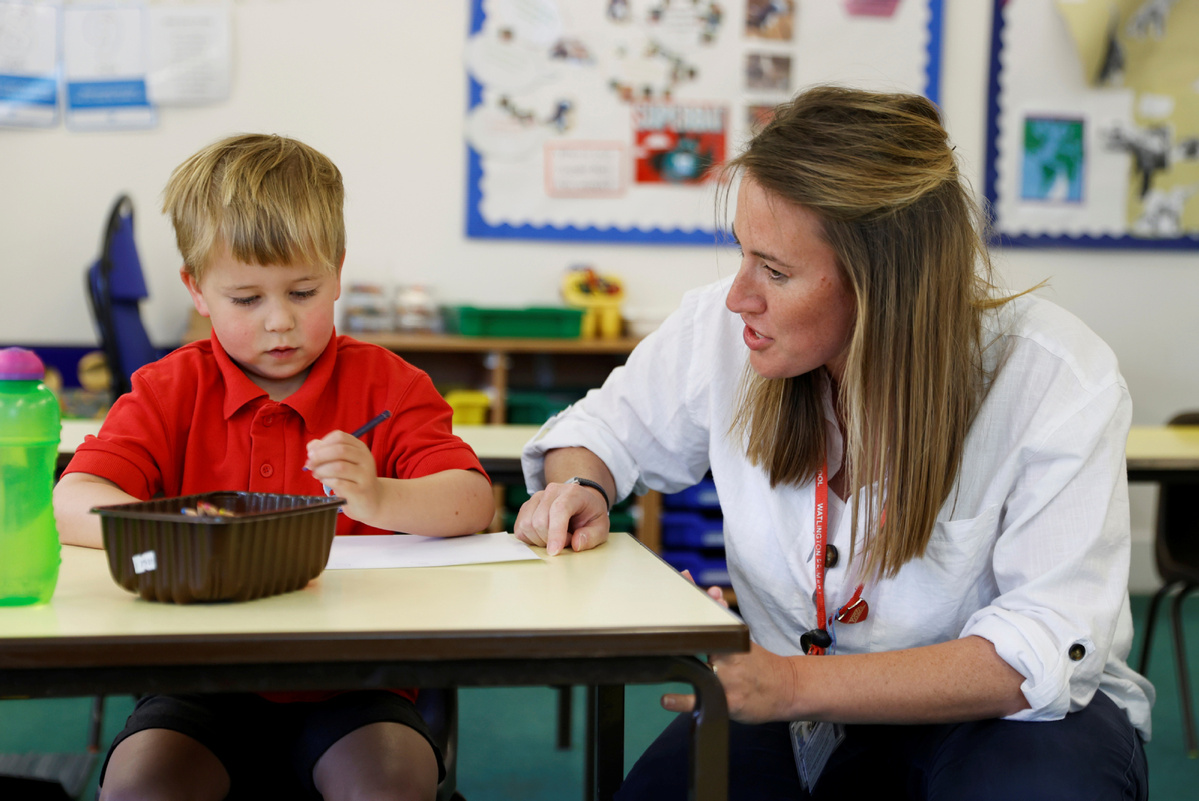 Thousands of United Kingdom students were invited back to class on Monday as the government reopened schools for some age-groups amid its easing of the nation's novel coronavirus lockdown.
But many parents chose to keep their children at home.
Monday's partial reopening was for 4-year-olds, 5-year-olds, and 10-year-olds and followed schools being closed for 10 weeks to all but the children of key workers. Secondary schools are slated to partially reopen on June 15 but many students are unlikely to return to class before September.
A survey of 1,200 school leaders by the National Foundation for Educational Research found only around half of parents planned to send their children to school, and 25 percent of teachers were likely to be absent because of health concerns.
The Association of Directors of Public Health, which represents senior managers in the health departments of local governments, said the lockdown was being eased too quickly.
Jeanelle de Gruchy, the association's president, said on Radio 4's Today program: "A lot of people …are increasingly concerned that the government is misjudging this balancing act and lifting too many of the restrictions too quickly."
Among Monday's changes, groups of up to six people could gather in private gardens, outdoor markets could reopen, and people with underlying health conditions who had been "shielding" since the lockdown began 10 weeks ago could leave their homes.
The government insisted the relaxations had not been hurried.
Business Secretary Alok Sharma said on BBC Breakfast that social distancing measures in schools would protect students and staff.
"I completely understand every parent wants to keep their child safe," he said. "And that's precisely what the government wants to do in ensuring schools are safe places to return to.
"Anne Longfield, the children's commissioner for England, wrote in the Daily Telegraph that the "most deprived" students should also be offered classes throughout the summer holidays.
At the government's daily news briefing, Health Secretary Matt Hancock said test and trace systems are working and will be instrumental in the United Kingdom fully emerging from the lockdown. He added that data will be released soon to show the success of the systems.
He said there had been an additional 111 deaths, taking the total to 39,045. It was the lowest daily death toll since the lockdown began on March 23.
"The data show that we are winning the battle against the coronavirus," Hancock said.
Meanwhile, scientists behind a vaccine developed in Beijing by biotech company Sinovac are "99 percent" sure it will be effective, Sky News has reported.
The vaccine is undergoing Stage 2 trials in China but could be tested during Stage 3 in the UK because of the dwindling number of cases at home. The company published results in the academic journal Science last month that show the vaccine, called CoronaVac, has successfully protected monkeys from novel coronavirus infections.
Helen Yang, a senior director of investor relations, said: "We are speaking to several European countries…Currently, it's a very preliminary stage for the discussion."
The vaccine is among many promising candidates, including one from AstraZeneca and the University of Oxford.
In the absence of a vaccine, measures such as quarantines will be needed in the long term, but more than 200 travel and hospitality businesses on Monday called on the government to abandon plans to make international arrivals spend 14 days in quarantine.
PA Media said the companies have written to Home Secretary Priti Patel saying the policy will be disastrous for the industry.
Elsewhere, in Russia, Moscow residents could take their first long walks outside their apartments for nine weeks on Monday after Mayor Sergei Sobyanin relaxed the city's lockdown. The easing includes the reopening of shopping centers, bookshops, dry cleaners, car dealerships, and launderettes.
Primary schools in Greece have now reopened, along with hotels, swimming pools, and golf courses.
In the Netherlands, restaurants, cafes, and museums reopened, as did bars in Norway and cinemas and theaters in Portugal.