Charging piles construction to accelerate across country
By Zheng Xin | China Daily | Updated: 2020-06-02 09:44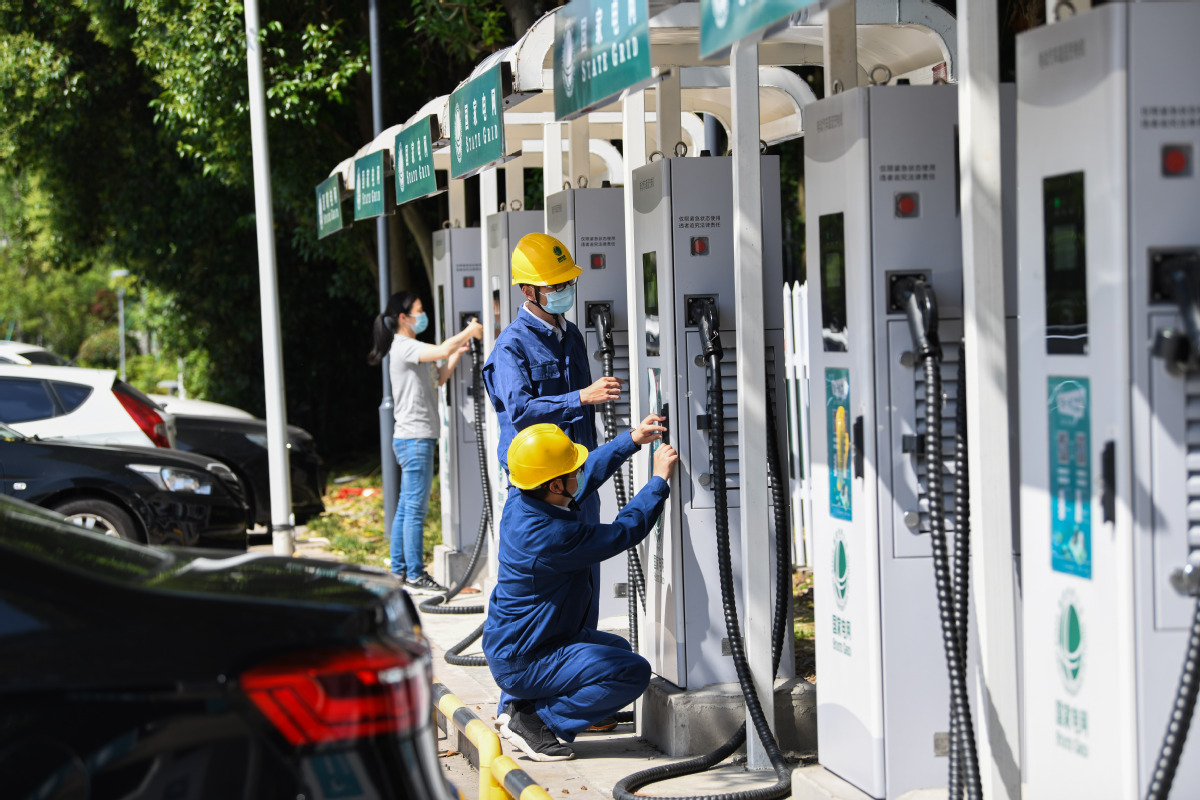 Billions of dollars are being invested in electric vehicle battery support sector
Construction of charging piles is expected to accelerate in China this year and companies are investing billions of dollars in the electric vehicle battery support sector, responding to a government appeal to develop high-tech infrastructure.
China had more than 1.24 million EV charging piles by the end of 2019 including 531,000 public charging piles and 712,000 private ones. The number is expected to reach 5 million by the end of this year with the ratio of charging piles to EVs at the time seen as one to one.
This is in accordance with China's pledge to advance the construction of new infrastructure projects in a bid to further stimulate new consumption demand and boost industrial upgrading. It plans to issue 3.75 trillion yuan ($529 billion) of special local government bonds this year, with priority given to new infrastructure, and more charging facilities will be built to promote wider use of EVs.
As China's electric fleet is expected to swell to 162 million vehicles by 2040, according to forecasts by Bloomberg New Energy Finance, it's important to help EV users charge their cars wherever they go.
To tackle the lack of services bridging charging stations and drivers, State Grid Corp of China-a State-owned electric utility firm-has invited 51 charging companies from across the country to join its platform to accelerate the interconnection of charging facilities and promote the sustainable development of EV charging services.
The company, together with China's largest charging infrastructure providers-Qingdao TGOOD Electric Co Ltd, Star Charge and China Southern Power Grid-previously set up a company called Uniev that is focused on EV-related services. The platform, covering information about pile locations, availability, prices and user ratings, had connected to over 390,000 public charging piles by November 2019.
State Grid is expected to launch a new product to better connect EV drivers, charging service providers and power grid services this month, it said.
It is believed as another move by the company to venture into the connectivity sector of the EV charging services industry, which, according to a report by industry association China EV100 and the Natural Resources Defense Council, is expected to create an industry value worth 2.2 billion yuan by the end of this year.
Huang Shan, general manager for charging services at Uniev, said the company has partnered with nearly a hundred charging operators and EV manufacturers. It will continue offering products and solutions for EV drivers, charging infrastructure providers and EV manufacturers.
A report issued by BloombergNEF recently said China will account for 48 percent of the global electric vehicle market by 2025.
The rapid development of China's EV industry has brought about fast growth in the demand for electric charging services. The low level of connectivity has been a concern for EV drivers while affecting the sector's return on investment, according to Uniev.
Experts believe that what hinders the connectivity of charging facilities is not a technical problem, but a low level of connectivity between service providers and users, which also impacts the sector's ROI.
Many charging companies have been suffering long-running losses due to high initial investment burdens, slow return on investment and a relatively small but growing user base. Various companies have set up charging piles with different standards. This also makes it challenging to connect all the chargers together.