Sancho and Hamilton add support to George Floyd protest movement
By JULIAN SHEA in London | China Daily Global | Updated: 2020-06-02 10:13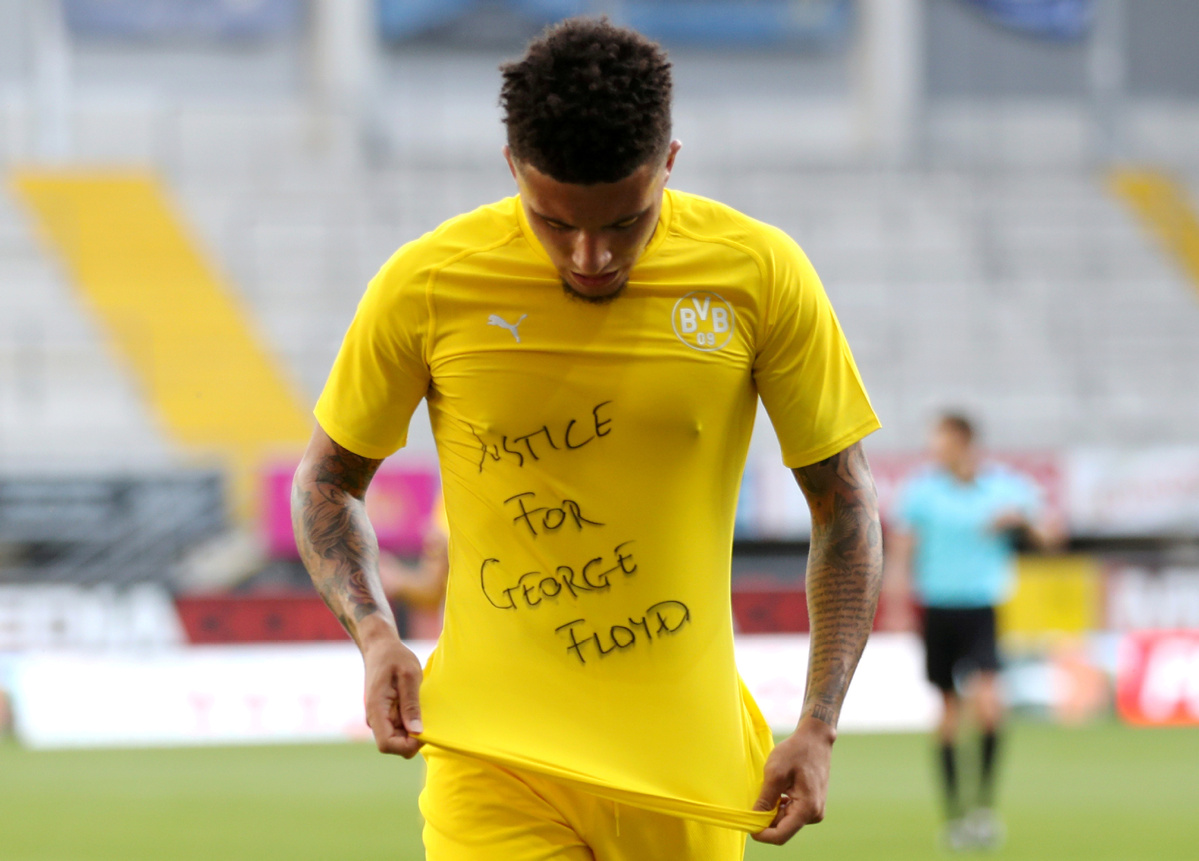 England soccer player Jadon Sancho has become the latest figure in the world of sport to take part in demonstrations against racism following the killing of George Floyd as he was being arrested in Minneapolis in the United States, an event that has sparked protests worldwide and violent disturbances across the US.
The 20-year-old plays for one of Germany's biggest teams, Borussia Dortmund, and with the country's Bundesliga being the most high-profile sporting competition worldwide to return to action following the novel coronavirus lockdown, its games are receiving even more attention than usual.
Following public comment from the likes of basketball legend Michael Jordan and tennis champion Serena Williams, on Sunday, Sancho scored the first hat-trick of his career as Dortmund beat Paderborn 6-1, and lifted up his shirt to show a t-shirt beneath with the message "Justice for George Floyd".
This earned him a yellow card from the referee, as since 2014, players have been forbidden from displaying personal messages during games. Technically, he could face further punishment over the issue, but in the current climate, that is not considered likely.
"Delighted to get my first career hat-trick, a bittersweet moment personally as there are more important things going on in the world today that we must address and help make a change," he wrote afterwards on Instagram.
"We shouldn't fear speaking out for what's right, we have to come together as one & fight for justice. We are stronger together! #Justice-ForGeorgeFloyd."
Sancho's Dortmund team-mate, Achraf Hakimi, also wore a t-shirt in support of the protest, and during Schalke's game with Werder Bremen on Saturday, their US midfielder Weston McKennie wore a "Justice for George" armband.
Another Bundesliga player to make a protest was Marcus Thuram of Borussia Monchengladbach. Thuram, son of legendary French player Lilian Thuram, marked his goal in his team's 4-1 win over Union Berlin by going down on one knee.
This is a gesture first adopted by former NFL American football player Colin Kaepernick during the pre-match playing of the national anthem as a protest against police brutality, which caused a huge controversy that has seen his career come to a halt and led to legal action.
Five-time world Formula 1 champion Lewis Hamilton has also taken to Instagram to complain about the lack of support coming from his own sport.
"I see those of you who are staying silent, some of you the biggest of stars yet you stay silent in the midst of injustice," he wrote.
"I would have thought by now you would see why this happens and say something about it but you can't stand alongside us.
"The way minorities are treated has to change, how you educate those in your country of equality, racism, classism and that we are all the same!"