New York area emerging from virus' grip
By HENG WEILI in New York | China Daily Global | Updated: 2020-06-02 11:42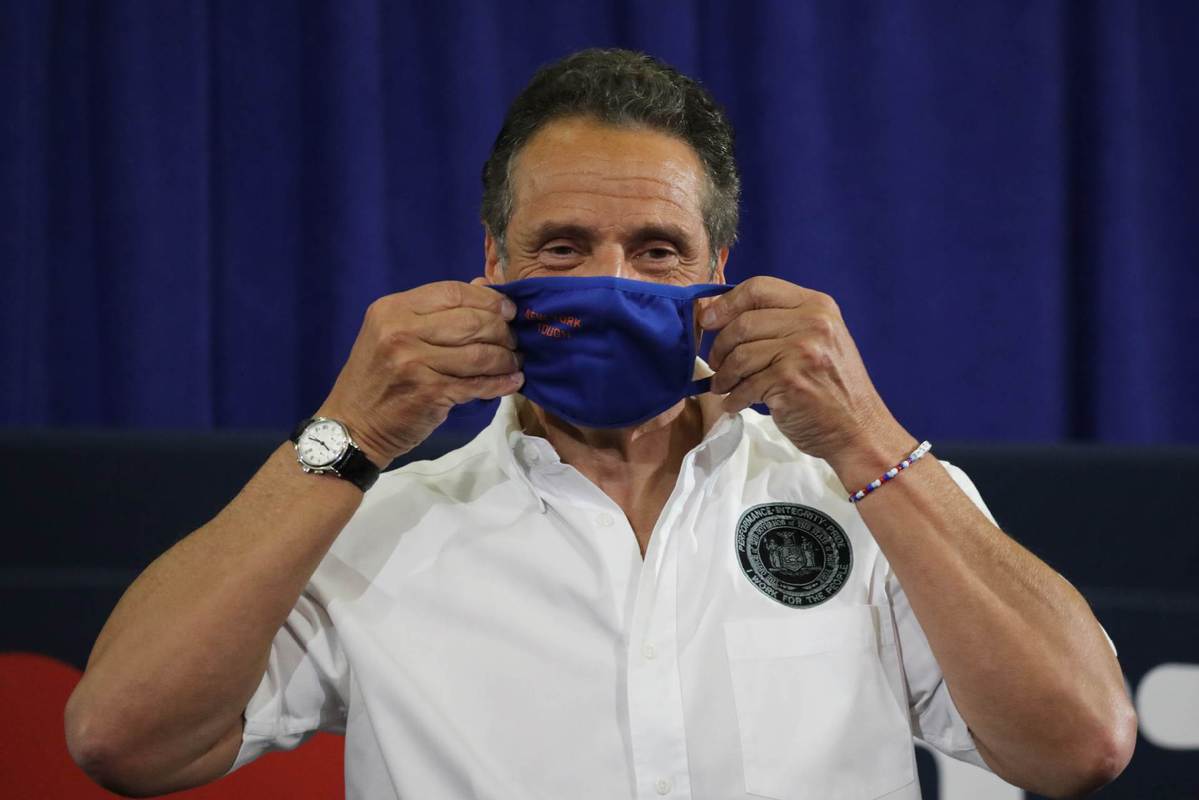 New York early this week recorded its lowest death toll from the COVID-19 pandemic since mid-March, when the state began limiting public activity.
Governor Andrew Cuomo announced on Monday that 54 people died of the novel coronavirus on Sunday, the lowest number since March 16, when the state shut down bars and restaurants.
New York is the epicenter of the virus in the United States, the country with the most cases of the respiratory disease in the world. As of Monday, the state accounted for more than 375,000 of the US' caseload, which has topped 1.8 million.
New York state also has suffered nearly 30,000 deaths from the illness, almost 30 percent of the COVID-19 deaths in the US, which have surpassed 104,000, according to data compiled by Reuters.
Cuomo also warned about the recent large-scale protests in New York City over the death of George Floyd, an African American man who died in police custody May 25.
"We don't know the consequences of the COVID virus in mass gatherings," he said, warning that as New York City moves toward reopening on June 8, "don't snatch defeat from the jaws of victory".
A curfew was implemented in the state from 11 pm Monday to 5 am Tuesday following a night of confrontations between protesters and police and widespread looting of high-end retail stores in the city's fashionable Soho neighborhood in Manhattan.
Cuomo complimented the state's efforts in fighting the pandemic.
"It took us 93 days to get here," he said. "Is this smart? New York tough. We went from the worst situation to reopening — from the worst situation to 54 deaths in 50 days. We went from the worst situation to reopening in 93 days. We did that because we were New York tough."
In neighboring New Jersey, which has the second-highest number of US cases, Governor Phil Murphy announced Monday that the state will move to stage two of its reopening plan on June 15, with retail stores opening their doors to customers, and bars and restaurants offering outdoor dining.
"The next big step in our restart and recovery is just two weeks away," Murphy said at his daily coronavirus briefing in Trenton. "We're ready to begin moving forward. We are ready because this progress is being seen across the state. I firmly believe we are going to stay on track."
Murphy, a Democrat who was elected in 2017, pointed to a "continued reduction in the data" — saying that new hospitalizations for the virus have fallen more than 80 percent from their peak.
But other politicians say the lockdown has gone on too long.
"It is devastating for these business owners," Declan O'Scanlon, a Republican state senator, told nj.com. "I hear from them every day. Grown men in tears. It is totally unnecessary. There is no scientific basis for New Jersey to be this far behind other states reopening safely."
New Jersey had more than 160,000 cases and nearly 11,700 COVID-19 deaths as of Monday.
On Monday, Connecticut became the first state in the region to reopen its hair salons and barbershops, with both the stylists and customers wearing masks. Casinos in the state also reopened Monday.
"We're preparing to be busy," Jason Guyot, interim president and CEO at Foxwoods, told The Hartford Courant.
As of Monday, Connecticut had 454 patients hospitalized with the coronavirus, fewer than it had at the start of April and down more than 75 percent from the state's peak.
Governor Ned Lamont announced Monday that the state suffered 20 more COVID-19-related deaths, putting the toll at 3,964.
The US Congressional Budget Office forecast on Monday that the pandemic would have a long-term effect on the American economy, reducing GDP 3 percent through 2030.
The global debate over COVID-19 continued Monday, as World Health Organization (WHO) experts and other scientists said there was no evidence to support an assertion by a high-profile Italian doctor that the virus causing the COVID-19 pandemic has been losing potency.
Professor Alberto Zangrillo, head of intensive care at San Raffaele Hospital in Lombardy, the region that bore the brunt of Italy's epidemic, on Sunday told state television that the new coronavirus "clinically no longer exists".
But WHO epidemiologist Maria Van Kerkhove and several other experts on viruses and infectious diseases said Zangrillo's comments were not supported by scientific evidence.
Zangrillo, well known in Italy as the personal doctor of former prime minister Silvio Berlusconi, said his comments were backed up by a study conducted by a fellow scientist, Massimo Clementi, which Zangrillo said would be published next week.
Zangrillo told Reuters: "We have never said that the virus has changed; we said that the interaction between the virus and the host has definitely changed."
The study by Clementi, director of the microbiology and virology laboratory of San Raffaele, compared virus samples from patients at the Milan-based hospital in March with samples from patients with the disease in May.
"The result was unambiguous: an extremely significant difference between the viral load of patients admitted in March compared to" those admitted last month, Zangrillo said.
Reuters contributed to this story.