Banks, businesses limit cash acceptance
By BELINDA ROBINSON in New York | China Daily Global | Updated: 2020-06-02 14:00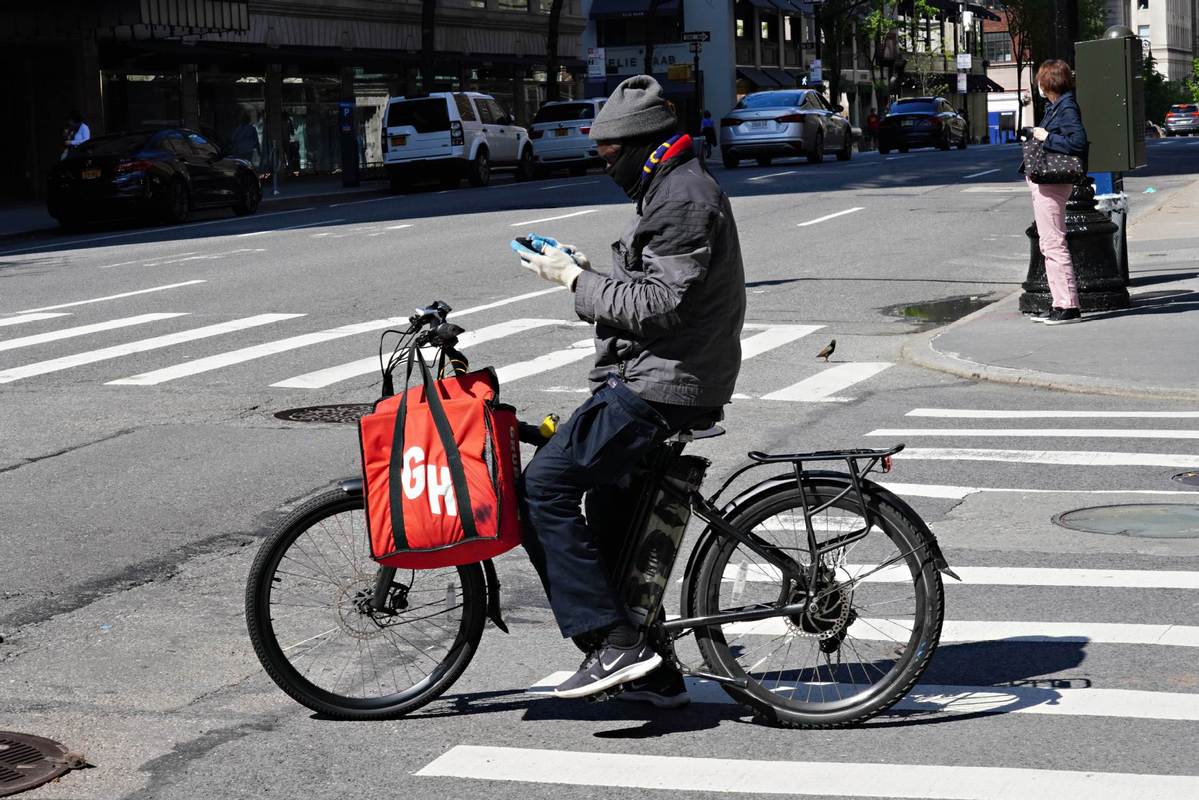 A growing number of businesses and banks worldwide are temporarily shunning the use of cash over fears that it could transmit the novel coronavirus.
The US Federal Reserve said that since Feb 21, paper currency previously circulated in Europe and Asia has been quarantined for seven to 10 days as a "precautionary measure" during the current pandemic.
US food-delivery services Grubhub, DoorDash and others implemented "no-contact" deliveries beginning in March, encouraging customers to use debit and credit cards instead of cash.
Grubhub said on its website: "For the safety of you and our drivers, drivers will call/text when they arrive and drop off your order on the doorstep, in the lobby or other area designated by you."
Open Books, a nonprofit bookstore in Chicago, sent an email to customers in March urging them not to use cash. In Washington state, some diners stopped accepting cash as payment, taking only cards.
However, amid those precautionary measures, public health officials said that there is no definitive proof that the virus can live for long on banknotes, and that the risk of it spreading through paper money is minimal.
"It's not impossible that there might be traces of virus on a dollar bill, but if you wash your hands it should provide adequate protections — you shouldn't need anything else," said Julie Fischer, a professor at the Center for Global Health Science and Society at Georgetown University, on C-SPAN.
However, the Centers for Disease Control and Prevention (CDC) has said that the virus could live on hard surfaces like cardboard for up to 24 hours and on smooth surfaces like plastic and stainless steel for up to 72 hours.
The CDC website adds: "Transmission of coronavirus occurs much more commonly through respiratory droplets than through objects and surfaces, like doorknobs, countertops, keyboards, toys, etc. Current evidence suggests that SARS-CoV-2 (the novel coronavirus) may remain viable for hours to days on surfaces made from a variety of materials."
Worldwide, 6.2 million people have been infected with the coronavirus, and more than 373,000 have died, according to John Hopkins University data. In a bid to keep the public safe, some international governments and banks are sterilizing banknotes.
In China, banks have been urged to sterilize cash with heat and ultraviolet light. In South Korea, the country's central bank took all banknotes out of circulation for two weeks. The government there also burned some notes.
Germany's central bank said that 43 percent of Germans had changed their payment methods from cash to contactless card payments, the Los Angeles Times reported.
Before the pandemic, the use of dollar bills in the US had already dropped from 33 percent to 26 percent over the past four years, according to CBS News. A handful of businesses have gone totally cashless nationwide. PayPal, Apple Pay, Google Pay and other contactless methods also have become increasingly popular.
Yet some consumer advocates warn that not everybody can switch so easily from cash to card, as 8.4 million US households do not have a bank account, according to the Federal Deposit Insurance Corp.
Additionally, some 24.2 million American households, composed of 48.9 million adults and 15.4 million children, were "underbanked" in 2017.
"We need to get low-income people the long-term access to financial resources that nonpoor people have," Joel Berg, CEO of Hunger Free America, told China Daily. "In other words, enable them (with) a way to get credit cards or bank cards … so they can be mainstream in a modern electronic society like everyone else."