PBOC plans bank loan buyback to lift SME lending
By Chen Jia | China Daily | Updated: 2020-06-03 07:37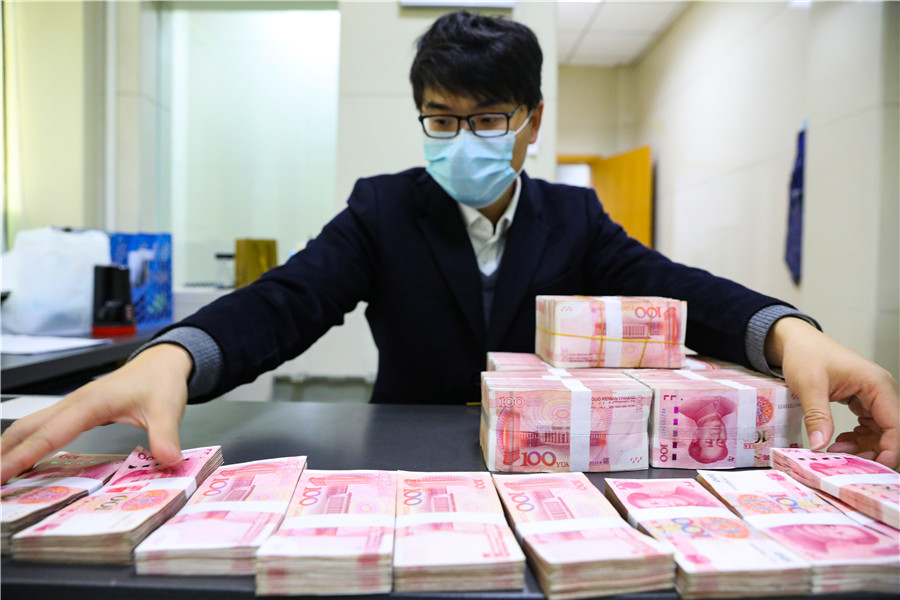 China's central bank will start buying the bank loans made by some commercial lenders from this week to increase lending to small firms by as much as 1 trillion yuan ($140.18 billion) amid the coronavirus epidemic.
The People's Bank of China said it will use a 400 billion yuan ($56 billion) special re-lending quota to buy up to 40 percent of the loans made by banking institutions to small and medium-sized enterprises on a quarterly basis till June 2021.
The credit loan support plan has been established for short-term purposes, Pan Gongsheng, vice-governor of the PBOC, said during a briefing on Tuesday.
The new program is an unconventional monetary tool, which is very rare in history, but it is not contradictory to the conventional measures, such as reserve requirement ratio and interest rate cuts, he said.
"We have launched this program because the economic and social impact of COVID-19 has been more intense than expected, and more policies are needed for recovery," said Pan.
According to a PBOC statement released on Monday, the loans have no collateral, with maturities of at least six months made between March 1 and Dec 31 this year, and eligible banks need to buy back the loans after a year.
The program comes in addition to the central bank's expansion of re-lending and rediscounting facilities by 1.8 trillion yuan to support manufacturers, micro-, small-and medium-sized companies hurt by the COVID-19 outbreak. The move will also encourage the participation of local banks in the SME lending plan, said Li Chao, chief economist with Zheshang Securities.
Shan Hui, an economist with Goldman Sachs (Asia), said the purpose of the program is to help free up local banks' balance sheet and allow them to increase lending to SMEs.
"From this perspective, it shares some similarity with the efforts by other central banks around the world to help small businesses and employment during the coronavirus crisis, such as the Main Street Lending Program and the Paycheck Protection Program Liquidity Facility by the Federal Reserve in the United States," said Shan.
"Since those small business loans will most likely be moved off bank balance sheets, they will have more capacity and funding to extend new loans," said Lu Ting, chief economist with Nomura Securities, a Tokyo-based brokerage.
"Banks, especially small lenders, are being encouraged to increase their exposure to many small businesses, effectively performing the financial relief work that is traditionally shouldered by governments," Lu said.
Pan said that the PBOC will not roll over this temporary loan purchase plan and it will end after a year. China still has enough policy space to spur economic growth using traditional monetary policy measures, he said.
The central bank has been working closely with the Ministry of Finance in coordinating the economic policy responses to the COVID-19 pandemic, and "the new tool is a result of the coordination," said Pan.
On Monday, the PBOC launched another new instrument to extend the repayment of principal and interest of small business loans to March 31, 2021, by providing 40 billion yuan of re-lending funds to small local banks via a special purpose vehicle. That will facilitate the extension of 3.7 trillion yuan of the principal in inclusive finance-related small business loans, the central bank said.
These two programs were set up to implement the 2020 Government Work Report, which seeks to "develop new monetary policy instruments that can directly stimulate the real economy", to ensure enterprises can secure loans more easily as some borrowers have struggled to gain access to the supportive funds, said analysts.
It means about 440 billion yuan of base money will be injected into qualified local banks through the SPV, equivalent to a targeted cut of the reserve requirement ratio by 1 percentage point for city and rural commercial banks, said Ming Ming, a senior researcher with CITIC Securities.