Report highlights racial risks of COVID-19 infection
By JULIAN SHEA in London | China Daily Global | Updated: 2020-06-03 09:09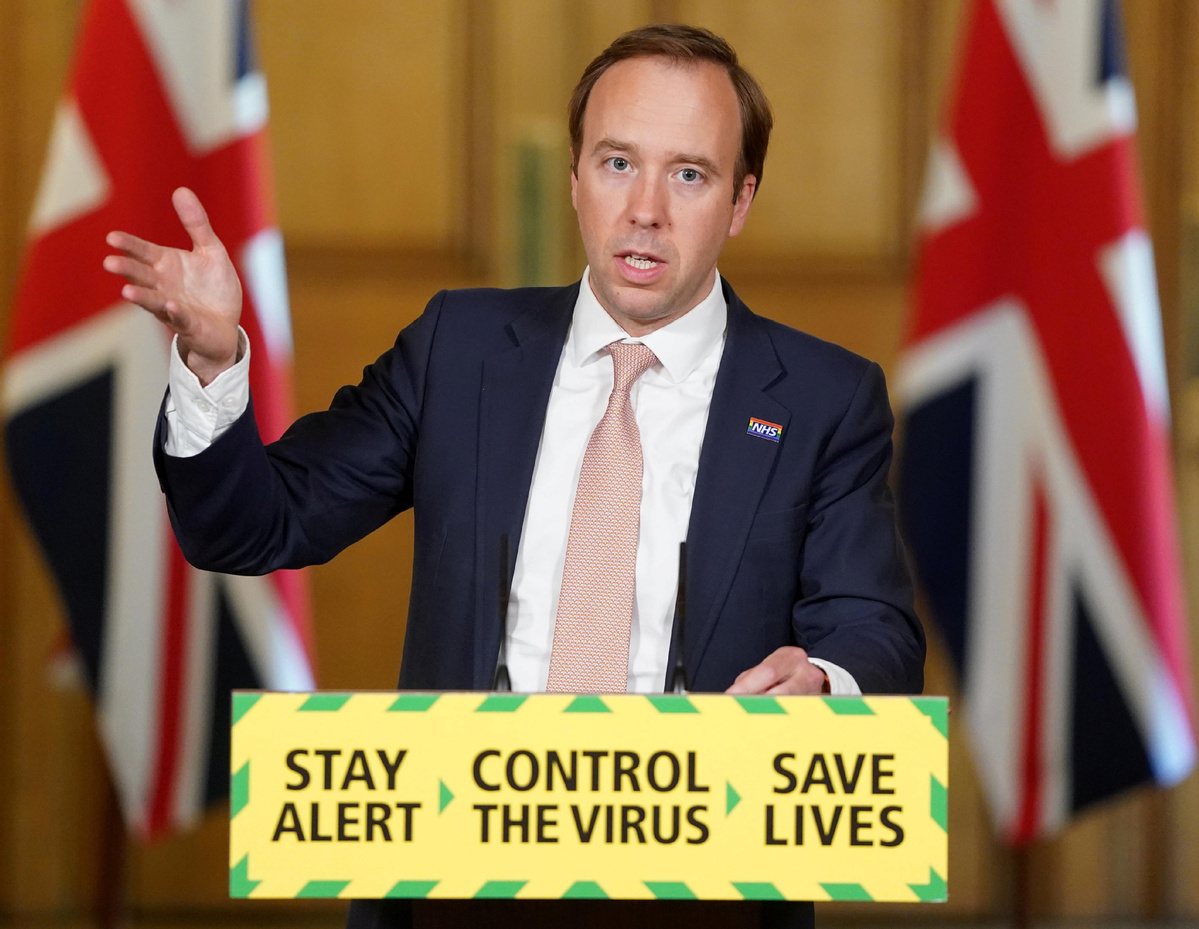 A report published by Public Health England has revealed sharp racial and ethnic disparities in the risk of death from COVID-19.
People of Asian and black ethnicity are up to twice as likely to die as white British people, with those of Bangladeshi ethnicity particularly at risk.
Among people of Chinese, Indian, Pakistani, Caribbean, other Asian or other Black ethnicities, the increased risk of death ranged from 10 to 50 percent.
The figures came out as an additional 324 deaths from COVID-19 were announced on Tuesday, taking the total for the United Kingdom so far to 39,369.
"Black lives matter-as do those of the poorest areas of our country, which have worse health outcomes," Health Secretary Matt Hancock told the House of Commons, adding that action was need to "level up" the situation.
Later, at the daily media briefing, Hancock paid tribute to the contribution made by black and minority ethnic frontline staff working in the National Health Service. When asked about the racial disparity, he said there is "much more work that needs to be done" on the issue and the government is looking further at what steps it can take, without specifying any.
When questioned again, he said: "For anybody in a higher risk group, the most important thing to do is stringently follow the social distancing guidelines."
Hancock added that there is "spare capacity in testing" and urged anyone with novel coronavirus symptoms to get tested.
Meanwhile, amid chaotic scenes at Westminster, members of Parliament voted to restore inperson voting after a short period of virtual proceedings caused by the outbreak.
The move, proposed by Jacob Rees Mogg, led to long queues to vote, as social distancing measures were enforced.
Conservative MP Steve Brine likened queueing in the Palace of Westminster to a scene from the fictional school Hogwarts in the Harry Potter novels. Labour's Ben Bradshaw tweeted a photo of the line, calling it "an absolute disgrace", while Stewart McDonald of the Scottish National Party commented "this is absurd".
Labour's Rachael Maskell called the scene "completely unsafe" and added "this is how infections spread". Many other MPs, some of which were unable to attend, attacked the move.
One of them was Conservative MP Robert Halfon, who is still shielding. "Not only will the hundreds of MPs, who for one reason or another will not be able to come in because they are affected by COVID-19, will not only be denied their fundamental rights but their constituents will not have a voice in Parliament," he said.
Labour's Virendra Sharma tweeted: "Medical advice is for me to stay at home, and where we had a perfectly workable remote voting system Jacob Rees Mogg has chosen to scrap it so his PM looks better."
The two-week quarantine requirement for people arriving in the UK could be scrapped by the end of the month if proposals for so-called air bridges with countries with low rates of infection get the go-ahead, it has been reported.
At the moment, all international arrivals are required to isolate for 14 days, a state of affairs that is seen by many as utterly impractical. The policy will be reviewed after three weeks, and if arrangements can be made in time, could be scrapped by the end of the month, a move Prime Minister Boris Johnson is believed to support.
When asked by Sky News about possible changes, Housing Minister Simon Clarke defended the current situation, saying: "We all want to be able to get foreign holidays back on the table as soon as it's safe to do so, but I can't speculate on policy questions of that nature."
He said the reduction in cases meant the government did not want to "import new risk… at this very sensitive time" but also said it did not want to keep the policy longer than necessary. "Hopefully we can transition out of it as quickly as possible as the numbers continue to come down," he added.
Spain has already said British visitors are not currently welcome because of the increased risk of bringing infection, and for the same reason, Greece has also left the UK off its list of countries whose visitors are permitted.
Elsewhere, the City of London watchdog-the Financial Conduct Authority, or FCA-has selected samples of insurance policy wording for a case that will be seen as a test case over whether insurers will need to pay out on business interruption policies because of the COVID-19 outbreak.
"Given the representative nature of the policies and wordings we have selected, we expect the test case to provide guidance for the interpretation of many other business insurance policies that are not in the representative sample," the FCA said.