Infection scare leads to Westminster rethink
By JULIAN SHEA in London | China Daily Global | Updated: 2020-06-05 09:53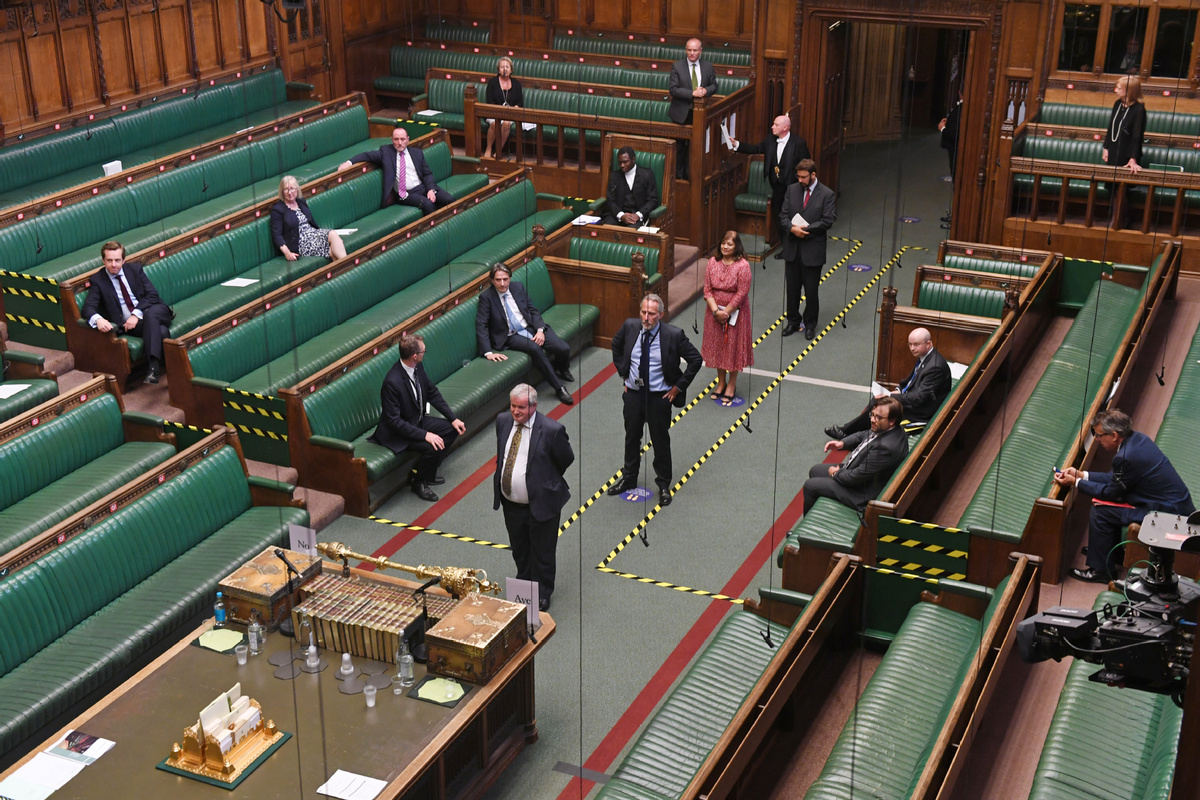 Members of Parliament will hold an emergency debate next Monday over the decision to end virtual voting and require MPs to attend in person, just days after the rules were changed, after Business Secretary Alok Sharma went into isolation after showing possible novel coronavirus symptoms in the Commons chamber.
After a day of speculation, it was revealed that Sharma, who had met Prime Minister Boris Johnson and Chancellor Rishi Sunak before appearing to fall ill, had tested negative, but it highlighted concern over the voting rules.
Tuesday's vote drew criticism from all sides, with Labour MP Rachael Maskell tweeting:"I worked in ITU(intensive treatment unit) for 20 years. Today I witnessed how so many MPs just don't understand how serious respiratory failure is ... I am outraged" and "this is how infections spread".
Liberal Democrat MP Alistair Carmichael, who called for the debate, said insisting on attendance at Westminster constituted "a serious risk to health".
Concerns have also been raised by the Public and Commercial Services union, as known as PCS, whose members are Westminster's domestic staff.
General Secretary Mark Serwortka has written to Downing Street saying "staff believe they are now at increased risk of contracting COVID-19 and this, in turn, is impacting on the mental wellbeing of our members working on the estate".
"We believe Parliament has opened too soon and the lives of PCS members, and those of our sister unions, are being put at risk unnecessarily."
At Thursday's daily media briefing, Transport Secretary Grant Shapps revealed that the United Kingdom's official COVID-19 death toll now stands at 39,904.
He also announced non-medical face coverings will be mandatory on public transport in England from June 15, with people who refuse to comply prevented from traveling, or fined.
"We need to ensure every precaution is taken," he said, adding that "face coverings offer some-albeit limited-protection".
Elsewhere, the government has calmed tensions in the business world by underwriting a 10-billion-pound ($12.6 billion) trade credit insurance program.
This is cover taken out by the seller of goods as insurance against the buyer defaulting on payment. It is used by hundreds of thousands of businesses in the UK each year, covering billions of pounds' worth of transactions. But the government fears that the ongoing uncertainty of the outbreak could lead to more companies demanding payment up front, making business harder.
"Trade Credit Insurance is a daily necessity for hundreds of thousands of businesses across the UK-particularly those in non-service sectors such as the manufacturing and construction sectors," said a message prepared by Business Secretary Sharma before his infection scare.
"Our … guarantee gives peace of mind to businesses, allowing them to continue to trade and maintaining liquidity in supply chains. This reinsurance scheme is an important step as we carefully set about firing up our economy as we emerge from the pandemic."
Meanwhile, Anne Longfield, the children's commissioner for England, said summer catch-up schools should be considered to help vulnerable children affected by the school shutdown.
Millions of pupils have been making do with home schooling since lockdown began. However, as it is gradually eased, there are fears many will be distracted and could abandon education altogether, a situation which would be made even worse if, as feared, some schools are not ready to resume full teaching in the autumn.
"Those who are disadvantaged, who maybe have negative experiences of school, will have more time away from it," she told a parliamentary committee. "Some headteachers have said to me they stay up worrying about whether those children will ever come back because the leap that will need to get them back into school will be so vast."
Ireland will move to the next stage of relaxing COVID-19 measures on Monday, with more travel being permitted and small retail outlets allowed to reopen. Prime Minister Leo Varadkar remains cautious, but when asked if people could start making holiday plans, said "summer is not yet lost".
Austria has lifted entry checks at its borders, except the one with Italy, and Spain will reopen its land borders with Portugal and France on June 22.
In France, the annual Paris Bastille Day military parade on July 14, to commemorate the event that sparked the French Revolution of 1789, has been cancelled, and will be replaced by a tribute and commemoration of the work done by health workers.
More than 29,000 people have died of COVID-19 in France, and social distancing rules mean only invited guests will be admitted to this year's commemoration. There will, however, still be a military flypast in honor of those who have been "mobilized against the virus".