Congress to act in response to Floyd's death
By HENG WEILI in New York | China Daily Global | Updated: 2020-06-05 11:24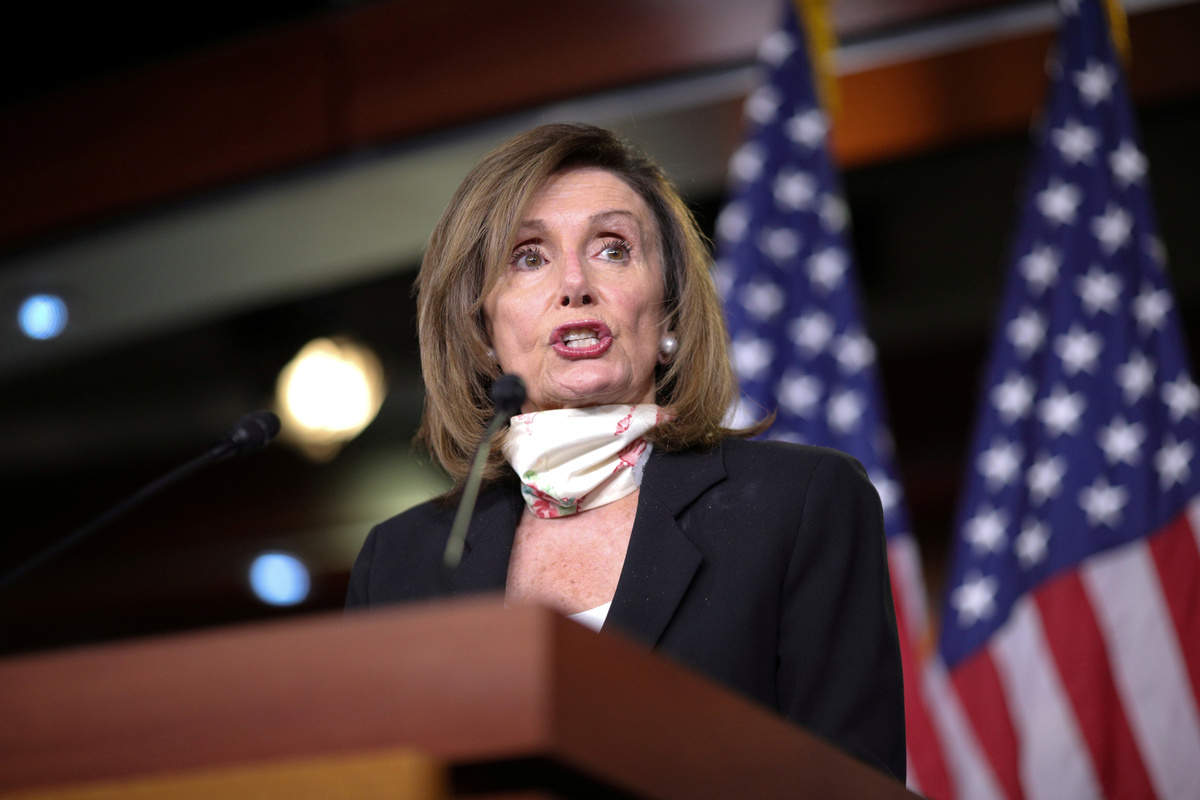 Sensing urgency following the death of George Floyd, congressional Democrats and Republicans will call hearings on police brutality, while some lawmakers plan to present a bill next week.
House of Representatives Speaker Nancy Pelosi, a California Democrat, said on Thursday that she and Congressional Black Caucus leaders will unveil measures Monday to "address the issue of police brutality" and racial disparities in law enforcement.
Pelosi said the country had reached "an inflection point" following Floyd's death, which could help win passage.
Senate Judiciary Committee Chairman Lindsey Graham, a South Carolina Republican, said there is "a reasonable chance" for bipartisan legislation to improve community police practices. His committee has set a June 16 hearing on policing and race.
The House Judiciary Committee plans a June 10 hearing on the same issues.
Floyd died after Derek Chauvin, a white Minneapolis, Minnesota, police officer, knelt on his neck for nearly nine minutes while restraining him on May 25. Chauvin has been charged with second-degree murder, and three other officers who took part in the arrest face other criminal charges. All four have been fired from the police force.
Any legislative action would have to pass the Democratic-controlled House and Republican-held Senate and receive President Donald Trump's signature.
"We'll be talking to our colleagues about what, if anything, is appropriate for us to do in the wake of what's going on," Senate Majority Leader Mitch McConnell said.
Hundreds of combat soldiers with the 82nd Airborne were ordered to leave Washington on Thursday after retired generals rebuked Trump over his use of the military to stem protests in the capital, according to an NBC News report.
Members of the elite unit had been deployed to back up National Guard soldiers ordered onto the streets by Attorney General William Barr.
The soldiers will return to Fort Bragg, North Carolina, NBC News reported, citing a senior defense official, after Army General and Chairman of the Joint Chiefs of Staff Mark Milley told the nation's troops to "uphold the Constitution" and said that the National Guard was under governors' control, not the president's.
Barr also defended a controversial visit by Trump to St. John's Episcopal Church that happened after protesters were cleared, at Barr's request, to make way for the president.
"There was no correlation between our tactical plan of moving the perimeter out by one block and the president's going over to the church," Barr said.
Barr said that there were "three different sets of actors" involved in the Floyd demonstrations — peaceful protesters, looters and "extremist agitators that hijack protests".
Also in Washington, the director of the Centers for Disease Control and Prevention (CDC) cautioned about the risk of protesters contracting the novel coronavirus.
"Those individuals that have partaken in these peaceful protests or have been out protesting, and particularly if they're in metropolitan areas that really haven't controlled the outbreak ... we really want those individuals to highly consider being evaluated and get tested," CDC Director Robert Redfield told a House subcommittee.
"I do think there is a potential unfortunately for this to be a seeding event," he said, referring to the virus' spread.
While a service was held for Floyd in Minneapolis on Thursday, emotions were still running high across the US.
In New York, Mayor Bill de Blasio was booed and cursed when he tried to take the podium at an event for Floyd in Brooklyn, the New York Post reported.
"F--- the mayor's curfew!" some shouted. "Turn your back! Turn your back!" others said."Shut the f--- up!" others yelled.
Earlier this week, the city implemented a curfew after a couple of nights of looting at major retail stores and smaller businesses.
"Black lives matter in New York," the mayor attempted to say at the protest at Cadman Plaza near the Brooklyn Bridge.
"Not to you!" one person shouted.
De Blasio has struggled to balance between accommodating protests while trying to contain violence, with several police officers injured in the past week.
Floyd's brother, Terrence, also spoke in Brooklyn: "I thank God for you all showing love to my brother," he said.
He also spoke out against violence."I'm proud of the protests but I'm not proud of the destruction. My brother wasn't about that. The Floyds are a God-fearing family."
New York Governor Andrew Cuomo said Thursday that the demonstrations could accelerate the spread of the novel coronavirus and urged protesters to get tested. New York City is the epicenter of the COVID-19 pandemic in the US.
"I'm just looking at the numbers," said Cuomo, noting that an estimated 30,000 people have protested in the state. "Many wear masks. But there is no social distancing. Police are in their face. ... If you were at a protest, get a test, please."
Cuomo said his concern about increased spread of the virus would not impede the state's regionally phased reopening, which is set to allow New York City to open on Monday with limited economic activity.
New York City on Wednesday reported no COVID-19 deaths, the first time that has happened since March 12, the Health Department said.
New York also has made significant progress in halting the spread, with the rate of people testing positive for the virus over the past six weeks falling from 26 percent to 2 percent,the governor said.
In New Orleans, Drew Brees, the quarterback of the city's NFL football team, walked back comments in which he said he would never support players who kneeled during the national anthem.
Brees, who quarterbacked the Saints to the team's only Super Bowl title in 2010 and whose grandfathers fought in World War II, was asked about players kneeling for The Star-Spangled Banner to protest racial injustice.
In a statement posted on his Instagram account, Brees, 41, said his comments were "insensitive and completely missed the mark on the issues we are facing right now as a country".
"Nah, we heard you the first time," wrote Jabrill Peppers, a black player on the New Orleans Saints.
Another black teammate, Demario Davis, was more forgiving of Brees, who previously was praised for his charitable efforts during the city's devastating Hurricane Katrina in 2005.
"I think that is a form of true leadership," Davis said on CNN. "That's taking ownership. What we had hoped the first time was that Drew would elaborate more on racism and the sentiments of the black community. He admitted he missed the mark."
In Los Angeles, Mayor Eric Garcetti announced Wednesday that up to $150 million will be trimmed from the city police budget as part of reallocating some $250 million to fund programs in the black community and other communities of color.
"We need to make sure that black Americans see an end to the days of murder in broad daylight and of traffic stops simply because of the color of their skin," the mayor said.
Journalists at The Philadelphia Inquirer staged a partial walkout over a headline about the protests that read, "Buildings Matter, Too."
"On June 4, we're calling in sick and tired," stated a letter signed by at least 44 "Journalists of Color of The Philadelphia Inquirer".
The headline — comparing the vandalism to buildings and referencing the Black Lives Matter movement, appeared on page 12 of Wednesday's print edition.
"The headline offensively riffed on the Black Lives Matter movement, and suggested an equivalence between the loss of buildings and the lives of black Americans," the paper's top editors wrote in an apology.
Reuters contributed to this story.