Tech-savvy phones see robust demand
By MA SI | CHINA DAILY | Updated: 2020-06-06 07:50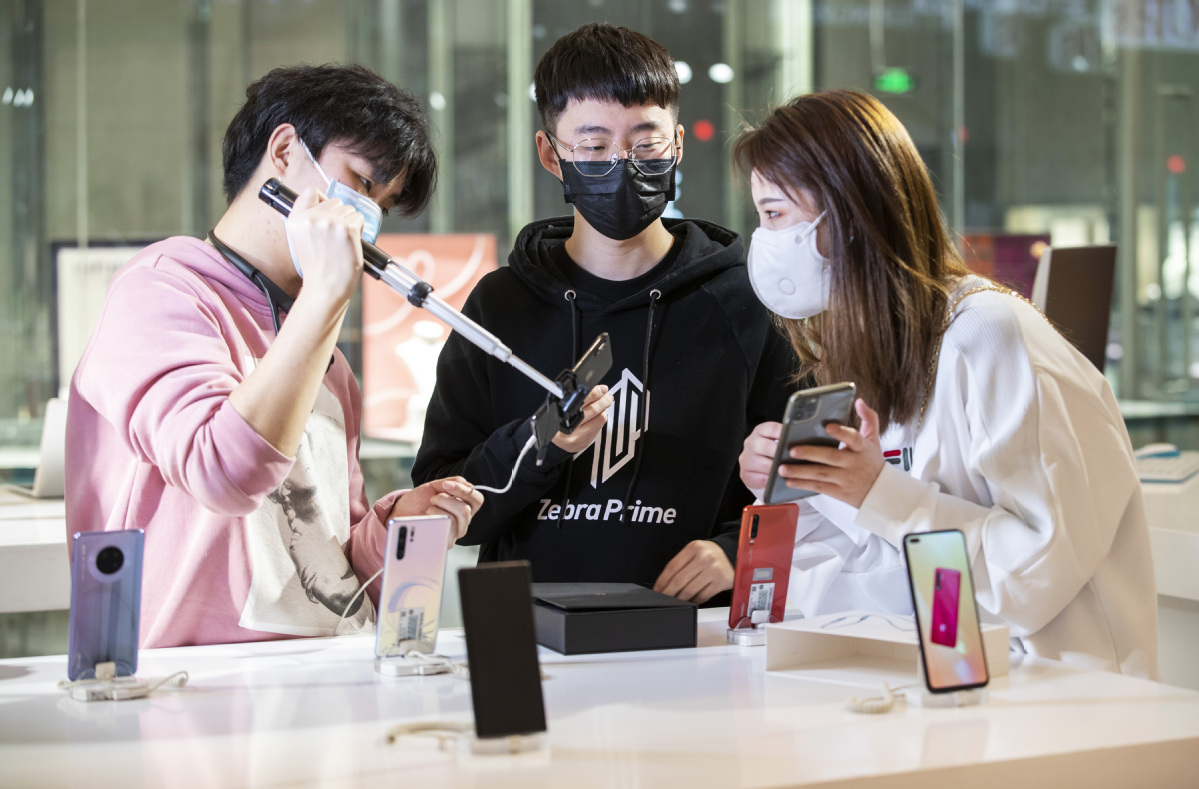 As livestreaming and vlogs gain traction in China, local smartphone vendors are adding innovative elements to their premium 5G products to attract camera-savvy consumers.
Vivo, for instance, unveiled its latest 5G smartphone X50 series whose rear camera comes with gimbal-like image stabilization. The company said such a camera system can offer significantly less shaky or less blurred photos and videos compared with other phones.
The new models are designed to meet the growing demand by consumers for high-quality pictures and videos, as more stores adopt livestreaming to sell products online and young people increasingly shoot vlogs, or short documentaries, of their daily lives via smartphones.
Vivo's peer Oppo has also released a smartphone which features anti-shake features to target video-loving consumers.
The OPPO Reno 2 has a combination of software algorithms and hardware configuration that creates an anti-shake mode so consumers can shoot good videos that are stable and clear even when the person is moving, the company said.
Huawei Technologies Co and Xiaomi Corp have also unveiled smartphones which highlight anti-shake cameras to attract consumers who prefer higher-quality pictures.
Xiang Ligang, director-general of telecom industry group the Information Consumption Alliance, said Chinese companies are pushing the technological envelope of smartphone cameras. Gimbal, a component usually seen in professional high-end cameras, can now be found in smartphones.
"The importance of video will explode in the upcoming years with the wider commercialization of 5G. Smartphone vendors are already preparing for this new revolution of videos on smartphones," Xiang said.
The trend also coincides with the increasing popularity of livestreaming in China.
A report from the China internet Network Information Center said the number of online livestreaming service users in China reached 560 million as of March 2020, accounting for 62 percent of the country's total number of internet users.
The number represented an increase of 163 million from the end of 2018, the report added. The number of users of a burgeoning business model that integrates e-commerce with livestreaming hit 265 million by March.
More physical stores and malls have used smartphones to do livestreaming given the COVID-19 outbreak to promote and sell their products online, spurring demand for better smartphones, said Fu Liang, an independent telecom analyst who has followed the industry for more than a decade.
In April, smartphone shipments in China rose by 17.2 percent in April on a yearly basis, the first such expansion in the past four months. This was a sign of a strong rebound in consumer enthusiasm for electronic products, said the government think tank China Academy of Information and Communications Technology.
Another report from market research company Strategy Analytics said that China continued to be the main market driver for 5G smartphones globally despite the epidemic.
"Amid the intensifying competition in 5G smartphones, Chinese companies are working hard to adjust their product lineup to meet consumers' changing behavior," Fu said.
But they may also need to find another direction for innovation. To some extent, they may have become too obsessed with cameras, analysts said.