Police funding emerges as national political issue
By ZHAO HUANXIN in Washington | China Daily Global | Updated: 2020-06-09 13:57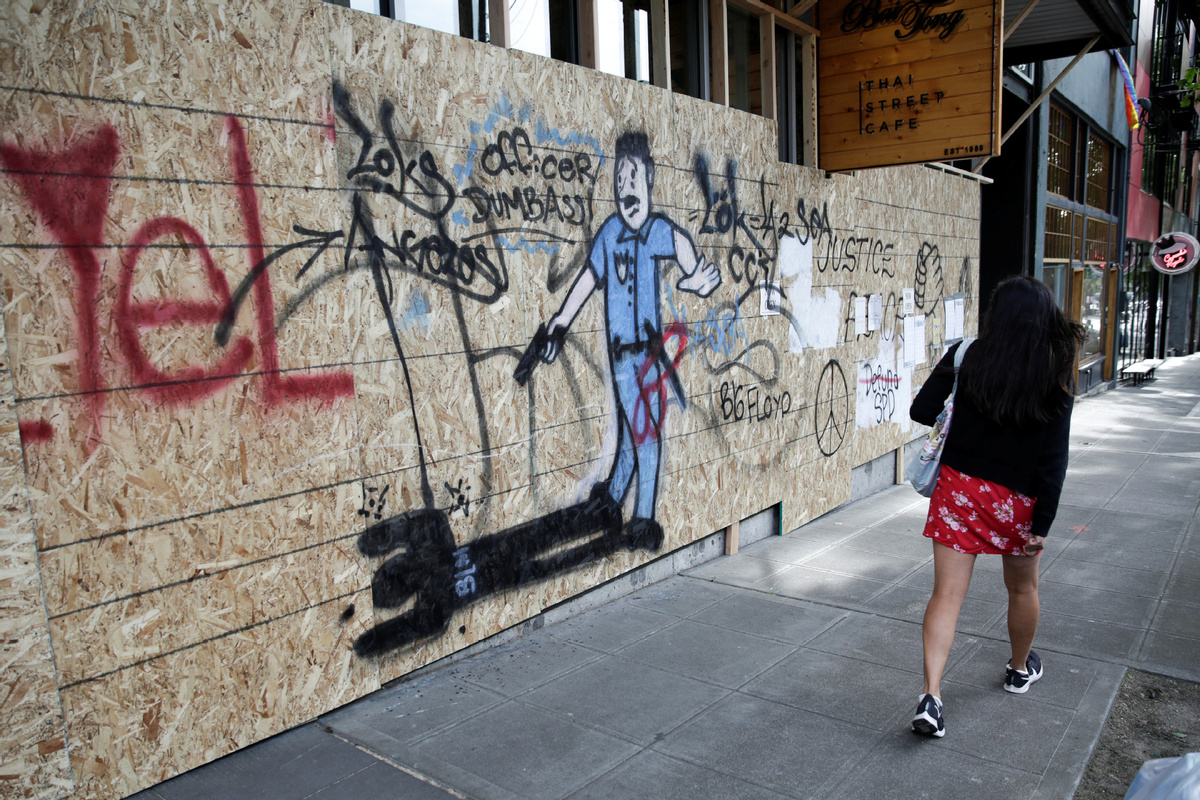 "Defund the police", a rallying cry from protesters angry at George Floyd's death in Minneapolis police custody two weeks ago, seemed to have hit a wall at the White House and on Capitol Hill on Monday, as Democratic lawmakers proposed sweeping legislation to combat police violence and racial injustice.
Some demonstrators and activists clamoring for an end to police brutality have called for law enforcement budgets to be slashed, while in Minneapolis, where Floyd was killed after a police officer knelt on his neck for nearly nine minutes, the City Council voted Sunday to dismantle the police department and create a new system of public safety.
"There won't be defunding, there won't be dismantling of our police," US President Donald Trump told a roundtable of state, federal and local law enforcement officials at the White House on Monday. "We want to make sure we don't have any bad actors in there ... but 99 percent ... of them are great, great people and have done jobs that are record setting."
In a data analysis Monday, CNN reported that the rate of in-custody deaths in the US is more than double Australia's and about six times the United Kingdom's.
A media review by the Bureau of Justice Statistics found a total of 1,348 potential arrest-related deaths in the 10 months from June 2015 through March 2016, an average of just more than four per day, according to the report.
It also said that of those confronted or arrested by police, African Americans are more likely to be subjected to force, a key complaint of the protesters marching across the US.
In a direct response to the mass protests, US congressional Democrats unveiled a 134-page bill on Monday that would allow victims of misconduct and their families to sue police for damages, eliminate the "qualified immunity" for both police and corrections officers, prohibit racial profiling and ban chokeholds.
The legislation would not cut or abolish funding for police departments. House Speaker Nancy Pelosi suggested that "defunding" was not an issue for Congress.
"That is a local decision, a local level," Pelosi said at a news conference. "But to do so, that doesn't say we're going to pile more money on to further militarize the police."
In the past week, the mayors of Los Angeles and New York announced they would seek to move funds away from police and to community programs.
"This year has seen the lowest crime numbers in our Country's recorded history, and now the Radical Left Democrats want to Defund and Abandon our Police," Trump tweeted shortly after the Democratic news conference ended, adding: "Sorry, I want LAW & ORDER!"
Trump has already accused his 2020 Democratic opponent Joe Biden of having taken a stand "against police", according to Stanley Renshon, a political scientist at City University of New York.
Floyd's "brutal and unnecessary" death was "awful and tragic", but the police questions are different than agreeing that black lives matter, Renshon said.
"It will be major proposed legislation, but it is unclear what will happen to its momentum over the next few months," he said, referring to the days in the run-up to the Nov 3 election. "A day is a long time in American politics."
On Monday, Biden distanced himself from those pushing to "defund the police", with his spokesman Andrew Bates saying that the former vice-president "does not believe that police should be defunded".
"Biden supports the urgent need for reform. This also means funding community policing programs that improve relationships between officers and residents and provides the training that is needed to avert tragic, unjustifiable deaths," Bates said.
Cal Jillson, a political scientist and historian at Southern Methodist University in Dallas, said Trump has taken a strong "law and order" stance, siding with the military and police against the demonstrators.
"But the public so far has sided in polling with the demonstrators and the need for police reform, so the president risks falling further out of step with the public in an election year," Jillson said.