Sinopec charts plans for more biofuel projects in major cities
By Zheng Xin | China Daily | Updated: 2020-06-11 09:58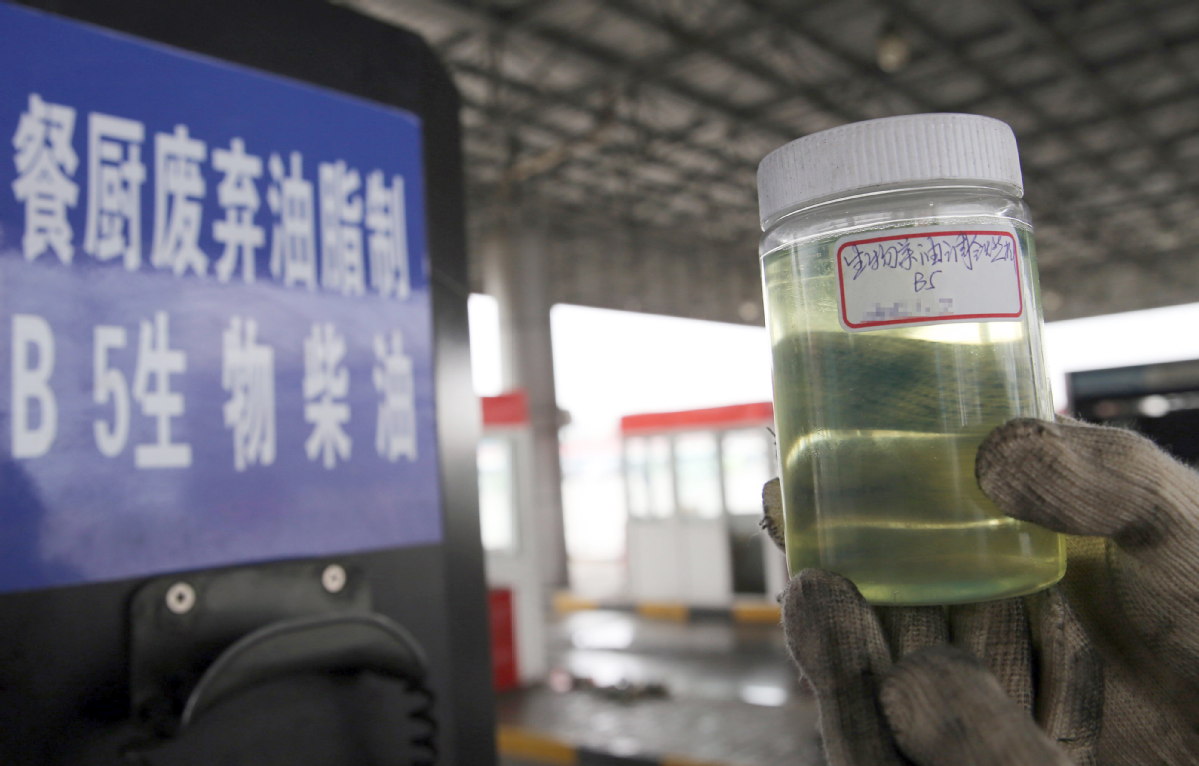 China Petrochemical Corp, the country's largest oil refiner, vows to further step up its involvement in the biofuel market by continuing its B5 biodiesel project in Shanghai while accelerating research on B10 biodiesel.
B5 Biodiesel is a biofuel blend consisting of 5 percent biodiesel made from discarded oil from the catering industry and sewer pipes, and 95 percent petroleum diesel fuel. B10 biodiesel will result in the percentage of biodiesel going up to 10 percent.
The effort on B10 will likely exert a significant influence on the country's energy security while lifting the city's disposal capacity of kitchen waste, the company said.
The Shanghai unit of China Petrochemical Corp (Sinopec) said it has provided B5 biodiesel to the tens of thousands of vehicles in the city. The project has helped dispose of 30,000 metric tons of kitchen waste since the pilot program started in 2017.
The unit is currently capable of producing 400,000 to 600,000 tons of biodiesel each year. The B5 has also entered into the retail space after years of trying, with more than 40 percent of its 240 gas stations under the unit providing the B5 biodiesel.
To prepare for a future involving alternative fuels, Sinopec said it is mulling plans to expand its biodiesel stations to other major cities across the country.
With low carbon content, the alternative fuel has been widely used in developed countries including the United States.
Industry insiders believe while the more environment friendly fuel could help reduce the emission of pollutants like heavy metals and fine particles by more than 10 percent, low international oil prices pose a challenge to demand.
Daisy Maugouber, oil research associate at BloombergNEF, said while demand for ethanol and biodiesel will recover as restrictions from COVID-19-related lockdowns ease, the sharp decline in oil prices creates a more challenging competitive environment for biofuels.
If oil prices remain below $40/bbl, biofuels will struggle to gain market share beyond minimum blending mandates, capping their potential for growth, she said.
"Policy will carry an even greater weight in a low oil price environment as greater subsidies are required to ensure biofuels remain competitive. But necessary policy changes may be delayed as governments focus on the economic fallout from the virus," she added.
A report by BloombergNEF on the outlook for biofuels said after the price shock it has remained resilient since a greater proportion of commercial transport activity has continued throughout the crisis. This is in comparison with ethanol which has been hit the hardest during this period.
Biodiesel is expected to weather the crisis relatively better than ethanol on the back of increasing blend mandates in several markets such as Brazil, the US and Europe, the report said.
The slowdown in economic growth, however, could impact the outlook for diesel demand.
On the global perspective, exports of used cooking oil, a key biodiesel feedstock mainly sourced from restaurants and food manufacturers, have been disrupted by the lockdowns.
Exports from China, a major supplier of the waste oil to the global market, have been limited since the onset of COVID-19, causing disruptions that have cascaded down the biodiesel supply chain, Maugouber said in pointing to the report.
Li Li, research director at energy consulting company ICIS China, also expressed concern over the challenges that lie ahead in promoting large-scale use of biodiesel, especially against the backdrop of low oil prices.
The development of biodiesel in China has always been steady but slow, and large-scale production might still be a few years away, she said.
Li said only when crude oil prices surge and become unaffordable could alternative fuels be promoted on a national level. However, the decline in oil prices creates a tougher competitive environment for the biofuel industry.
Trash sorting in China might help with sourcing or collection of raw materials for biodiesel though, she said, adding that more breakthroughs in technology are essential to lower biofuel prices.