Much potential to be tapped
By MEI GUANQUN | China Daily | Updated: 2020-06-12 07:18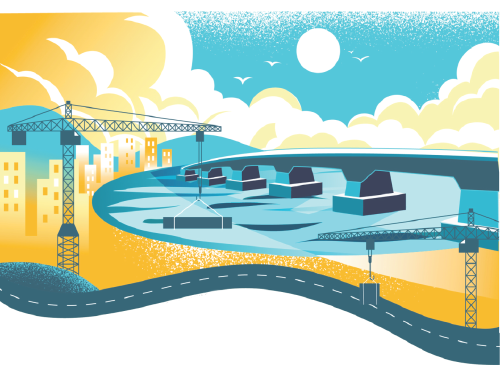 China-Bangladesh cooperation has bright prospects under the Belt and Road Initiative
Due to geographic barriers, inconvenient transportation and cultural differences, China and Bangladesh have only developed small-scale bilateral economic and trade exchanges over the past years. However, China-Bangladesh cooperation has been enhanced since the introduction of the Belt and Road Initiative.
Located at the junction of the Indochina and Indian peninsulas, Bangladesh connects the three major economies, China, India and the Association of Southeast Asian Nations. Traditionally India has had an important influence on Bangladesh, the United States is trying to persuade Bangladesh to engage in its Indo-Pacific Strategy and Japan has launched large-scale investment in the country.
As one of the most dynamic economies in South Asia and even the whole world, Bangladesh has seen its average gross domestic product growth over the past decade remain above 6 percent. With a large population of 160 million and high fertility rates, it has great potential to become a major market in the world.
In the last few decades, Chinese companies have also built factories in Bangladesh, especially the textile and clothing industries. And with undeveloped infrastructure, Bangladesh has great demands for China's steel, building materials and cement capacity.
Bangladesh has become an important part of the Bangladesh-China-India-Myanmar Economic Corridor and a key hub on the 21st-Century Maritime Silk Road. The government and people of Bangladesh are both friendly to China and show high recognition of the initiative, eyeing creating new opportunities for growth through participation. High-level officials of Bangladesh generally recognize China's development experience, especially the modes of exports, special economic zones and policies for attracting foreign businesses and investment.
China and Bangladesh can carry out the Belt and Road Initiative cooperation in the following aspects to achieve mutually beneficial cooperation. First, China with strong infrastructure capabilities can help Bangladesh develop the Chittagong and Mongla Port into deep-water ports. In addition, the Payra Port in southwestern Bangladesh can be directly linked to Dhaka, the country's capital city, through the Payra-Dhaka railway and the Padma Bridge, which will inject vitality to the southwestern region and reduce the country's economic dependence on the Dhaka-Chittagong Port economic corridor in the southeast region.
Second, China can promote the building of the China-Myanmar-Bangladesh land passage. At present, the construction of the China-Myanmar Economic Corridor is in full swing and will soon see initial achievements. Based on the China-Myanmar Passage, China, Myanmar and Bangladesh will jointly promote the construction of the land passage between Kyaukpyu Port in Myanmar and Chittagong Port which passes through Cox's Bazar of Bangladesh, which will connect Southwest China, the Indochina Peninsula and South Asia and generate new land trade passages and economic corridors.
Third, China's labor-intensive manufacturing such as textiles and clothing production could be moved to Bangladesh, creating a large number of job opportunities and helping the country enhance the level of industrialization. Bangladesh shows strong competitiveness in developing labor-intensive industries, as young people of working age occupy a large proportion of the labor force aged 15 to 50 years old, accounting for more than 60 percent in the total.
Fourth, China needs to improve its assistance to Bangladesh. China's aid funds should tilt to fields relating to Bangladeshi people's well-being such as food, drinking water, medical care, elderly care, education, training, emergency rescue as well as disaster prevention and mitigation to deliver tangible benefits to local people through the Belt and Road Initiative.
Fifth, the mode of cooperation with third-party markets can be explored. Since India, Europe, Japan and the Republic of Korea all have great influence in Bangladesh, China should strive to promote joint efforts among these countries to proactively help promote the economic development of Bangladesh. China's engineering construction capabilities, labor-intensive industries and surplus production capacity, as well as mechanical equipment and the engineering design capabilities of Europe, Japan and the ROK can complement the large labor force in Bangladesh and its market which has huge potential so as to achieve mutually beneficial cooperation.
Sixth, China needs to improve cultural and people-to-people exchange with Bangladesh. It is necessary to encourage Chinese universities and think tanks to enhance research on Bangladesh, boost cultural exchanges between China and Bangladesh and further mutual understanding. Since Bangladesh has an urgent demand for consultations on economic strategies, industrial, regional and infrastructure planning as well as policy research, China with extensive experience in the areas can provide active and strong support.
The author is deputy chief of the Division of International Economy at the China Center for International Economic Exchanges. The author contributed this article to China Watch, a think tank powered by China Daily. The views do not necessarily reflect those of China Daily.