E-commerce extends reach to Africa
By LI YINGXUE | CHINA DAILY | Updated: 2020-06-17 07:02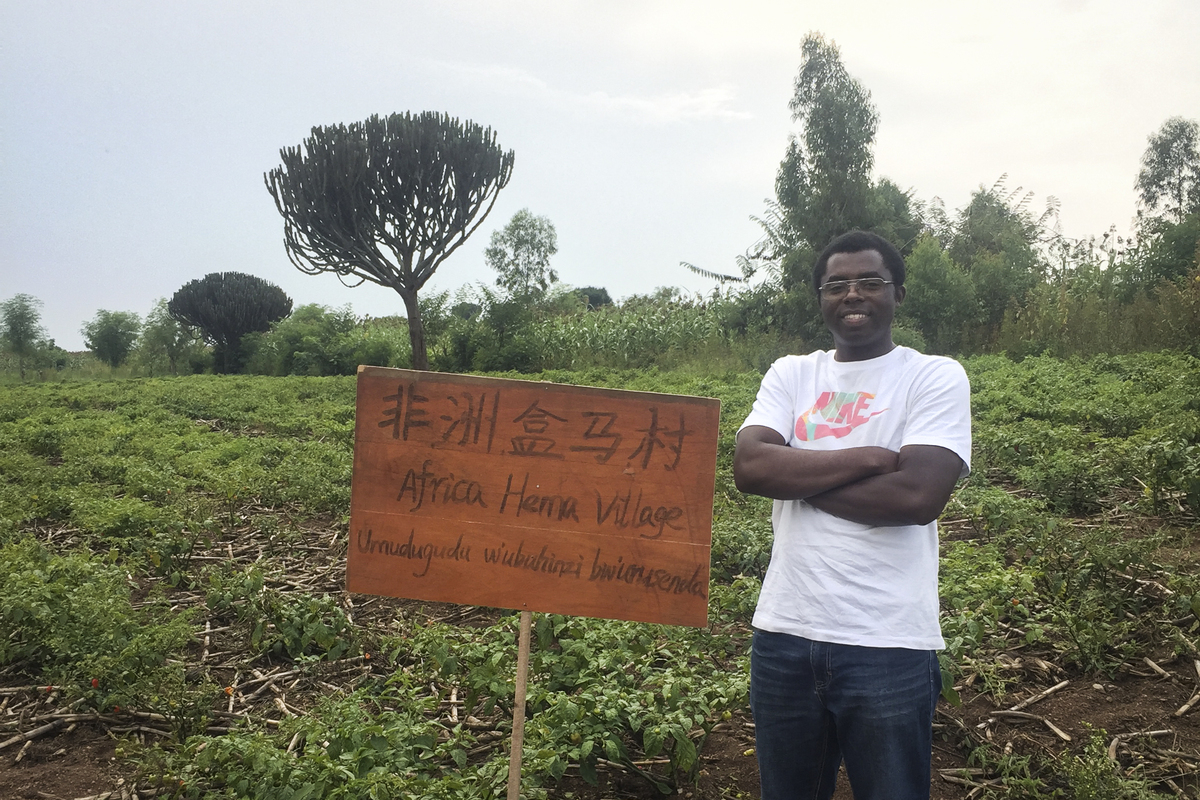 Uwizeyimana Herman planted the first habanero pepper sprout in his five-hectare plot in the town of Gashora, an hour's drive from Rwanda's capital, Kigali, in December.
The 36-year-old put up a sign reading "Africa Hema Village" in Chinese, English and his native language of Kinyarwanda.
His first harvest will start this month. The basic processing of the habaneros will take place in a local factory, and then they'll be flown to China.
A week later, they will be made into bottled sauces that will hit the shelves of Alibaba-owned online-to-offline supermarket chain Hema Xiansheng.
Before Spring Festival, a new series of chili sauces named Huoshan Lieren, or Volcanic Hunter, entered the market and quickly became popular among Lunar New Year shoppers.
"The sauce is super, super hot, and it can pair with everything from noodles to Peking duck," commented a netizen who bought the product.
Hema Xiansheng has ordered more than 60 metric tons of habaneros from Rwanda. The purchases have provided a livelihood for Rwandan villagers dealing with floods and the COVID-19 pandemic.
Herman studied in China from 2011 to 2018, earning his master's degree and a doctorate in environmental science. He returned to Rwanda in 2018 with his wife, Yang Hong, who is from China, and started his own business.
Hema Xiansheng CEO Hou Yi visited Rwanda in January 2019 to find quality products to bring to the Chinese market. Habaneros were one of his discoveries.
Herman and Yang helped coordinate for Hou's team, from research to field trips and from testing production processes to determining logistics.
They also assisted Hema Xiansheng's purchasing manager, Chen Huifang, when she led a team of eight to visit Rwanda in September to research the possibilities of making habanero products that suit Chinese preferences.
Yang recalls her first time trying the local habanero sauce. She says she put a tiny amount of the sauce into a bowl of rice and the rice felt "so spicy".
"Its spiciness is different from any pepper I've eaten in China. And it has a special fruity fragrance," Yang said.
The couple took Chen's team to see the plantation.
"We wore rubber gloves when we touched them. Our fingers still felt hot the next day," Chen recalled.
Their research and development team spent four days studying and cooking the peppers.
Transporting habaneros to China proved difficult. The fresh peppers can't be imported into China, so Chen's team decided to perform basic processing in Rwanda before shipping.
Processing requires a careful balance. Too much salt will ruin the flavor. Too little, and the peppers may rot.
"Because Rwanda has a strict ban on plastics, we had to find proper containers to carry the pepper sauce. The biodegradable material we initially used couldn't withstand the long flights," Chen said.
Also, direct flights from Rwanda to China have been suspended due to the pandemic, increasing logistics costs.
All the difficulties were solved one by one, and Chen is happy to see that the habanero sauce has sold well in Hema's offline and online stores.
"One reason sales have been good is that people stayed home and cooked more during the epidemic. We're glad to see repurchases are high," she said.
Her team is also working on more habanero products, such as seasoning packages for crayfish and a special filling for zongzi, a traditional Chinese rice dumpling wrapped in leaves.
"We also want to help Rwandan factories upgrade their facilities and skills," Chen said.
After seeing the peppers transported to China as products that could help local farmers and factories, Herman and Yang decided to open Hema Village at the end of 2019.
Herman pointed out that few local farmers grow habaneros because the market is small.
"A small amount is exported to Europe. And local demand is limited due to its spiciness. So, about half the harvest is wasted every year," he explained.
"A young man in Rwanda will only make 10 yuan ($1.4) a day by working in the cities, but if they grow habaneros due to Hema's orders, they can make 50 to 60 yuan on average," Herman said.
He expressed his hope to introduce more people to profitable farming, rather than working as migrants for lower incomes, in the digital era, when e-commerce can facilitate greater demand and sales.
"It's a chance for Rwandan people to join the new retail field and change their lives," he said.
Rwanda's main product is coffee. The country has over 33,000 hectares of coffee plantations with over half a million people working on them.
"Through livestream shows on Taobao, 1.5 tons of Rwandan coffee were sold within seconds, but it takes several years and skill to grow coffee," Herman said.
"On the other hand, planting peppers is quite simple."
And they can be harvested every eight months and sold immediately, he said.
Herman has asked his father, a doctor, to retire early to become the third worker on his farm.
"Each hectare needs about one person to take care of it. And during the planting and harvesting time, we need to hire more people to help," Herman said.
"Through building more Hema Villages, Rwanda has the chance to become a country of digital agriculture."