Cooling-off period for divorce supported by legal experts
By CAO YIN | China Daily Global | Updated: 2020-06-18 07:59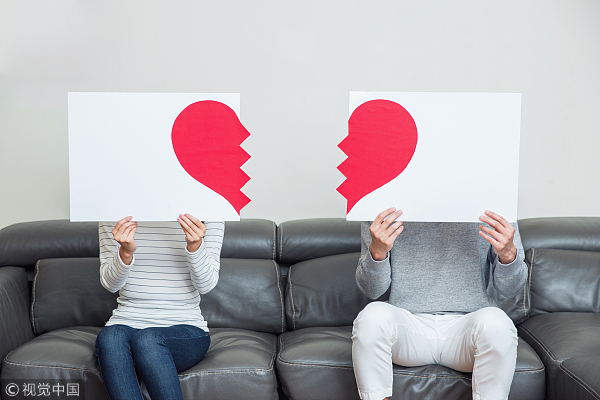 Extreme situations, such as domestic violence, should be solved by lawsuit
A cooling-off period before divorce, unveiled in a newly released law, will make people think twice before ending their relationship and isn't meant to stifle their marital freedom, legal experts said as they called for more social associations to help problematic couples solve disputes.
On May 28, China's first Civil Code was adopted by the National People's Congress, the country's top legislature. Among other rules, the code provides a 30-day cooling-off period for couples who apply for divorce. During the period, either party can withdraw their divorce application.
A couple must apply for a divorce at the civil affairs department, and the application will be approved after 30 days if neither party withdraws their applications, according to the Civil Code that will take effect on Jan 1.
If one side has second thoughts during that time, the application will become invalid and a new 30-day cooling-off period will start.
The provision quickly went viral on Chinese social media platforms and triggered widespread public outrage, as some people think it hampers their marital freedom and increases divorce costs. Some even expressed concern that the period could cause further harm to victims of domestic violence.
Yu Qi, a Beijing lawyer who has specialized in domestic disputes for more than a decade, told China Daily the new move is necessary, noting it will contribute to ensuring family stability and social order.
She said the cooling-off period aims to curb impulse divorces and alleviate the nation's ever-increasing divorce rates. But she added that a better way to root out the problem is to ask more social institutions to help couples better understand their relationships and make more sensible decisions.
The Legislative Affairs Commission with the NPC Standing Committee has also explained that the cooling-off period is only applicable to couples with an agreement to end a marriage, not all situations. Some extreme situations-including domestic violence, family abuse and drug use-are excluded and should be solved by lawsuit.
Cooling-off periods before divorce can be found in other countries such as the United Kingdom, France, Russia and South Korea, the commission said.
Statistics released in January showed that over 9.47 million couples registered for marriage at Chinese civil affairs departments last year, while 4.15 million filed for divorce, with the divorce rate consistently rising since 2003.