Jaguar Land Rover unveils reimagined Defender with latest technology
By LI FUSHENG | China Daily | Updated: 2020-06-22 11:13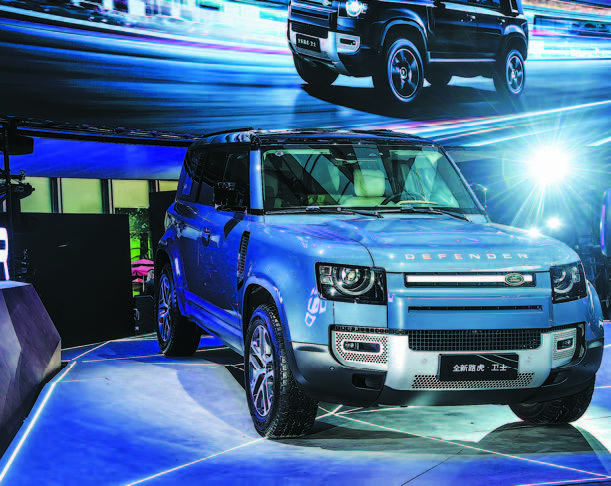 British premium carmaker Jaguar Land Rover debuted its new Defender in China last week online, which wowed fans of the iconic model that can trace its origins back to the 1948 Series 1.
Richard Shore, the carmaker's president of integrated marketing, sales and service in China, said the new Defender will mark a new chapter of the model that has proven its versatility over the past 72 years.
"The new Defender is unique. It is the best 4x4 by far and it does not have any direct competitors," said Shore.
The model, now with four variants available in China, shows respect for its past yet it is a vehicle reimagined for the modern age.
It features Land Rover's new purpose-engineered D7x architecture. Based on a lightweight aluminum monocoque construction, it has a body structure that Shore says is three times stiffer than traditional body-on-frame designs.
The 3.0-liter Ingenium engine, coupled with the 48-volt mild hybrid system and the 8-speed automatic transmission, generates a maximum output of 400 horsepower and a top torque of 550 Nm. It has a maximum wading depth of up to 900 millimeters.
In terms of modern technology, the new Defender has 85 processors which can handle up to 21,000 commands at a time.
The InControl 2.0 operating system is compatible with both Apple CarPlay and Baidu CarLife.
The new Defender has 14 individual modules capable of receiving remote updates over the air and up to 10 driving-assist functions to help prevent possible risks.
The company said the 4x4 is also the first Land Rover to feature Configurable Terrain Response, which helps fine-tune a range of settings to suit the conditions more precisely.
Paul Hu, executive vice-president of the carmaker's integrated marketing, sales and service in China, said the arrival of the model will help Chinese customers gain more understanding of Land Rover vehicles.
Besides the Defender, the British marque has models under Range Rover and Discovery available in China. Models that bear the Jaguar brand are seeing their fame rise as well.
As the coronavirus is brought under control, deliveries in April were level with same period of 2019. Sales in May rose 38 percent from the same month in 2019, said the carmaker.
Its sales saw double-digit growth for months in a row until the pandemic broke out in late January.
Jaguar Land Rover said it is continuing its plan, codenamed Dragon, to improve sales and marketing efficiency.
Initiated in 2019, it has worked well. Now dealers' inventories have fallen to around 1.5 months' worth of stock, better than the industry average. Earlier this month, Jaguar Land Rover entered into agreements with banks in China for a three-year revolving loan of 5 billion yuan ($704.5 million) to help finance its strategy of making the country one of its global centers.
Besides sales and production, Jaguar Land Rover wants to make China play a global role in its research and development, as well as procurement. Jaguar Land Rover set up a joint venture with China's Chery Automobile in 2012. The manufacturing facility, located in Changshu, Jiangsu province, produces five models under the Jaguar and Land Rover brands as well as its Ingenium engines.