Didi, BAIC ink self-driving pact
By MA SI | CHINA DAILY | Updated: 2020-06-23 09:31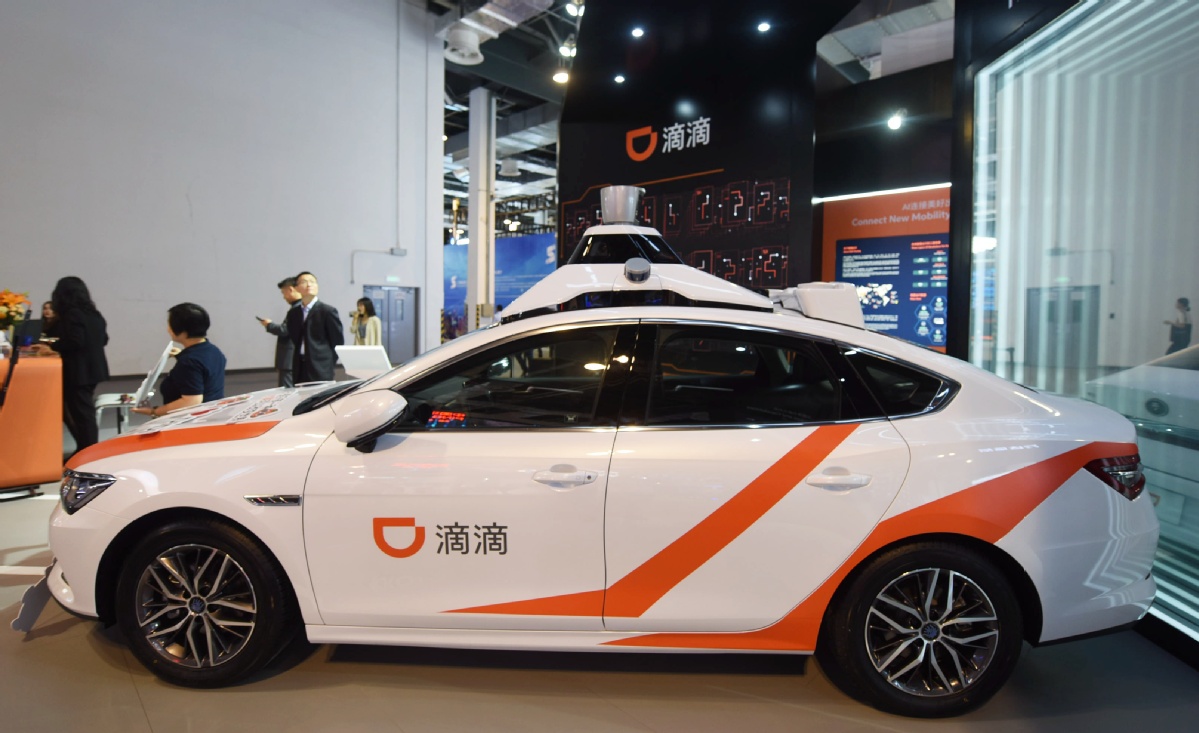 Alliance to jointly develop high-level customized unmanned automobiles
Chinese ride-hailing giant Didi Chuxing is hitting the accelerator for its autonomous driving business by inking a strategic partnership deal with major Chinese carmaker BAIC Group.
The move came as China is ramping up the development of smart connected vehicles.
Under the agreement, Didi and BAIC said they will jointly develop high-level customized self-driving models through in-depth cooperation in automobile technologies, artificial intelligence and ride-sharing areas.
The move is designed to promote the industrialization of autonomous driving technologies in China and spur innovation in the vehicle and transportation industries.
The two companies said they will focus on the research, development, and commercialization of level-four autonomous-driving cars. Level 4 autonomy means the car can drive itself in most conditions without a human driver.
The move marks the deepening of long-term cooperation between Didi and BAIC. The two companies established a joint venture last January to promote development of new energy vehicles.
Jia Xinguang, former chief analyst of China Automobile Industry Consulting, said Didi has an edge in commercializing autonomous vehicles, given the giant transportation database it has accumulated in the ride-hailing business.
BAIC's know-how in manufacturing cars can accelerate the industrialization process of self-driving vehicles, Jia said.
But it remains to be seen how the advantages of the two firms can be fully utilized.
The deal came after Didi announced in late May that its autonomous driving business has raised $500 million from an investment group led by Japanese conglomerate SoftBank.
The investment is expected to help advance the development and deployment of automated vehicles in Didi's ride-hailing fleet.
This was the largest single overseas financing obtained by Didi Chuxing's autonomous vehicle business since it was upgraded from a department to a registered firm in August 2019.
The company has been operating test vehicles in the cities of Beijing, Shanghai and Suzhou and in the state of California in the United States. Didi has research and development staff in both China and the US.
Didi's intensified push into self-driving also came as China is stepping up efforts in developing smart connected vehicles.
The nation unveiled a blueprint in February to develop its own standards for autonomous vehicles by 2025. It covered technological innovation, infrastructure, legislation, supervision and network safety.
The country set a target to realize "scale production of vehicles capable of conditional autonomous driving and commercialization of highly autonomous vehicles in certain circumstances" by the end of 2025.
The blueprint said China is expected to build a complete set of standards for autonomous vehicles between 2035 and 2050.
Autopilot taxis are already being put into trial operation on roads in Changsha, Shanghai and other places in China. Autopilot distributing vehicles, sanitation vehicles and police cars are being frequently spotted as well.
In April, Baidu opened its level-4 self-driving taxi service Apollo Robotaxi in Changsha, Hunan province. Robo-taxis provide free rides to passengers across an area of 130 square kilometers. The services cover residential and commercial leisure areas as well as industrial parks.
Consulting firm McKinsey said China has the potential to become the world's largest market for autonomous vehicles.
"In China, we believe fully autonomous vehicles will see mass deployment in nine or 10 years," analysts at the company wrote in a research note last year.
It expected such vehicles could account for as much as 66 percent of the passenger kilometers traveled in 2040, generating market revenue of $1.1 trillion from mobility services and $900 billion from sales of autonomous vehicles by that year.
In unit terms, that means autonomous vehicles will make up just over 40 percent of new vehicle sales in 2040, and 12 percent of the vehicle installed base, McKinsey said.