Ethiopian unrest fans destruction of Hailie Selassie statue in London
By EARLE GALE in London | China Daily Global | Updated: 2020-07-03 10:03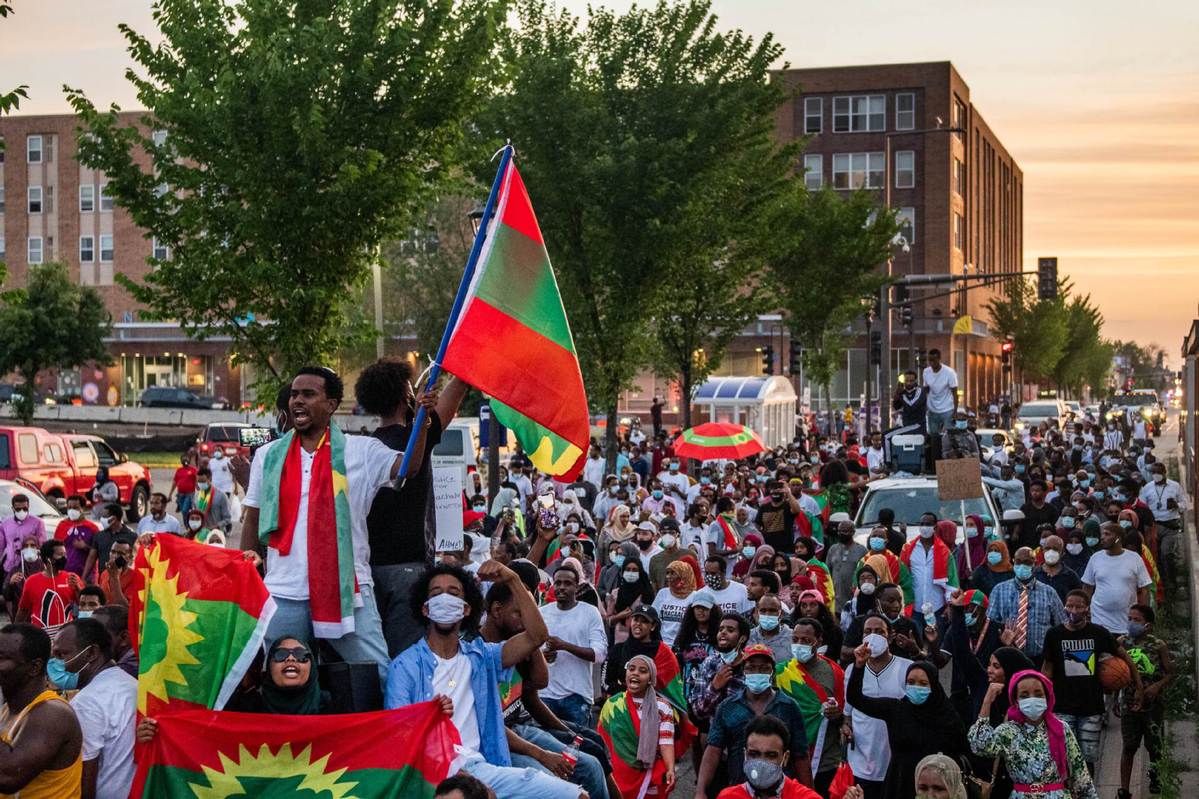 British police are working on the theory that factional unrest in Ethiopia may have boiled over in London and led to the destruction of a statue of the African nation's former leader, Haile Selassie.
The statue, which stood in Cannizaro Park in Wimbledon in Southwest London, close to where Selassie once lived in political exile, was set upon by around 100 people on Tuesday evening.
Investigators believe the incident may have been related to unrest in Ethiopia that flared on Monday after the popular singer Hachalu Hundessa was shot dead.
The 34-year-old had been a powerful critic of past governments and was loved by the majority Oromo ethnic group, which had been oppressed in the past by a smaller but more powerful ethnic group, the BBC reported.
Hundessa played a prominent role in anti-government protests that started in 2014 and led to Abiy Ahmed, an ethnic Oromo, taking charge in 2018.
At least 80 people have died in rioting and unrest that has swept Ethiopia since Hundessa's shooting.
The destruction of the statue in London mirrored the demolition of a statue of Selassie's father, the royal prince Ras Makonnen Wolde Mikael, in the Ethiopian city of Harar.
Reuters reported that gunfire could be heard in the Ethiopian capital Addis Ababa, and that gangs of young men armed with machetes were roaming its streets. Human Rights observers reported three explosions in Addis Ababa, and of a government building being torched in Adama, a city in the Ethiopian region of Oromia.
The Financial Times said the unrest, which has led to soldiers being deployed on the streets of Addis Ababa, is the biggest test to date of Abiy, who won the Nobel Peace Prize in 2019.
An eyewitness to the unrest in Wimbledon said a group of men with fliers carrying Oromo slogans gathered in the park while he was walking his dog. The Financial Times said some in the crowd carried the Oromo flag.
"I heard the statue being smashed up, but didn't actually see it happen," Andrew Morris, a Wimbledon resident, told the Press Association.
He said the people who destroyed the statue did not seem to be a threat to the wider community.
He told ITV News: "They weren't some rabid mob, they looked pretty calm … I didn't think they were in danger of attacking anyone."
Selassie, who was Ethiopia's last emperor and ruler from 1930 to 1974, lived in Wimbledon in 1936 while exiled following Italy's invasion. The statue was created by Hilda Seligman while he stayed with her family.
Selassie, who led Ethiopia to membership of the League of Nations in 1923, is revered by the Rastafari movement, which was born in Jamaica and which regards him as a messiah.
The Daily Mail newspaper said the destruction of the statue was not connected to similar incidents that have happened during Black Lives Matter protests.