Too few visually-impaired test-takers sitting for exam, experts say
By Li Lei | China Daily | Updated: 2020-07-08 08:56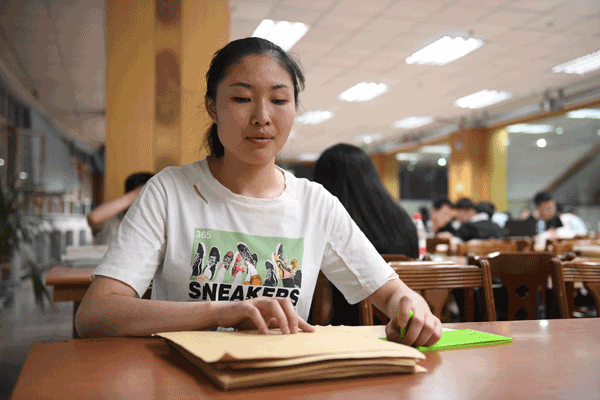 Five blind or visually-impaired test-takers on Tuesday took the national college entrance exam, or gaokao, using Braille test papers, according to the Ministry of Education, in the latest sign of growing accessibility to China's most grueling exam.
But experts say the number of Braille test-takers is still too small, calling for more reforms in tertiary education and employment.
According to the ministry, two of the examinees were from the Tibet autonomous region, who used Braille papers in their own language.
The others were from Shanxi and Anhui provinces, and the city of Shanghai.
The content of the Braille papers-whose formulation has involved top Braille educators-is similar to the common ones. But examinees using Braille enjoy a 50 percent time extension for the exam, which could last up to 2.5 hours for unimpaired students depending on the subject, the ministry said.
The extension was intended to compensate the time lost in reading Braille papers, which is more time-consuming, it explained.
The smallest unit of the Braille language is comprised of six dots, whose positions are arranged to represent letters. It usually takes several such units to spell out the pronunciation of a single Chinese character.
China first adopted Braille test papers in the annual gaokao in 2014, after the ministry released a circular asking exam authorities to either offer Braille test papers to students in need or arrange assistants for them.
The gaokao-which tests Chinese language and literature, mathematics, a foreign language and a slew of other subjects of student's choice-has long been considered by visually-impaired people as the only way to get into mainstream universities.
The inadequate accessibility has forced large numbers of academically talented students to enter special colleges, where the majors being offered-such as massage and piano tuning-are usually skill-based and reflect social stereotypes.
Cai Cong, project director of the Youren Foundation, an organization headquartered in Shanghai for disabled people, said the Braille test papers have diversified blind people's options for further education and careers.
More importantly, the adaptation in China's most influential exam has sent out a strong signal to primary and secondary schools and employers that blind people can enroll at mainstream colleges, and there are blind college graduates who do not study massage or music, he said.
"In that sense, the gaokao works like a conductor's baton," said Cai, who is visually-impaired and took a special exam for blind students in 2004. Cai was later admitted to the massage department of a special college in Jilin province.
However, Xuan Hai, a visually-impaired government employee in Anhui, lamented that the number of test-takers in Braille remains in the single digits, seven years after the practice was adopted.
"That's a signal showing there are hidden obstacles hampering Braille users from taking the gaokao," he said.
Cai estimated that on average, only 10 percent of blind students-possibly even less-who attended high schools take the gaokao each year, citing inadequate accessibility and acceptance at colleges and workplaces.
Further, the shortage of accessible facilities and tailor-made teaching materials on campus has led to worries that they wouldn't be able to complete their studies. Widespread job discrimination has led to fears of employment difficulties after graduation.