Retail jobs lost despite measures
By JONATHAN POWELL in London | China Daily Global | Updated: 2020-07-10 10:00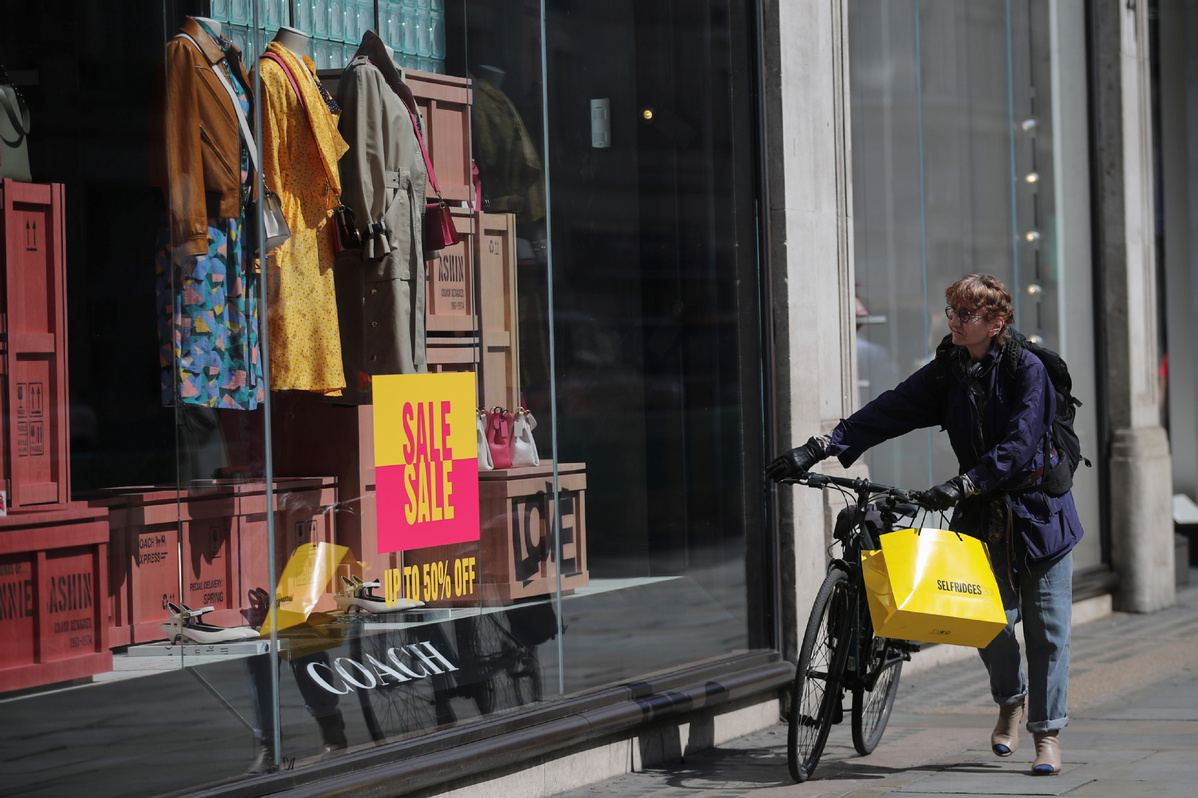 On a bleak day for British retail as thousands of jobs in the industry were cut, business leaders warned millions more could be made unemployed despite the package of measures put forward by Chancellor of the Exchequer Rishi Sunak to try to boost economic recovery in the wake of the novel coronavirus pandemic.
Pharmacy chain Boots on Thursday cut 7 percent of its workforce, or 4,000 jobs, department shore John Lewis said it will close eight stores, putting 1,300 jobs at risk, Burger King suggested it could lose 10 percent of its stores, and many other retailers are laying off thousands of workers, due to the slump in trade since COVID-19 struck.
It indicates the support measures announced by Sunak on Wednesday, including 1,000 pounds ($1,250) to businesses for every person they bring back to work from furlough to January, will not prevent unemployment rising in the coming months, and fuels concerns that the package is not big enough.
Vivienne King, chief executive at Revo, which represents the retail property sector, warned that 3 million retail jobs remained in jeopardy unless the government undertook "a fundamental review of business rates and direct financial support to underwrite rents".
Garry Young, a deputy director of the National Institute for Economic and Social Research, told the Guardian newspaper: "The new measures look to be badly timed and could precipitate a rapid increase in unemployment."
Helen Dickinson, chief executive of the British Retail Consortium, was quoted in the Financial Times saying the support for employment and training in the United Kingdom was welcome but "it was disappointing that the chancellor did not extend (VAT cuts) to the retail industry and the 3 million people it employs".
Jonathan Geldart, director-general of the Institute of Directors, was quoted as saying that many of its members would feel like the chancellor had "missed a trick".The job retention bonus offers "an off-ramp from the furlough scheme", he added, but "with cash so tight now, January may feel like a long way off for some businesses".
However, a modicum of positivity emerged as airline Ryanair agreed to keep on all its UK-based cabin crew in return for pay cuts, according to unions.
In May, the airline warned that it was being forced to slash costs through job cuts as its fleet remained largely grounded. It began consultations on 3,000 redundancies, or 15 percent of the company's workforce.
But Unite the Union has announced an agreement has been reached with the airline that would result in temporary pay cuts for UK crew in exchange for no job losses.
Elsewhere, Queen's University in Belfast is making its own effort to combat the effects of the pandemic by chartering a plane to take hundreds of students directly from China to Northern Ireland.
Nearly 23,000 students attend Queen's, with around 1,200 from China. International students are a vital source of income for the institution.